Can't attend a show? Donate your tickets to one of these worthy organizations serving our community…
---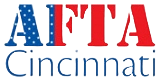 Armed Forces Tickets Association
Armed Forces Tickets Association - Cincinnati (AFTA) is a 501(c)(3) nonprofit organization that was created in 2008 to show appreciation to the men, women, and families of our active Armed Forces, Guard, and Reserves by making available free or deeply discounted event tickets by partnering with arts, entertainment, and sports organizations. AFTA-Cincinnati has expanded its mission to include Retired Military, Veterans, and their families, as well as the families of America's fallen heroes (Blue Star and Gold Star families). AFTA-Cincinnati is unique. Nowhere else in the United States is there an organization that provides up to four (4) free tickets for Active Military or Retiree/Veteran families. AFTA does not charge any fees to their members. It is their honor to provide these services to those men and women who have bravely served and sacrificed for our country.
Donate your tickets to AFTA by logging into your Cincinnati Arts Association account HERE and transferring your unused tickets to dianne.ashcraft@afta-cincinnati.org.
---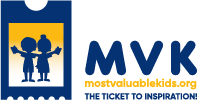 Most Valuable Kids (MVK) in a nonprofit agency that turns donated tickets and experiences into life-changing rewards for deserving kids in our community. MVK works collaboratively with more than 80 pre-screened, child-focused charities, providing them with opportunities they would otherwise be unable to experience due to financial obstacles. Their motto is "More Than a Ticket," which truly highlights how your donation will make a difference. Your ticket donation is a reward for hard work. Your ticket is an opportunity to strengthen relationships and create lifelong memories. And, your ticket will open a door for kids to dream big!
Donate your tickets to MVK in two steps:
1). Create an MVK account and submit your donation HERE.
This tells MVK your tickets are there, whom they are from, AND provides you with an e-mail receipt for your tax-deductible donation. It is imperative that you complete this step to avoid confusion and lost opportunities.
2). Log into your Cincinnati Arts Association account HERE and transfer your unused tickets to sherri@mostvaluablekids.org.
---
**Please donate your tickets as far in advance as possible so they can be placed with a recipient. Donations must be made at least 24 hours before the performance.**