The Cincinnati Arts Association offers an exciting, challenging, and fun work environment. It is our goal to build a staff that is a true "team" functioning at the highest level of excellence. Our positions cover a wide range of jobs and responsibilities, from a variety of part-time opportunities to experienced full-time professionals.
We welcome you to join our team.
---
July 29-30 and August 3, 2019
We are seeking individuals with an outgoing personality who enjoy working with people, and who possess exceptional customer service skills.
If this is you, come visit us for Open Interviews to be held Monday, July 29th and Tuesday, July 30th from 11:00 AM-2:00 PM and 4:00 PM-7:00 PM; Saturday, August 3rd, 11:00 AM-2:00 PM.
All positions are Part-Time and/or Seasonal with flexible schedules requiring primarily nights and weekends, some weekday shifts available.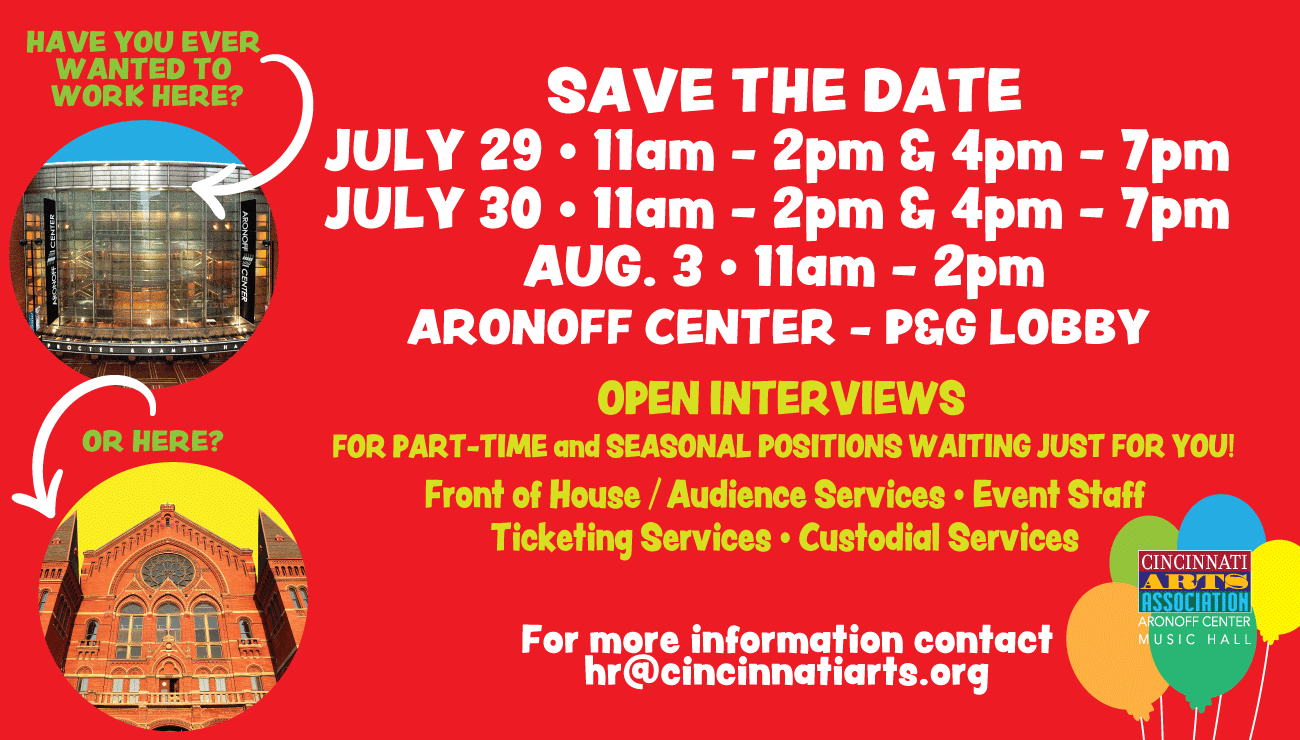 POSITIONS AVAILABLE
CUSTODIAL SERVICES
Our Custodial Services staff will provide and maintain a clean and safe environment at our Music Hall facility for our guests, clients and staff, by cleaning all areas of the facility and doing set-ups for events. Floor experience is a plus. Approximately 20 hours per week. Mainly nights and weekends.
EVENT STAFF
Our Event Staff will assist in ensuring a safe and secure environment at our Aronoff Center and Music Hall facilities, for our clients, guests, and staff by conducting security screenings and monitoring the premises, while providing exceptional customer service. Previous experience in a security and/or customer-service environment is helpful.
FRONT-OF-HOUSE/AUDIENCE SERVICES
Our Floor Supervisor positions will facilitate a safe and positive guest experience at our Aronoff Center and Music Hall facilities by overseeing Front-of-House functions, monitoring lobby activities and supervising volunteer ushers. Must be available nights and weekends for up to 10 shifts a month, weekday availability welcome. Previous supervisory experience is a plus.
TICKETING SERVICES
Our Ticketing Services Representatives will be stationed at our Aronoff Center Ticketing Services office as they assist customers and handle ticket sales in person and by phone, while providing exceptional and friendly customer service to our customers. Aptitude to learn ticketing software and basic math skills are necessary.
Bring your resume or click on this link to download a CAA application to complete and bring with you.
---
Cincinnati Arts Association
Attn: Human Resources
650 Walnut Street
Cincinnati, OH 45202
[email protected]
(513) 977-4162 / fax
No phone calls please.
The Cincinnati Arts Association is an Equal Opportunity Employer.
Please note that we do not accept or retain general resume submissions. Only resumes submitted for posted positions will be considered.