Alice and Harris Weston
The Weston Art Gallery is Endowed Through the Generosity
of Alice F. and Harris K. Weston
"I think Cincinnati is of a size, a human size, that the individual can have an opportunity to develop him or herself in it. That's been shown in the development of the regional arts in recent years," said Alice Weston, accomplished artist and Cincinnatian.
Alice and Harris Weston love the arts and Cincinnati. When they heard about the Aronoff Center for the Arts, the Westons envisioned it as a multi-use center. Mrs. Weston said, "We felt that in order to have a real arts center, one not limited to the performing arts, the Aronoff Center for the Arts had to have a visual arts component." Mrs. Weston continued, "We decided to encourage them. We met with the Aronoff Center planners and suggested that they include an art gallery in their plans, and they readily agreed to do that."
The Westons agreed to leave the bulk of their personal art collection to the Cincinnati Art Museum, a collection many say is the most impressive in the city. They have also contributed generously to the endowment fund and director's chair of the Contemporary Arts Center. Mr. Weston was a lawyer of counsel with Dinsmore & Shohl, a prominent volunteer for the Fine Arts Fund and the United Way, and a past president and campaign chairman of the Jewish Federation.
"They say that New York City is the center of cultural life," Mrs. Weston said, "but the individual tends to get buried in it because it's so gargantuan. In Cincinnati, in all walks of life, it's of a size where you can find yourself. It's a good city to live in."
---
Harris K. Weston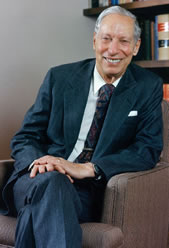 MARCH 12, 1918 – JUNE 28, 2009
When Harris Weston passed, a prince of the arts left our realm. Gracious, engaged, and thoughtful, Harris was always there for us with a steady, guiding temperament; firm in his conviction of the importance of the arts and of the strength and vitality enjoyed by a community that embraces the vast diversity of the creative spirit. He was not only a prince through his family's philanthropy, he also regularly attended our exhibition openings, special events, and board meetings up until the last month of his life. Harris kept abreast of all of our publications and activities and often surprised us with his insightful comments about the gallery's trajectory that he would offer in public remarks.
The Weston Art Gallery will forever be indebted to his generosity and vision in promoting and advocating for a visual arts venue as an integral component of the Aronoff Center for the Arts. He and his wife Alice recognized the wealth of artistic talent Cincinnati and the surrounding region had to offer, the exhibition opportunities the gallery could afford those artists, and the invaluable asset the gallery would represent to the community-at-large.
Harris's great legacy of friendship and support serves to inspire us to continually strive for excellence in programming and administering the gallery that bears his name.