Cincy Emerging Arts Leaders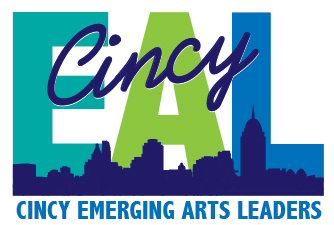 The Cincy Emerging Arts Leaders is an extension of the Emerging Leaders Network of the Americans for the Arts and is administered by the Cincinnati Arts Association. It supports the professional development needs of arts professionals in the Greater Cincinnati area. The group first met in October 2006 as part of the Creative Conversations series that Americans for the Arts sponsors annually.

Upcoming Events:
Wednesday, October 14, 2015, 5:30-7:30 pm
Aronoff Center, Green Room
Barring any early snowstoms, see this smART Summit 2015 presentation as it was meant to be.
Twitter, Facebook, Tumblr, Instagram, Pinterest, Reddit, Email, YouTube, Vine... Never has it been easier for arts groups to connect with patrons but is your voice being heard? With so many platforms and choices populating the channels of communication, how can you ensure that your message cuts through the clutter and resonates with your audience? In this presentation, we'll help guide you through your options in the social media landscape, and talk about best practices as well as handy tips that you can use to make your message stand out and get shared.
Jackie Reau (Game Day Communications)
Chet Lee (Creative Links)
ArtsPulse: Lunch Chat
Wednesday, January 13, 2016, 12:00-1:00 pm
Location: TBD
The Cincy Emerging Arts Leaders is offering an opportunity to join arts executives in an informal discussion about the current and future state of the arts and how this impacts the role of arts administrators. Arts administration students, those new to the field, current entry and mid-level arts professionals, artists, and young professionals interested in the arts are encouraged to participate.
---
smART Summit 2016
Wednesday, April 13, 2016
Music Hall Corbett Tower
---
Connection with Emerging Arts Leaders
Programs/Services
Creative Conversations held annually in October since 2006
Initiated ArtsPulse: Lunch Chat series in Spring 2011
Websites of Interest for Advocacy
Cincy Emerging Arts Leaders Advisory Committee
Kathleen Riemenschneider, Cincinnati Arts Association, Chair
LeAnne Anklan, Cincinnati Chamber Orchestra
Michael Brown, Contemporary Arts Center
Kelly Gillen, independent arts administrator
Teddy Gumbleton, Cincinnati Opera
Stefanie Lehman, CCM Arts Admin
Kristi Reed, Taft Museum of Art
Steve Shin, CCM Arts Admin