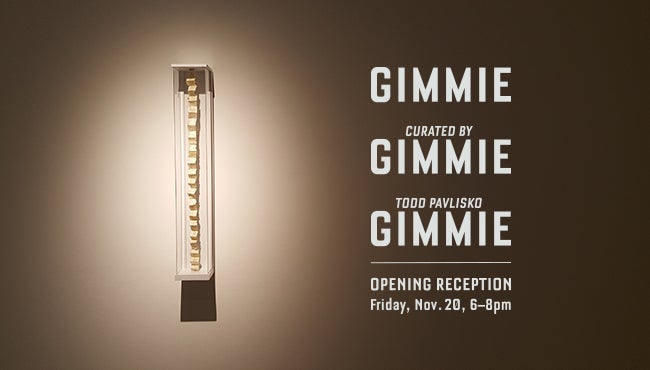 Gimmie Gimmie Gimmie: Curated by Todd Pavlisko
Date

Nov

20

, 2015

-

Jan

17

, 2016

Venue

Weston Art Gallery

Location

Entire Gallery

SEASON SPONSOR:

Dee and Tom Stegman

EXHIBITION SPONSORS:

TBD
Exhibition Details
CINCINNATI, Ohio—On Friday, November 20, from 6 to 8 p.m., the Cincinnati Arts Association's Alice F. and Harris K. Weston Art Gallery in the Aronoff Center for the Arts will open Gimmie Gimmie Gimmie, a two-pronged effort, curated by Todd Pavlisko, with an underlying punk aesthetic showcasing contemporary installation-based artists from Boston, New York, and Cincinnati along with an eclectic and provocative selection of seminal artworks gleaned from some of the most important private collections in Cincinnati.
Inspired by the punk band Black Flag's influential 1981 song of the same name, artist, independent curator, and Cincinnati native Todd Pavlisko (Boston, MA) will present two multifaceted exhibitions that examine the varied experience of amassing objects and the practice of collecting. In the Weston's street-level space, Pavlisko will take a unique approach to this idea by selecting artists who accumulate objects as well as collective concepts to form sculptural installations. Artists include Antonio Adams, John Carrico, and Adam Henry (all Cincinnati, OH); Tory Fair and Joe Wardwell (both Boston, MA); and Alfred Steiner (New York, NY). Artist and curator biographies are provided at end of press release.
In the lower galleries, Gimmie Gimmie Gimmie will segue into selections from several renowned yet private Cincinnati collectors including Dot and Dana Brunson, Linda J. and George J. Kurz, Michael Lowe, Linda Schwartz, Karen and Andy Stillpass, and Sara M. and Michelle Vance Waddell. The area has a wealth of contemporary art collectors unintimidated by work that is conceptually challenging, socially conscious, or difficult in content. This rare and unique exhibition will unveil works rarely shown in the city and shed light on the interests of some individuals in our community who collect and live with art. A wide range of media including painting, sculpture, photography, assemblage, video, and Tattoo Flash Art will be represented from an astounding array of national and internationally acclaimed artists including Vito Acconci, Carl Andre, Nobuyoshi Araki, Jimmy Baker, Jean-Michel Basquiat, Walead Beshty, Olaf Breuning, Chris Burden, Joe Coleman, Martin Creed, Nicole Eisenman, Tony Feher, David Hammons, Fred G. Johnson, Mike Kelley, Robert Mapplethorpe, Agnes Martin, Carolyn L. Mazloomi, Ana Mendieta, Jonathan Monk, Robert Morris, Joel Otterson, Adrian Piper, Jason Rhoades, Tim Rollins and K.O.S., Carolee Schneemann, Yinka Shonibare MBE (RA), Ulay, Andy Warhol, Tobias Wong, and Francesca Woodman.
View checklist and gallery guide
GALLERY TALK SERIES
---
SAT, NOV 21, 2015
THU, DEC 10, 2015