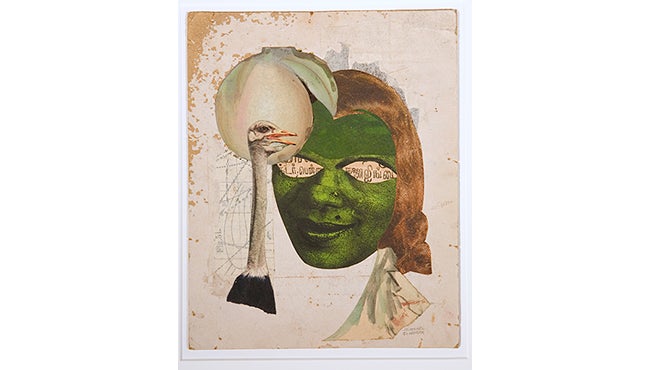 Signature Scheurer: A Retrospective of the Works of Michael Scheurer
Apr. 28–Jun. 18, 2017

Weston Art Gallery

West and East Galleries
SEASON SPONSOR(S):
Dee and Tom Stegman
EXHIBITION SPONSOR(S):
Helen and Brian Heekin/The Vista Foundation
The Maier Family
EXHIBITION CO-SPONSOR(S):
Michael Lowe
Elizabeth Stone
Tina Taft

The Waynes/A Tavola/Taglio
ADDITIONAL SUPPORT:
Milo F. Hanke, Mary Heider, Jenny Honnert Abell, Liz and Steve Scheurer, and Gail and Tim Seifert
Signature Scheurer: A Retrospective of the Works of Michael Scheurer
For more than forty years, Michael Scheurer (Cincinnati, OH) has refined his inimitable collage style influenced as much by the Surrealists and Cubists as whatever odd or antique paper, illustrations, handwritings, or fabric he uncovers in his unending quest for inspiration. Scheurer's work, sometimes intricate, sometimes bold, defies convention in both subject matter and raw material. Signature Scheurer features works from each decade of this prolific artist's masterful career along with new selections and a series of large-scale murals, artist-designed wallpaper, and collages transferred to handwoven carpets.
Concurrent Exhibition(s)
Share