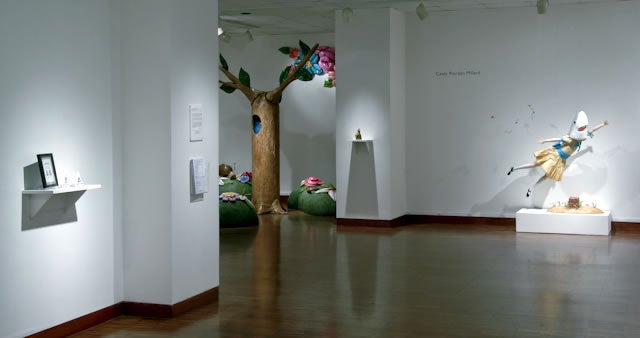 Virtue in the Struggle
Installation and Works on Paper by Casey Riordan Millard
Date

Sep

18

-

Dec

6

, 2009

Venue

Weston Art Gallery

Location

East Gallery

Exhibition Sponsor(s):

The Kaplan Foundation
Exhibition Details
Casey Riordan Millard (Cincinnati, Ohio) works in a variety of media including sculpture, painting and drawing. Through her fantasy creation of "Shark Girl," she explores forms of human behavior motivated by fear, anger and despair. The "Shark Girl" figure serves as a sort of alter ego to explore personal narratives. Virtue in the Struggle features a life-size diorama, sculpture, and new works on paper that further these investigations.

Casey Riordan Millard received a bachelor of fine arts from Ohio University (Athens, Ohio) in 1994. From 1995-2006, she lived in Chicago where she participated in numerous group and solo exhibitions at Packer Schopf Gallery; Straw Dog Theater; Butcher Shop: Body Builder Gallery; and Woman Made Gallery. Since returning to Cincinnati in 2007, she has exhibited her work at Publico and the Carnegie Arts Center where she had a solo exhibition in 2008.
Gallery Talk Series: Wed., Oct. 21, 7 p.m.