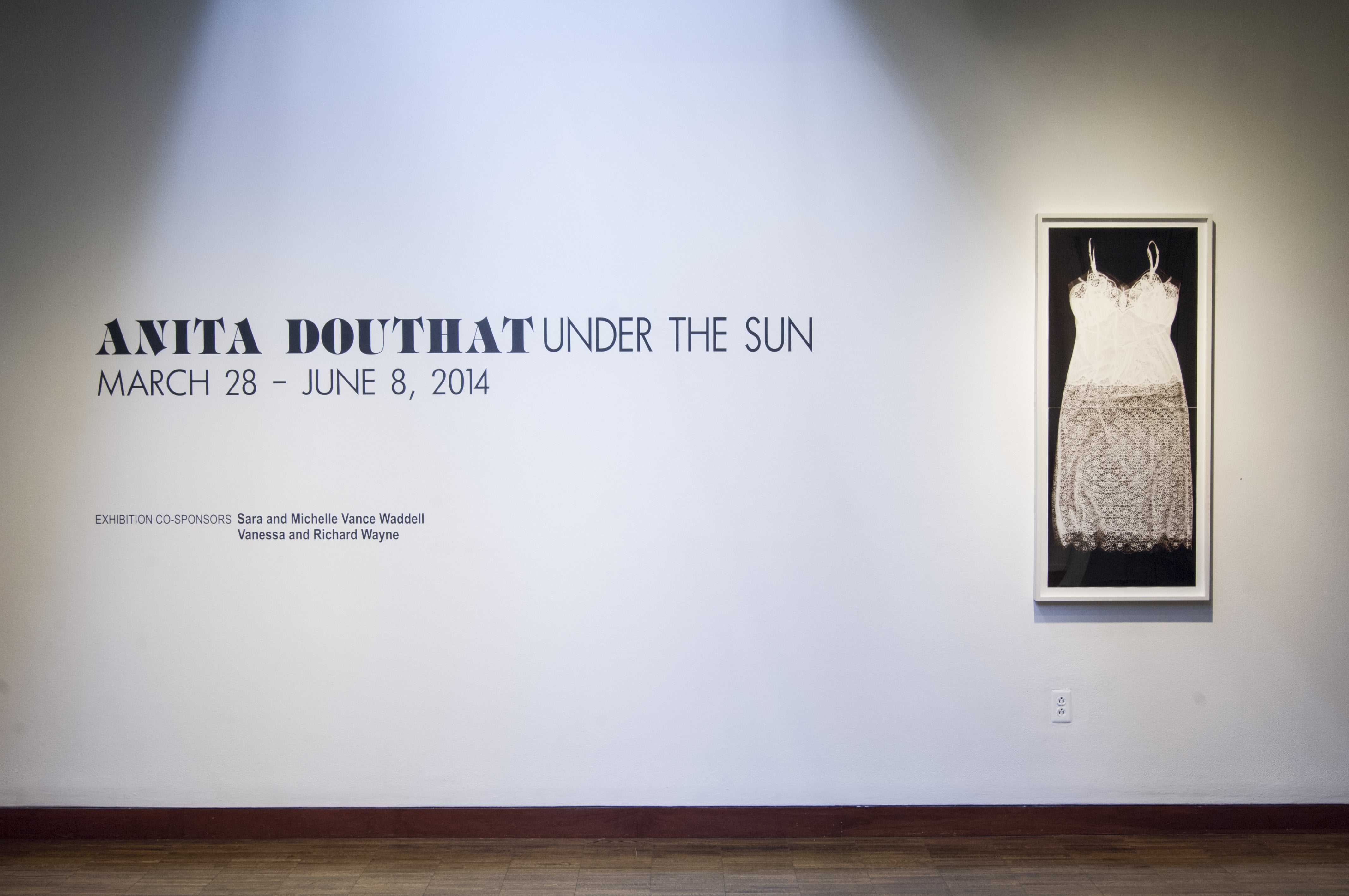 Anita Douthat: Under the Sun
Date

Mar

28

-

June

8

, 2014

Venue

Weston Art Gallery

Location

West Gallery

EXHIBITION CO-SPONSOR(S):

Sara and Michelle Vance Waddell, Vanessa and Rick Wayne

2013-14 EXHIBITION SEASON SPONSOR:

Dee and Tom Stegman
Exhibition Details
CINCINNATI, Ohio—On Friday, March 28 from 6 to 9 p.m., the Cincinnati Arts Association's Alice F. and Harris K. Weston Art Gallery in the Aronoff Center for the Arts will premiere three new spring exhibitions: Outliers, a series of inventive and absurdist sculptures by Jason Tanner Young; Under the Sun, an evocative series of photograms by Anita Douthat; and Passages, a meditative group of multi-image videos by Charles Woodman.
For more than twenty years, Anita Douthat (Alexandria, KY) has produced beautiful and elegant photograms using this very direct and low-tech photographic process to capture ethereal suggestions of the human form and everyday objects. Produced without the use of a camera, Douthat's photogram process relies on the sun as the source of light to expose images placed directly on photosensitive paper. Under the Sun reveals years of sensitive and creative experimentation by Douthat that have resulted in an exquisite series of images that hover between representation and otherworldly abstraction.
Anita Douthat received a bachelor of science from the Institute of Design at the Illinois Institute of Technology (Chicago, IL) in 1972 and a master of fine arts from the University of New Mexico (Albuquerque, NM) in 1986. Her photograms have been widely featured in exhibitions at the Cincinnati Art Museum (Cincinnati, OH); Indianapolis Art Center (Indianapolis, IN); Ross Art Museum at Ohio Wesleyan University (Delaware, OH); and the Weston Art Gallery in the Aronoff Center for the Arts (Cincinnati, OH). Her work is included in numerous public and private collections including the Cincinnati Art Museum (Cincinnati, OH); Museum of Fine Arts (Houston, TX); Columbus Museum of
Art (Columbus, OH); University of New Mexico Art Museum (Albuquerque, NM); Fidelity Investments (Covington, KY); and Medpace (Cincinnati, OH). She has been the recipient of grants from the National Endowment for the Arts, the New England Foundation for the Arts, and the Kentucky Foundation for Women. From 1985-92, she was curator of the Photographic Resource Center at Boston University and is currently associate director of the Carl Solway Gallery (Cincinnati, OH). Born in Cincinnati, she currently resides in Alexandria, Kentucky.
Weston Art Gallery
Weston Art Gallery
Event Starts
7:00 PM
Weston Art Gallery
Weston Art Gallery
Event Starts
7:00 PM