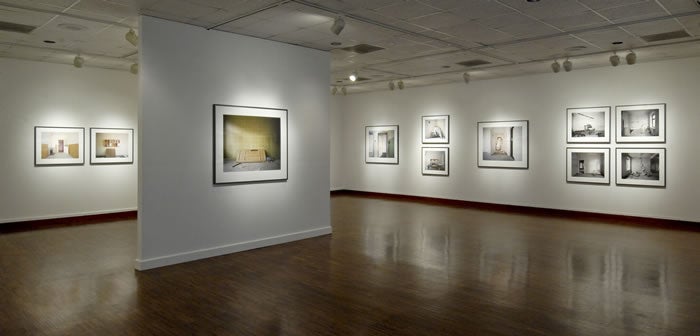 Transitions
The Dresden Project / Photographs by Fredrik Marsh
Date

Apr

10

-

June

7

, 2009

Venue

Weston Art Gallery

Location

West Gallery

Exhibitions Sponsor(s):

Whitney and Phillip Long
Exhibition Details
In an extended series of photographs begun during a three-month artist residency in 2002 and continued over four subsequent summers in Dresden, Germany, Fredrik Marsh documented the detritus of human culture found in the decaying interior spaces of vacant factories, abandoned apartments, and hotel rooms. In Transitions: The Dresden Project, Marsh reveals the juxtapositions and ironies still abundant in the post-socialist world, contrasting the old and the new as well as the grandeur and the decay of once-majestic buildings and former residences of a city steeped in history.

Fredrik Marsh was educated at The Ohio State University, earning a bachelor of fine arts in 1980 and master of fine arts in 1984. He has exhibited his work since 1978, most recently in international photography festivals in Houston, Tex., Germany, Syria, and China. His photographs are in the collections of the Columbus Museum of Art, Los Angeles County Museum of Art, Museum of Contemporary Photography at Columbia College Chicago, Museum of Fine Arts, Houston, Tex., Staatliche Kunstsammlungen Dresden (Kupferstich-Kabinett), Dresden, Germany, and the Toledo Museum of Art, among others. Since 1985 Marsh has received six Individual Artist Fellowships from the Greater Columbus Arts Council in addition to the National Endowment for the Arts/Arts Midwest, and the Ohio Arts Council. He has also been awarded Artist Project Grants from the Greater Columbus Arts Council, the Ohio Arts Council, and Saxonian Ministerium for Wissenschaft und Kunst. In 2008 he was awarded a prestigious Guggenheim Fellowship in photography.
Gallery Talk Series: Wed., May 6 at 7 p.m.