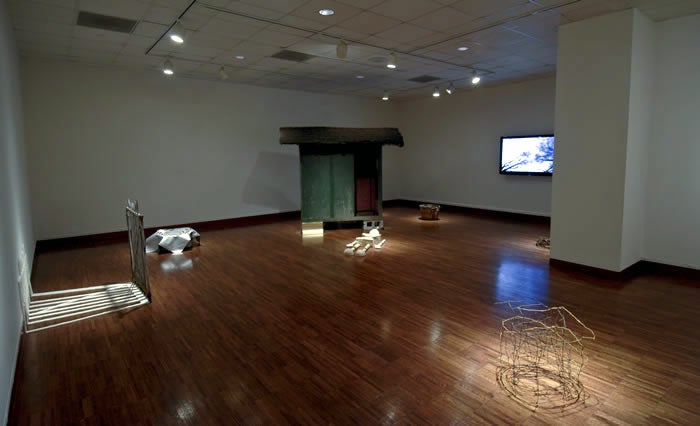 Trace
Recent Sculpture and Drawings by Carmel Buckley
Date

June

26

-

Aug

30

, 2009

Venue

Weston Art Gallery

Location

East Gallery
Exhibition Details
In her most recent sculpture, Carmel Buckley (Cincinnati, Ohio) reactivates discarded objects; creating environments where the viewer can imagine narratives for them. In these new settings, the found items can still be recognized as what they originally were while simultaneously marking the threshold of a transformed world, like the charmed objects in fairy tales. In her two-dimensional work, Buckley invents drawing systems that repeatedly mark the paper with pens and non-traditional tools to form unpredictable networks.

Trace includes a new series of reinterpreted and altered found objects Buckley discovered on the wooded lot surrounding her home on the outskirts of Indian Hill. Included among them is a rustic garden shed that serves as a nexus for the individual sculpture and an accompanying video featuring the landscape setting. Exploring the transformative implications of fairy tale representations in a different direction, Buckley has developed enigmatic drawings from selected marks and motifs of Kay Nielsen illustrations. In a further set of works on paper, large monoprints alter the appearance of the found materials used to make them, forming delicate images of ambiguous substance.

Born in Derby, England, Carmel Buckley received a bachelor of arts in sculpture from Newcastle upon Tyne Polytechnic (United Kingdom) in 1978 and continued her studies at the Escuela de Bellas Artes of Madrid University from 1979-80 and the San Carlos Academy of Fine Arts in Mexico City from 1983-84, through a Mexican Government Scholarship. She earned a master of fine arts in sculpture from the School of Visual Arts, New York as a Fulbright Fellow in 1988. She has been the recipient of a New York Foundation for the Art Sculpture Award and an Ohio Arts Council Individual Artist Award. In 1994 she had a solo exhibition at the Wexner Center in Columbus, Ohio. Her work has been featured in exhibitions in Newcastle upon Tyne, England (2005); at Carl Solway Gallery, Cincinnati, Ohio (2006); Hopkins Hall Gallery at Ohio State University, Columbus, OH; at the Reed Gallery at the University of Cincinnati's College of Design, Architecture, Art & Planning (2008); and at E:vent Gallery, London (2009). She currently serves as an associate professor in the Department of Art at Ohio State University.
Gallery Talk Series: Tues., July 7 at 7 p.m.
Families Create! Education Workshop: Sat., June 27 at 10 a.m. with the Docentitos