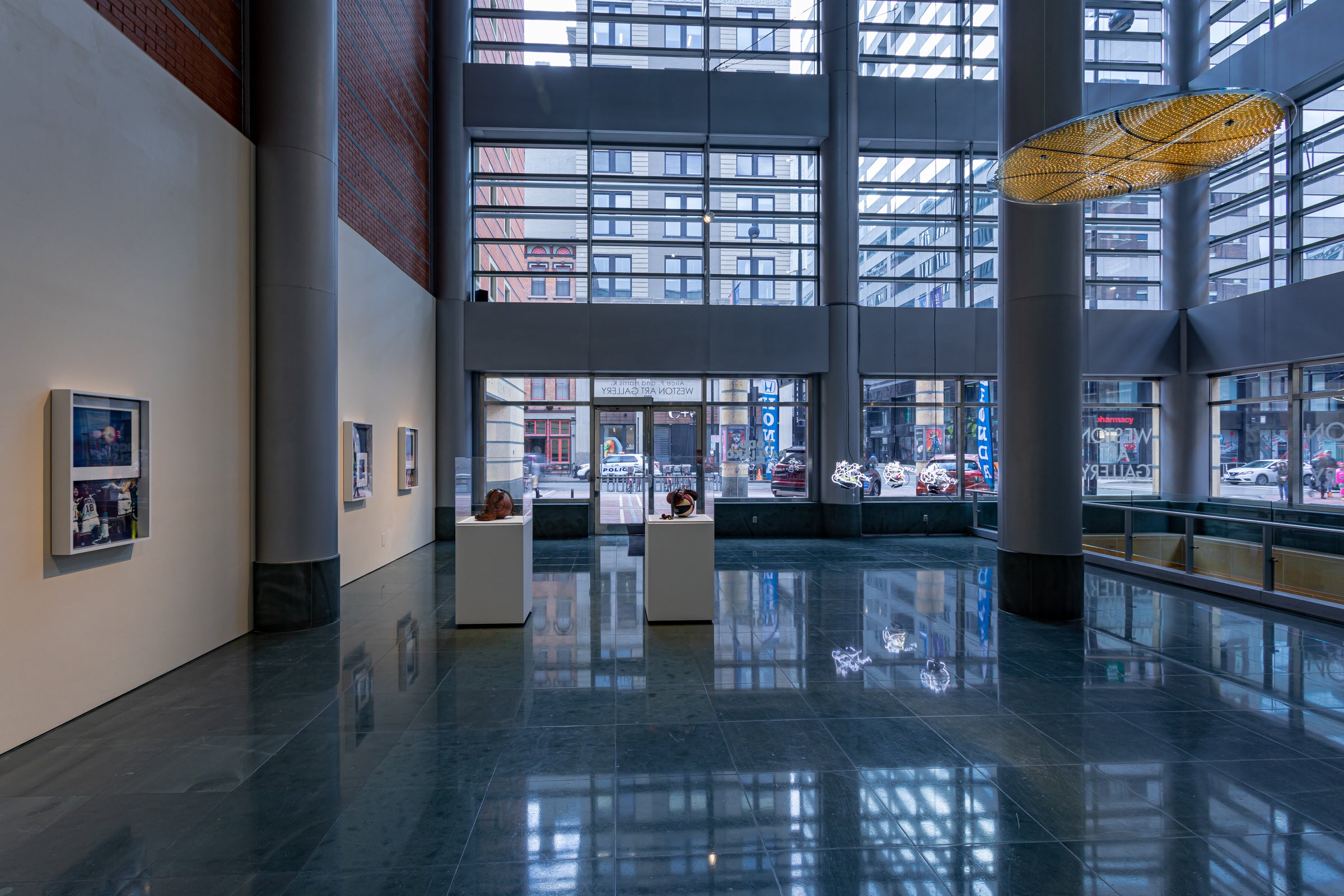 Todd Pavlisko: Pop Supernatural
Date

July

9

-

Aug

22

, 2020

Venue

Weston Art Gallery

Location

Entire Gallery

EXHIBITION CO-SPONSORS:

Mu Sinclaire and the Sinclaire Family Foundation

EXHIBITION SUPPORT:

Anonymous
Exhibition Details
CINCINNATI, OH—On Thursday, July 9, from 11 AM to 4 PM, the Cincinnati Arts Association's Alice F. and Harris K. Weston Art Gallery in the Aronoff Center for the Arts reopens Pop Supernatural, a major solo exhibition by Cincinnati native and New York-based artist Todd Pavlisko who presents a provocative body of recent and newly created interconnected works that reflects on cultural change and critique.
Much of Pavlisko's work employs a strategy of "mash-ups," combining seemingly disparate elements to synthesize ideas that provide new perspectives and challenge societal norms and conventions. In Pop Supernatural, Pavlisko enlists an eclectic cast of artists, sports heroes, fashion designers, scientists, crafts professionals, pop icons, and historical agents of change, referenced either directly through portraiture (both photographic and sculptural) or indirectly through conceptual association to pose questions and subvert categorical distinctions between popular culture, craft, science, literature, commerce, and fine art, merging them into an amalgam of the artist's thought process.
Examples of this approach are highlighted in the Weston's street-level atrium where a series of framed assemblages composed of historic Harold E. Edgerton photographs mounted atop vintage National Basketball Association (NBA) posters encapsulates split-second moments of time. These works serve as backdrop to a pair of painstakingly carved classical violins drooping Dali-esque across NBA and American Basketball Association (ABA) basketballs. Encased in Plexiglas vitrines and sitting atop pedestals like rare museum objects, Untitled, Violins suggest a clash of worlds, but offer a harmonious synthesis instead where both art and sport contribute to cultural richness and diversity.
A new iteration of Pavlisko's ongoing series All the Money I Found in a Year, which examines art as commodity through configurations of hundreds of glistening gold-plated coins, takes the work to new levels. Like a jump shot frozen in time, the coins hover on a transparent disc ten feet above the audience, locked in a spin. His series of suspended white neon clusters (Milk and Honey, Time Kills, The Birth of Cool) cage high-fashion designer pumps and birth word phrases lifted from popular culture—another fusion of form and commentary this time foraying into the world of fashion.
Descending the staircase of the Weston, viewers are greeted by a host of iconic figures dominating the lower galleries in the form of enormous carved wooden Pez dispensers. A diverse range of both contemporary and historical protagonists holds court throughout the space including James Baldwin, David Bowie, Princess Diana, Frederick Douglass, David Hammons, Rosa Parks, et al. The space, something akin to Alice in Wonderland meets a great museum courtyard, honors some of history's beloved cultural influencers. Each oversized Pez tower is meticulously fashioned with a locked-door interior and a range of secret items carefully stored within. Pavlisko intentionally conceals the interior contents of each sculpture, creating at once a literal time capsule that elicits both curiosity about the items and their timeline, but also—importantly—about these titans of history. The dual reality of the sculptures' remarkable physical gravity couples with the gravitas of the subjects' unarguable cultural and philosophical contributions as well as the ideals the icons embody.
What seems at first a playful irreverence shifts easily toward a bold admiration for the lives of these heroes of cultural progress. Given that Pez "portraiture" is often reserved for pop icons and cartoon characters, Pavlisko's appropriation of biographies of greatness points to certain challenges of our age and questions who and what is deemed worthy of celebration and canonization.
As final punctuation to his hall of heroes, Pavlisko choreographs a series of readymade exclamation points peppered among the Pez sculptures. These gestures, heavy-duty sledgehammers resting delicately atop small bags of sugar, conjure two readings: a wicked temptation to perpetrate a battering-ram entry into the secret interiors of the sculptures; and a destructive desire tempered by fragile and soft bags of sugar, reminding us to exercise caution and care when we are in the presence of greatness.
Cincinnati native Todd Pavlisko lives and works in Rhinecliff, NY. He received his Bachelor of Fine Arts from Miami University in Oxford, OH, and Master of Fine Arts from Carnegie Mellon University in Pittsburgh, PA. He has an extensive exhibition history that includes participation in group exhibitions at MoMA PS1 (New York, NY); Museum of Contemporary Art (Chicago, IL); Museum of Arts and Design (New York, NY); Bass Museum of Art (Miami, FL); Neuberger Museum of Art (Purchase, NY); Contemporary Arts Center (Cincinnati, OH); Contemporary Arts Center (New Orleans, LA); and the Weston Art Gallery (Cincinnati, OH). His work has been featured in solo exhibitions at the former Linda Schwartz Gallery (Cincinnati, OH); Cincinnati Art Museum (Cincinnati, OH); University Hall Gallery of University of Massachusetts (Boston, MA); Samsøñ (Boston, MA); and Robert Miller Gallery (New York, NY). Pavlisko was included in the 2013 Armory Focus: U.S.A. Centennial Exhibition, curated by Eric Shiner, director of the Andy Warhol Museum, and has been a recent participant in NADA Art Fair (Miami, FL) and Dallas Art Fair (Dallas, TX).