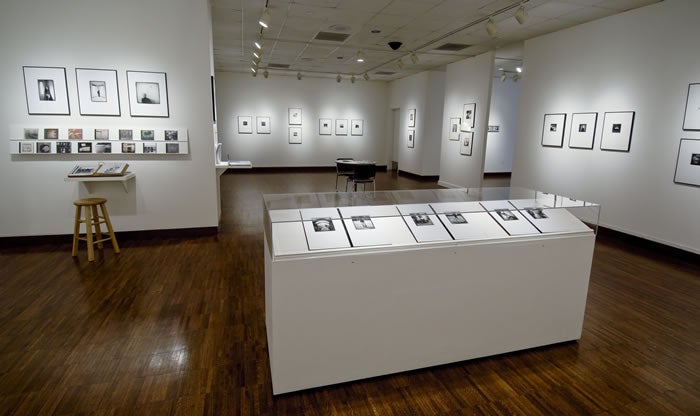 The Day of Small Things
Photographs by Michael Wilson
Date

Apr

10

-

June

7

, 2009

Venue

Weston Art Gallery

Location

East Gallery

Exhibition Sponsor(s):

An Anonymous Fund of the Greater Cincinnati Foundation
Exhibition Details
Co-organized with The Light Factory in Charlotte, North Carolina, The Day of Small Things is a mid-career retrospective of the work of Michael Wilson, who creates unique and deeply honest photographs that sum up the essence of his diverse subject matter which includes landscape, urban settings, interiors, and portraits. The exhibition will feature a variety of intimate black and white photographic series completed by Wilson during the past twenty-eight years including a selection of his ongoing series of musician portraits that features such local talents as Over the Rhine, Jay Bolotin, and Katie Lauer as well as international stars such as Lyle Lovett, Philip Glass, B. B. King and Emmylou Harris. The exhibition offers a unique opportunity to experience the wonderful array of images that Wilson has culled from his surrounding environment in Cincinnati and during his travels throughout the United States.

Michael Wilson is a life-long resident of Cincinnati residing in Price Hill and maintaining a photography studio near downtown Cincinnati in the West End. He developed his interest in photography while attending Northern Kentucky University where he earned a bachelor of fine arts in 1981. His work has been featured in numerous exhibitions at such local venues as Baker Hunt Foundation (Covington, Ky.); Thomas More Gallery, Thomas More College (Crestview Hills, Ky.); In Situ Gallery (Cincinnati, Ohio); Carnegie Visual & Performing Arts Center (Covington, Ky.); as well as the Cincinnati Art Museum and Contemporary Arts Center. Wilson's photographs have been exhibited regionally at the J. B. Speed Museum (Louisville, Ky.); Rosewood Arts Centre (Kettering, Ohio); and Cleveland Center for Contemporary Art (Cleveland, Ohio). His work is represented in the Cincinnati corporate collections of E. W. Scripps; PNC Bank; Frost & Jacobs; Deloitte & Touche; and Duke Energy. He is also represented in the collections of the Cincinnati Art Museum and the J. B. Speed Museum. In addition, his images have been featured in more than three hundred photographic projects working with musicians and record labels.

Among the many artists Michael has photographed are: Lyle Lovett, B. B. King, Waylon Jennings, Randy Newman, Emmylou Harris, Bill Frisell, David Byrne, Philip Glass, Dawn Upshaw, and Doc Watson. Clients include: Nonesuch Records, Warner Brothers Records, Sony Music, Capitol Records, Alfred A. Knopf, Penguin Putnam, Mother Jones Magazine, Health Magazine, Uncut Magazine, and Pentagram Design.
Gallery Talk Series: Wed., May 6 at 7 p.m.
Families Create! Education Workshop: Sat., May 16 at 10 a.m. with Michael Wilson