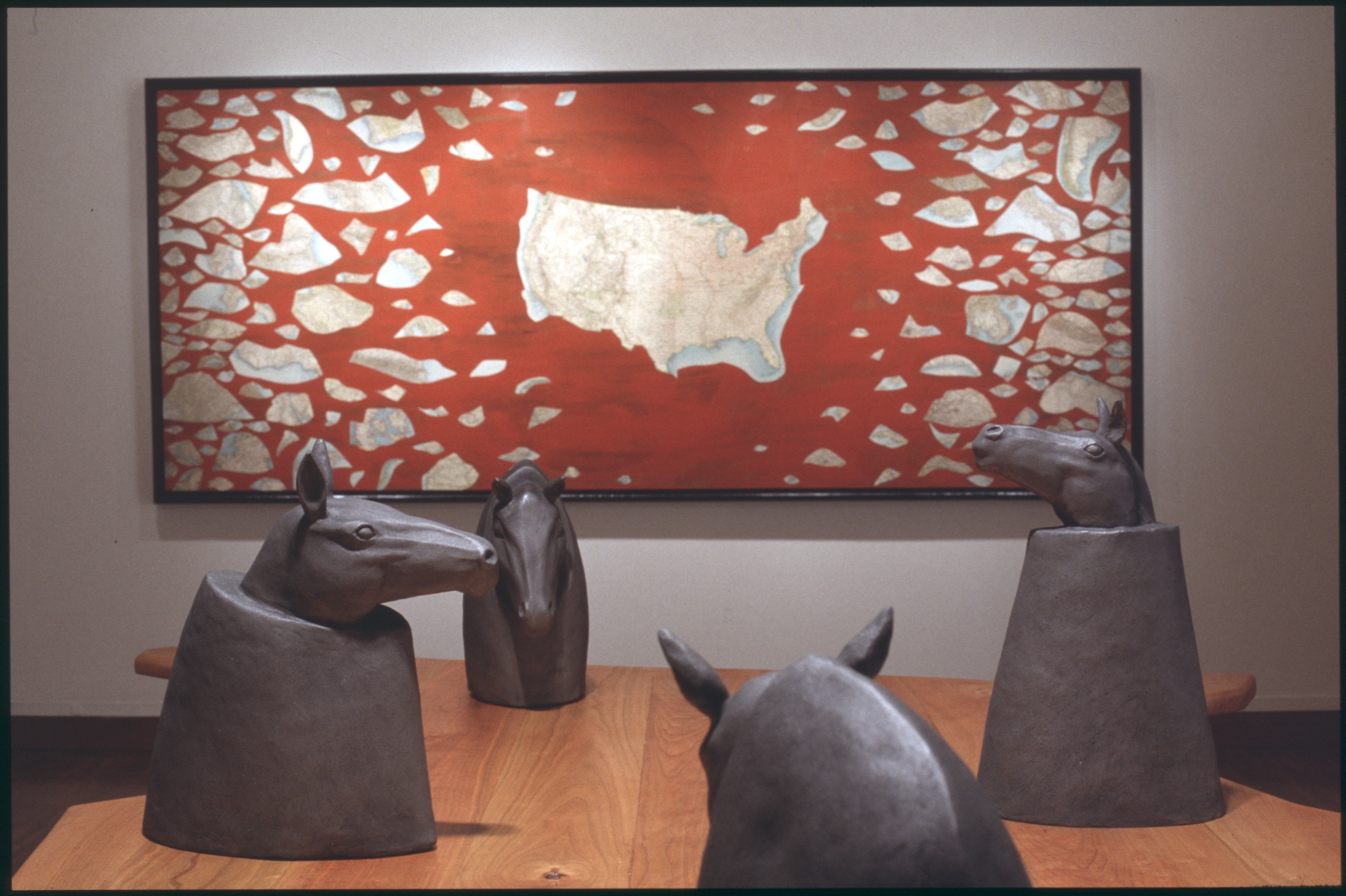 The Castle: Installation by Todd DeVriese
Date

Apr. 15 – Jun. 3, 2000

Venue

Weston Art Gallery
Exhibition Details
On Friday, April 14, from 6 – 9 p.m., the Cincinnati Arts Association's Weston Art Gallery in the Aronoff Center for the Arts will premiere The Castle, a complex and challenging installation by Columbus, OH, artist Todd DeVriese. Inspired by Franz Kafka's novel The Castle, written in the 1920s, this ambitious installation will comprise both levels of the Weston Art Gallery and include large-scale sculpture, a series of etched copper panels, copper-clad furniture, copper-leafed objects, and collages consisting of cut-up and reassembled atlases.
In developing this new series of work, DeVriese employed Kafka's novel as intellectual framework by utilizing the central symbolic image in the novel: the elusive castle with its concentration of political power, bureaucratic hierarchy and social mores, as a metaphor for the United States and its place in the new world order. The installation references various aspects and ideas present in key historical developments of the United States such as colonization, manifest destiny, the Civil War, isolationism, and the United States's emergence as a world power, by visually interpreting Kafka's symbolic use of materials, objects, and architectural forms into new images transplanted to this continent.
Organized within the three galleries of the Weston Art Gallery, the installation will consist of three distinct groupings of work. The expansive breadth of the street-level exhibition space will introduce three large-scale open wooden sculptures that reference American monuments in their underlying figurative and literal structures. The second grouping, beginning in the lower gallery, will consist of fourteen copper panels etched with clothing referencing human forms or characters, as well as a copper-covered chair and table with copper-leafed objects that comprise a study area. The third and final grouping will include a series of collages created from cut-up and reassembled atlases resulting in new configurations of the world based on political ideas and concepts.
The Castle represents an ambitious undertaking for the artist who has previously secured a well-deserved reputation for his accomplished printmaking and inventive and meticulously produced collages. His ongoing interest in merging past and present segments of history has evolved into this challenging project that has allowed him to explore new forms and processes and bring the inspiration and visual interpretation of Kafka's work into a contemporary setting.
Todd DeVriese is assistant professor of arts at the Ohio State University Marion campus and has exhibited his work extensively at the regional and national level. His artwork is represented in both private and museum collections.