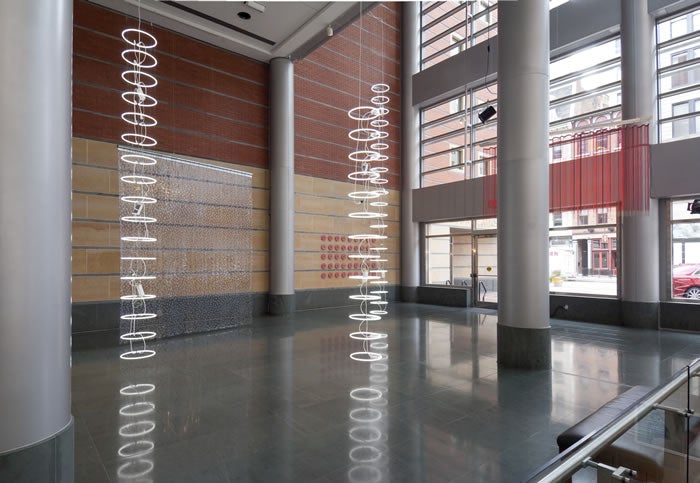 Taint
by Anthony Luensman
Date

Sep

28

-

Dec

9

, 2012

Venue

Weston Art Gallery

Exhibition Sponsor(s):

FotoFocus, Jackie and Mitch Meyers, National Endowment for the Arts, The Vista Foundation

Exhibition Co-Sponsor(s):

Elizabeth Stone, Sara and Michelle Vance Waddell

Season Sponsor:

Dee and Tom Stegman
Exhibition Details
On Friday, September 28, 2012, the Cincinnati Arts Association's Alice F. and Harris K. Weston Art Gallery in the Aronoff Center for the Arts launched its eighteenth season with Taint, a solo exhibition by Anthony Luensman (Cincinnati, Ohio) featuring a groundbreaking new body of work developed entirely within the last year and inspired by FotoFocus, the city-wide photography biennial sponsored by Lightborne Communications. Luensman's recent shift to photo-based work, placing him both in front of and behind the lens, has engendered a necessarily more personal focus in his output—an inward turning that roams a human landscape, both figurative and literal, broken by childhood, loss, and the evanescence of life. All of which is belied by a playful guise of light, sound, movement, and inventive technologies.
A decade has passed since Anthony Luensman first launched his extraordinary body of work at the Weston Art Gallery with Irato, an NEA-sponsored exhibition, in 2002. Since then he has amassed numerous awards and publications while acquiring an extensive stateside and international exhibition record with major artist residencies in California, Taiwan, and Japan. Known for working across multiple disciplines, his beguiling aesthetic merely hints at the visual and sensual phenomena that hover beneath the surface.
Taint, Luensman's first major solo show in five years, incorporates an ever-increasing influence of photography and moving images but in a form that challenges the medium and the message. It will feature a series of animated portraits as video projections upon the gallery's street-level windows, architecturally situated installations on both levels, and photo "portraits" from his ongoing studio series that forefront the body as both landscape and intersection of human politics. The careful staging of shots in his studio—as self-portraits or with models—brings to his photographs a "concentrated, dramatic stillness in a hermetic setting." The genre of this work, begun as the Betel Boy Series in Taipei (2008) and continued through the Self-Reliance Series (2010) is the culmination of several disciplines where sculpture becomes prop, theater adds light, painting informs color, and video suggests narrative.
Anthony Luensman was born in Cincinnati, Ohio, in 1966. He received a bachelor's degree in Studio Arts from Kenyon College in Gambier, Ohio (1988) and pursued a master's in English at Xavier University in Cincinnati (1995-97). His early work in the visual arts included performance, theater, sound design, and electronics. National and international residencies, along with exhibition opportunities from Detroit to Taipei, have broadened his thematic scope and refined his visual and aural vocabularies. His wide-ranging interests and multimedia capabilities have led to successful collaborations in music, dance, and installation. In 2004, he was selected by the Museum of Contemporary Art Taipei for a solo show, Ersilia, during the Media_city: Digital Sublime international exhibition. In 2007, he was invited by the Cincinnati Art Museum to create Arenas, an ambitious series of sculpture and installations presented in the special exhibition gallery, on the museum entrance façade, and integrated throughout the permanent collection.
In steady demand as a new-media innovator, collaborator, teaching artist, and artist-in-residence, he is a recipient of two Ohio Arts Council Artist's Fellowships (2000, 2004) and three City of Cincinnati Individual Artist's Grants (1995, 1998, and 2003). In 2008, he won the prestigious Efroymson Contemporary Arts Fellowship. Prints, photographs, and a three-part video sculpture by Luensman are in the permanent collection of the Cincinnati Art Museum. His work is also in the collection of the International Contemporary Art Foundation/21c Museum in Louisville, Kentucky, and, in 2008, he was commissioned by 21c to create an interactive lobby installation.
Gallery Talk Series: Wed., Oct. 10, 2012 at 7 p.m.
Families Create! Education Workshop with the Artist: Sat., Oct. 13, 2012 at 10 a.m.