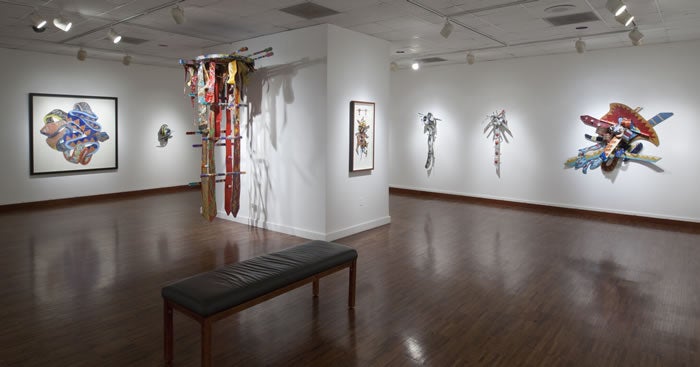 Straight from the Soul
by Kevin Cole
Date

Dec

14

, 2012

-

Mar

3

, 2013

Venue

Weston Art Gallery

Location

West Gallery

Exhibition Sponsor(s):

Dinsmore & Shohl LLP

Exhibition Co-Sponsor(s):

Lennell and Pamela Rhodes Myricks

Season Sponsor:

Dee and Tom Stegman
Exhibition Details
On Friday, December 14, 2012, the Cincinnati Arts Association's Alice F. and Harris K. Weston Art Gallery in the Aronoff Center for the Arts premiered three new exhibitions: Standing in Time's Flow, an evocative series of monumental ceramic sculptures by Robert Pulley; Straight from the Soul, a twenty-five year survey of the expressive abstract paintings and constructions of Kevin Cole; and Paint Solo, a transformative examination of paint and color by Pamela DeCoker elevating everyday objects into refined forms created entirely from paint. (See separate press releases for Robert Pulley and Pamela DeCoker's concurrent exhibitions.)

Artist Kevin Cole (Atlanta, GA) established strong ties to Cincinnati through his long-standing relationship with fellow painter and mentor, the late Tarrence Corbin, who taught at the University of Cincinnati for more than twenty years. In his first major solo exhibition in Cincinnati, Straight from the Soul celebrates twenty-five years of art making and Cole's evolution as a painter from surface illusionism to three-dimensional abstraction revealing the artist's creative union of message and form. Cole's colorful and expressive abstractions, often bridging painting and sculpture, are infused with political and social content informed by the struggles of African Americans.

Straight from the Soul originated at the Southwest Arts Center in Atlanta, GA, and was organized by Dr. Julie McGee, Curator of African American Art at the University of Delaware Art Museum. Its appearance at the Weston marks its seventh exhibition venue which includes galleries and art centers in Arkansas and Georgia.

Kevin Cole earned a Bachelor of Science in Art Education from the University of Arkansas (Pine Bluff, AR) in 1982; a Master of Arts in Art Education and Painting from the University of Illinois (Champaign, IL) in 1983; and a Master of Fine Arts in Drawing from Northern Illinois University (DeKalb, IL) in 1984. His artwork is represented in numerous private, corporate, and museum collections including: Smithsonian Museum (Washington, D.C.); Georgia Museum (Athens, GA); Arkansas Art Center (Little Rock, AR); Yale University Art Gallery (New Haven, CT); and the Ogden Museum of Southern Art (New Orleans, LA). He has an extensive exhibition history with solo and group exhibitions at venues including: Lafayette College (Allentown, PA); The Gantt Center (Charlotte, NC); Phillips Collection (Washington, D.C.); Abrons Arts Center (New York, NY); Hearne Fine Art (Little Rock, AR); Old Dillard Museum (Ft. Lauderdale, FL); and Tubman Museum of Art (Macon, GA). In addition to an award-winning 29-year career as an arts educator in Atlanta, GA, Cole has received numerous fellowships, most recently the Dr. David C. Driskell Fellowship in 2011, and has been responsible for more than thirty public art projects in major cities around the country.
download Kevin's Statement Panel
Gallery Talk Series: Sat., Dec. 15, 2012 at 2 p.m.