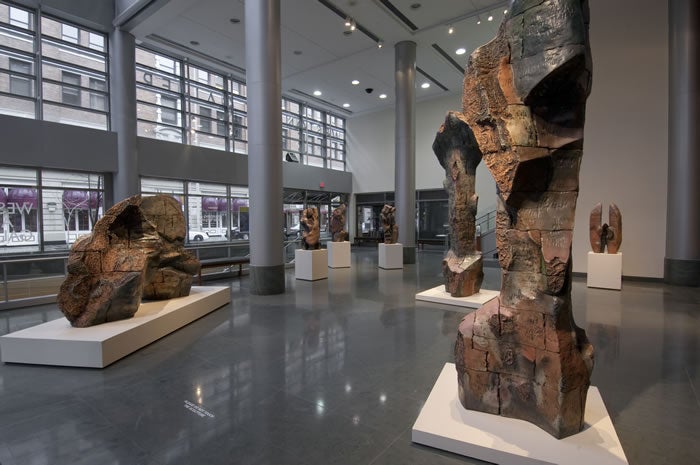 Standing in Time's Flow
Ceramic Sculpture by Robert Pulley
Date

Dec

14

, 2012

-

Feb

17

, 2013

Venue

Weston Art Gallery

Location

Street-level Gallery

Exhibition Sponsor(s):

Susan and William Friedlander

Season Sponsor:

Dee and Tom Stegman
Exhibition Details
On Friday, December 14, 2012, the Cincinnati Arts Association's Alice F. and Harris K. Weston Art Gallery in the Aronoff Center for the Arts premiered three new exhibitions: Standing in Time's Flow, an evocative series of monumental ceramic sculptures by Robert Pulley; Straight from the Soul, a twenty-five year survey of the expressive abstract paintings and constructions of Kevin Cole; and Paint Solo, a transformative examination of paint and color by Pamela DeCoker elevating everyday objects into refined forms created entirely from paint. (See separate press releases for Kevin Cole and Pamela DeCoker's concurrent exhibitions.)
Both abstract and organic, Robert Pulley's (Columbus, IN) large-scale ceramic sculptures combine ambiguous references to the human figure, organic growth, and geological stratification and fracturing. Pulley's totemic forms imply humans embedded in the forces of nature. Situated in the street-level exhibition space of the gallery, they stand like sentinels emerging from the stone floors they occupy. Standing in Time's Flow will feature monumental stacked works as well as smaller pedestal-based ceramic works created by Pulley during the past two years.
Robert Pulley earned a Bachelor of Science in Secondary Education in 1971 and a Master of Arts in Ceramics in 1979 from Ball State University (Muncie, IN). His awards include the Lilly Endowment Teacher Creativity Grant (1995) and an Individual Artist Grant from the Indiana Arts Commission (2008). Pulley's sculpture has been featured in numerous group and solo exhibitions in Indiana, Illinois, Ohio, Kentucky, Tennessee, Florida, and California. He is also represented in private, corporate, and museum collections including: Indiana State Museum (Indianapolis, IN); Canton Art Institute (Canton, OH); Wright State University Museum of Art (Dayton, OH); and the Greater Lafayette Museum of Art (Lafayette, IN). He has had long-standing affiliations with Heike Pickett Gallery (Versailles, KY); Galerie Hertz (Louisville, KY); and Jackson Gallery (Columbus, IN). In addition to his artistic pursuits, Pulley served as an arts educator in Columbus, IN, for more than thirty years (1979-2010) at both the elementary and high school level.
download Robert's Statement Panel
Gallery Talk Series: Thurs., Jan. 10, 2013 at 7 p.m.