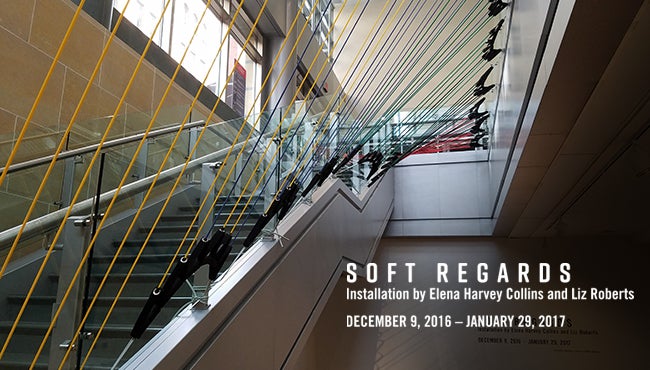 Soft Regards: Installation by Elena Harvey Collins and Liz Roberts
Date

Dec. 9, 2016–Jan. 29, 2017

Venue

Weston Art Gallery

Location

Street-Level Exhibition Space and West Gallery

SEASON SPONSOR(S):

Dee and Tom Stegman

EXHIBITION SPONSOR(S):

Jackie and Mitch Meyers
Exhibition Details
CINCINNATI, Ohio—On Friday, December 9, from 6 to 8 p.m., the Cincinnati Arts Association's Alice F. and Harris K. Weston Art Gallery in the Aronoff Center for the Arts will open two new exhibitions that examine suburban culture and domesticity: Soft Regards, a multimedia installation by Elena Harvey Collins (Santa Cruz, CA) and Liz Roberts (Columbus, OH), responds to the prevailing self-help culture; and Walls, Windows, Rooms, People, a contemplative painting installation by George Rush (Columbus, OH), explores the dynamics of interior space. (See separate press release for the concurrent George Rush exhibition.)
Reflecting on a cultural climate in which we are urged to live our best life amid an increasingly chaotic national scene, artistic collaborators Elena Harvey Collins and Liz Roberts present new work in Soft Regards that surveys contemporary self-help sources such as survivalist instruction manuals, urban planning reports, and practical guides to protecting the mind from psychic attack. Inspired by the classical structure of cinema and using the parameters of a screenplay as a guide, the installation draws connections between self-improvement, film, and landscape. The anatomy of a film—sound, set, moving image, and narrative—is translated to multimedia and sculptural works presented in the Weston's street-level exhibition space and lower west gallery that include large-scale banners, artificial rocks sound installation, resistance bands, video projection, letterpress prints of the screenplay, and a paranoia-themed reading room.
Elena Harvey Collins is an artist and writer based in Santa Cruz, CA. She has a bachelor of fine arts from Kingston University, London (2006), and a master of fine arts from the Columbus College of Art & Design (CCAD 2012). She is an artist in residence at Kala Art Institute, Berkeley, CA, and has participated in exhibitions and screenings at SPACES (Cleveland, OH); CCAD's Beeler Gallery (Columbus, OH); Enmedia Gallery and Production Society (Calgary, CA); Videoholica (Varna, Bulgaria), and others. Her essays and criticism have been published in Art Practical, Daily Serving, Wow Huh, The Glassblock, and Temporary Art Review, in addition to exhibition catalogs. She served as curatorial assistant at the Museum of Contemporary Art Cleveland, where her projects included Fatima Al Qadiri: Chinas of the Mind; image word song (curator, both 2015), and How to Remain Human (contributing curator, 2015).
Liz Roberts is based in Columbus, OH, where she serves as full-time visiting faculty in cinematic arts at Columbus College of Art & Design (CCAD). She earned a bachelor of arts in film production from the University of Iowa (Iowa City, IA) in 2011 and a master of fine arts from CCAD in 2014. Her installations and films have been featured in exhibitions and screenings at the Ann Arbor Film Festival (Ann Arbor, MI); Chicago International Film Festival; New York Expo of Short Film and Video; Microscope Gallery (New York, NY); Wexner Center for the Arts (Columbus, OH); Grand Rapids Art Museum (Grand Rapids, MI); the Film-makers' Cooperative (New York, NY); SPACES (Cleveland, OH); and Cranbrook Academy of Art (Bloomfield Hills, MI).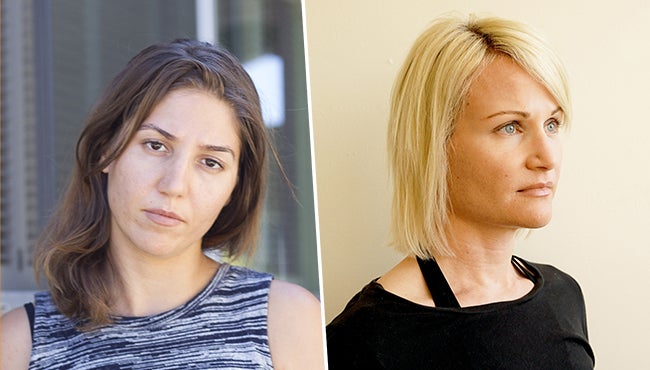 Weston Art Gallery
Weston Art Gallery
Event Starts
2:00 PM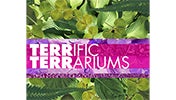 Weston Art Gallery
with artists Elena Harvey Collins and Liz Roberts
Weston Art Gallery
with artists Elena Harvey Collins and Liz Roberts
Weston Art Gallery
Event Starts
10:00 AM
Related Exhibitions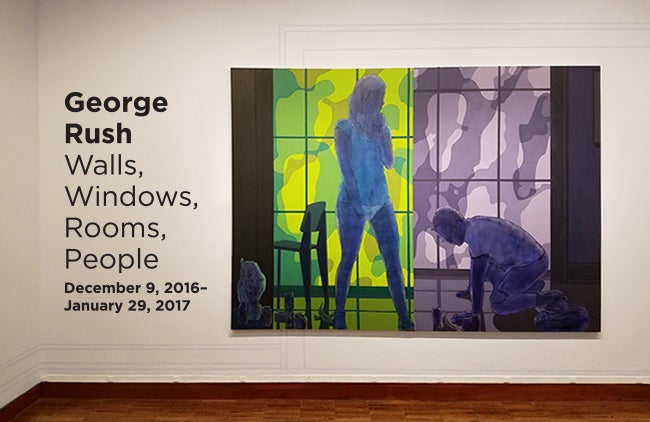 Dec
9
, 2016
-
Jan
29
, 2017
Weston Art Gallery
Dec
9
, 2016
-
Jan
29
, 2017
Weston Art Gallery
Weston Art Gallery