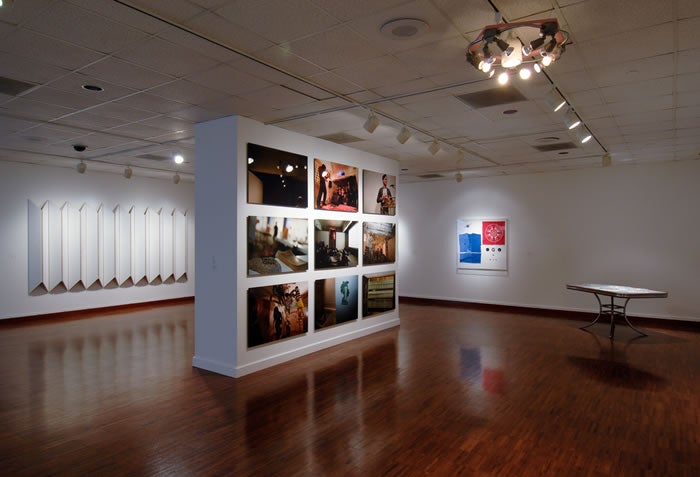 Since You've Been Gone
A Collection of New Works and Documentation Celebrating Five Years of Publico
Date

Sep

12

-

Nov

8

, 2008

Venue

Weston Art Gallery

Exhibition Sponsor(s):

Helen and Brian Heekin and The Kaplan Foundation with additional support from Robin and Murray Sinclaire, Jr.
Exhibition Details
Since You've Been Gone is an eclectic and energetic group exhibition celebrating the storied five-year programming history (2003-08) of Publico. An alternative exhibition space in Over-the-Rhine founded by brothers Matt and Paul Coors, Publico was conceived as a public, independent, and non-commercial, artist-run space where new ideas and works could be exhibited thoughtfully, professionally, and often unconventionally. During its run, the artist collective developed a reputation for presenting outstanding exhibitions, collaborations, and performances in an eccentric venue that doubled as a living space for the Coors brothers and other artists. Consistently offering strong and challenging programming, Publico left an indelible mark on Cincinnati's art community.

Since You've Been Gone functions conceptually as a kind of assemblage, giving a unique insight into the life of an "alternative" arts space. The lower galleries feature documentation of past Publico programming along with new works from Publico gallery members: Britni Bicknaver, Evan Commander, Matt Coors, Paul Coors, Beth Graves, Russell Ihrig, Joe Lamb, Matthew Waldbillig, and Dana Ward. The street-level gallery features a performance kiosk sculpture collaboratively conceived by the artists that serves as a staging ground for a series of performances including poetry, music, and film presented throughout the course of the exhibition. A list of special events and performances follows:
Gallery Talk: with Publico artists hosted by Matt Distel of Country Club Gallery: Tuesday, September 30, at 7 p.m. Admission is free and open to the public.
Poetry Reading: with poets Brandon Brown (San Francisco), Alli Warren (San Francisco), and Stephanie Young (Oakland): Sunday, October 5, at 7 p.m. Admission is free and open to the public. Seating is limited.
Music Performances: featuring musical acts High Places (Brooklyn), Burning Star Core (Cincinnati/Lexington), and Me or the Moon (Cincinnati): Saturday, October 18, at 9 p.m. Admission is $10. Tickets are limited and go on sale Wednesday, October 1, at the Aronoff Center Ticket Office and online at www.westonartgallery.com.
Film Premiere: World Premiere Film Screening of Publico All Over, a documentary about Publico by Randy Gentile, Friday, November 7, at 8 p.m. Admission is free and open to the public. Seating is limited.
Families Create! Education Workshop: Sat., Sept. 27 at 10 a.m. with Beth Graves
Families Create! Education Workshop: Sat., Oct. 25 at 10 a.m. with Russell Ihrig