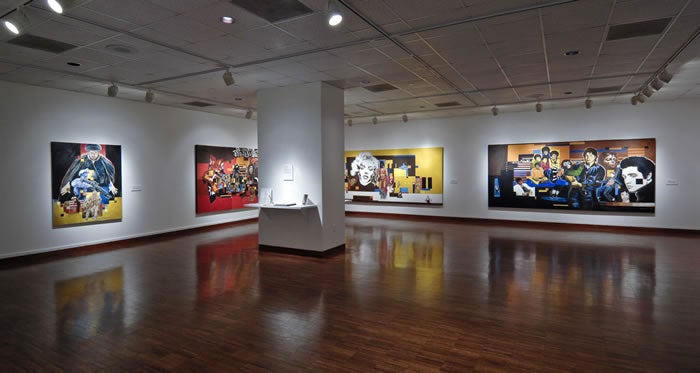 Pixels
Paintings by Jimi Jones
Date

Nov

14

, 2008

-

Jan

10

, 2009

Venue

Weston Art Gallery

Location

West Gallery

Exhibition Sponsor(s):

Dee and Tom Stegman
Exhibition Details
In an age of information-overload, Jimi Jones (Cincinnati, Ohio) reflects upon the pixel, the basic building block of electronic visual communication. In his billboard-like paintings that collage popular culture with historical events, he employs the pixel as a visual component and metaphor to distill his observations on political and social issues. Pixels will feature an ambitious new series of bold paintings by Jones covering a wide range of topics from the war in Iraq, religious conflicts, historical distortions, cultural dichotomies, and pop icons.

Jimi Jones is a long-time resident of Cincinnati where he earned a bachelor of science in graphic design from the University of Cincinnati in 1980. He is one of the founding members of the Neo-Ancestralists, a collaborative of African American artists formed in 1990. As a member of that creative endeavor, he has been featured in exhibitions at the Arts Consortium of Cincinnati (1995), Contemporary Arts Center (1992, 1996), Weston Art Gallery (1997), and Shot Tower Gallery (Columbus, Ohio, 2003).

As a solo artist, he has exhibited his work at a number of Cincinnati-area venues including the Carnegie Visual and Performing Arts Center, Closson's Art Gallery, Arts Consortium of Cincinnati, the Mockbee, and Suzanna Terrill Gallery as well as the National Afro-American Museum & Cultural Center in Wilberforce, Ohio. He retired from Procter & Gamble in 2007 after 27 years as art director and manager of displays. Jones currently devotes himself to his artistic pursuits at his studio in downtown Cincinnati.

Gallery Talk Series: Tues., Dec. 9 at 7 p.m.
Families Create! Education Workshop: Sat., Jan. 3 at 10 a.m. with Jimi Jones