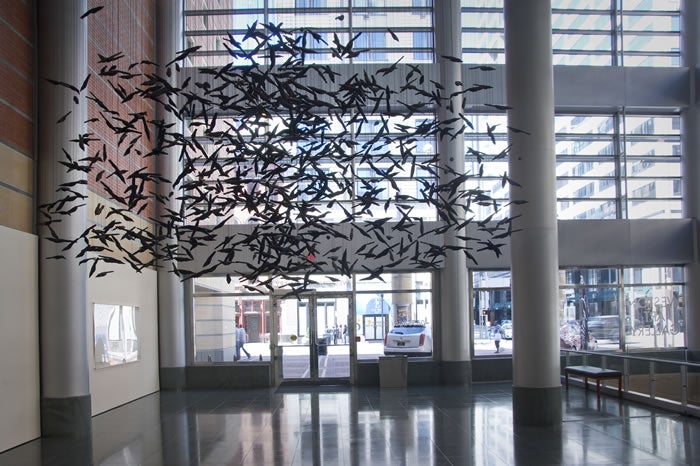 Passage
Installation by Ann Coddington Rast
Dates

Mar

30

-

Jun

3

, 2012

Venue

Weston Art Gallery

Location

Street-level Gallery
Exhibition Sponsor(s):
Barbara and Gates Moss
Exhibition Co-Sponsor(s):
Robin and Murray Sinclaire / Ross Sinclaire & Associates, LLC
Passage
Installation by Ann Coddington Rast
The Cincinnati Arts Association's Alice F. and Harris K. Weston Art Gallery in the Aronoff Center for the Arts presents three new exhibitions: passage, an evocative installation by Ann Coddington Rast that features hundreds of suspended slipcast ceramic birds, densely packed and frozen in flight; Painting, Drawing and Other Things, a collaborative and stimulating pairing of large-scale abstract paintings by Alan Crockett with intimate figurative line drawings by Clara Crockett, exhibiting together for the first time; and Drive-By, an imaginative and insightful series of photographs by Brad Austin Smith realized in a fanciful way. (See separate press releases for Alan and Clara Crockett and Brad Austin Smith's concurrent exhibitions.)

Ann Coddington Rast (Champaign, Ill.) utilizes fiber techniques from the traditional craft of basketry to create sculptural expressions that explore how life experiences are sensed, manifested, accumulated, and stored in the body. Long fascinated by the complex metaphoric language of birds, Rast has created a new body of artwork inspired by the symbiotic gestalt of flocks of birds in flight that can mesmerize us with their tendency to move in large groups with a seeming collective consciousness. In passage, she takes full advantage of the vertical expanse of the Weston Art Gallery's street-level exhibition space, creating an abstract flock of hundreds of slipcast ceramic birds frozen in flight, hovering silently above the viewer's head and evoking as the artist suggests, "a time of rebirth and harmony, or perhaps an apocalyptic culmination."

Ann Coddington Rast is an associate professor currently teaching in the Foundations Program at Eastern Illinois University (Charleston, Ill.). She holds a bachelor of fine arts in fibers from Colorado State University in Fort Collins, Colo. (1986), and a master of fine arts in sculpture from the University of Illinois at Urbana-Champaign (1993). She has an extensive regional and national exhibition record participating in both solo and group exhibitions. In 2000 and 2011 she was the recipient of a Fellowship in Crafts from the Illinois Arts Council, the most recent of which supported her work on this exhibition.

download Ann's Statement Panel
Gallery Talk Series: Thursday, April 26 at 7 p.m.
Concurrent Exhibition(s)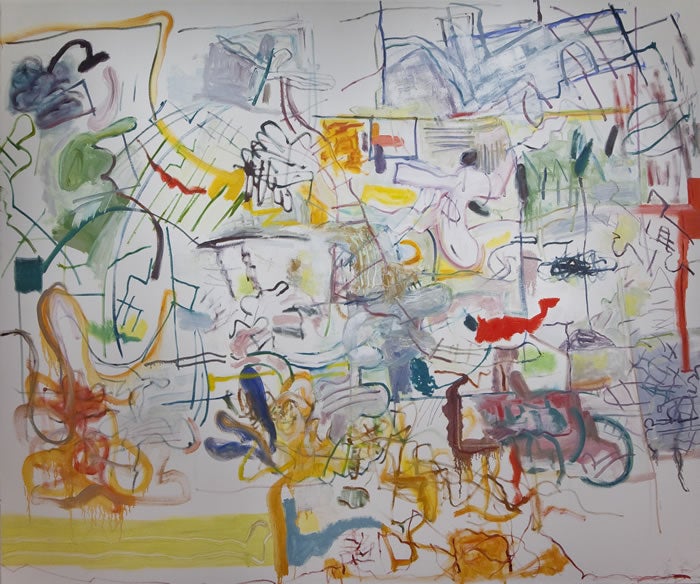 Weston Art Gallery
Works by Alan and Clara Crockett
Share