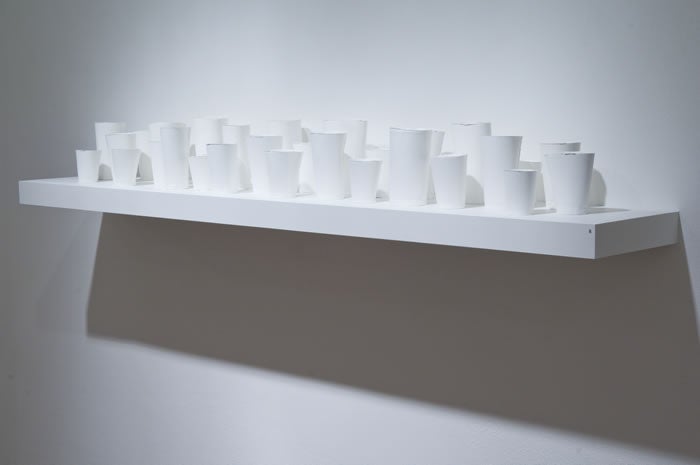 Paint Solo
by Pamela DeCoker
Date

Dec

14

, 2012

-

Mar

3

, 2013

Venue

Weston Art Gallery

Location

East Gallery

Season Sponsor:

Dee and Tom Stegman
Exhibition Details
On Friday, December 14, 2012, the Cincinnati Arts Association's Alice F. and Harris K. Weston Art Gallery in the Aronoff Center for the Arts premiered three new exhibitions: Standing in Time's Flow, an evocative series of monumental ceramic sculptures by Robert Pulley; Straight from the Soul, a twenty-five year survey of the expressive abstract paintings and constructions of Kevin Cole; and Paint Solo, a transformative examination of paint and color by Pamela DeCoker elevating everyday objects into refined forms created entirely from paint. (See separate press releases for Robert Pulley and Kevin Cole's concurrent exhibitions.)

Pamela DeCoker (Oxford, OH) examines the nature of painting through non-conventional methods. Working with acrylic paint and color in its purest form, she painstakingly creates castings and impressions transforming everyday objects into elegant composites made only of paint. DeCoker's "specimens" include a variety of containers, canvases, and industrial surfaces such as diamond plate steel, all meticulously recreated with skins of paint. In Paint Solo DeCoker explores paint's possibilities for formal beauty and calls into question the nature of painting by using paint as a sculptural medium, rather than as a medium for describing objects on a two-dimensional surface.

Pamela DeCoker earned a Bachelor of Arts in Art and Religion from Wittenberg University (Springfield, OH) in 1979. She attended the University of Michigan Rackham Graduate School (Ann Arbor, MI) from 1982-84 and the University of Minnesota Morris (Morris, MN) from 1987-89. In 2004 she was awarded a Master of Fine Arts from the College of Design, Architecture, Art and Planning at the University of Cincinnati (Cincinnati, OH). She is the recipient of an Ohio Arts Council Individual Excellence Award (2009). Her work has been featured in solo and group exhibitions at the Fitton Center for Creative Arts (Hamilton, OH); Dayton Visual Arts Center (Dayton, OH); The Sculpture Center (Cleveland, OH); Northern Kentucky University (Highland Heights, KY); Indianapolis Art Center (Indianapolis, IN); and Brevard Art Museum (Melbourne, FL).
download Pamela's Statement Panel
Gallery Talk Series: Wed., Jan. 16, 2013 at 7 p.m.
Families Create! Education Workshop with the Artist: Sat., Jan. 5, 2013 at 10 a.m.