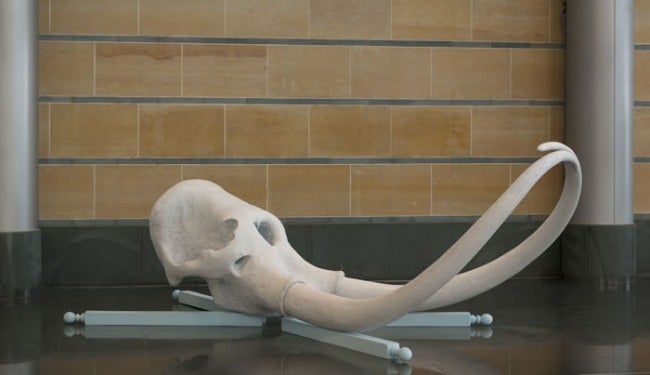 Matthew Flegle: No Shelter
Date

Sep 20 - Dec 1, 2013

Venue

Weston Art Gallery

Location

Street-level Gallery

Exhibition Sponsor(s):

Whitney and Phillip Long

2013-14 EXHIBITION SEASON SPONSOR:

Dee and Tom Stegman
Exhibition Details
CINCINNATI, Ohio—On Friday, September 20, from 6 to 9 p.m., the Cincinnati Arts Association's Alice F. and Harris K. Weston Art Gallery in the Aronoff Center for the Arts will launch its 2013-14 season with an opening reception for No Shelter, an evocative group of sculpture by Matthew Flegle in his first solo exhibition.
In repurposing traditional building materials, artist Matthew Flegle (Columbus, OH) constructs objects that emanate from architecture and suggest narrative. Plaster, metal mesh, drywall, lumber, concrete, and insulating foam are all transformed yet remain recognizable as raw materials. No Shelter features three new sculptures by Flegle (including a large-scale mastodon skull) that combine his interest in vernacular American structures and figurative subjects with continuing investigations into complex human conditions.
Matthew Flegle earned a Bachelor of Fine Arts from Ohio State University in 1995 and a Master of Fine Arts from Stanford University in 2003. He was an artist-in-residence at Anderson Ranch Arts Center (Snowmass Village, CO) in 1998-99, the Vermont Studio Center in 2000, and at the Bemis Center for the Arts (Omaha, NE) in 2000-01. Flegle was awarded the New York Foundation for the Arts Fellowship in 2001 and the Murphy + Cadogan Award in 2002. While living in the San Francisco Bay Area, he participated in exhibitions at Catherine Clark Gallery (San Francisco, CA, 2003); The Luggage Store Gallery (San Francisco, CA, 2004); and Headlands Center for the Arts (Sausalito, CA, 2005). He relocated to Columbus, OH, in 2006 to accept a teaching position at the Columbus College of Art and Design where he currently serves as a fine arts instructor and exhibitions manager. Since returning to Ohio he has participated in exhibitions at the Weston Art Gallery (Cincinnati, OH); Ohio University Urban Arts Space (Columbus, OH); Columbus Cultural Arts Center (Columbus, OH); Decorative Arts Center of Ohio (Lancaster, OH); Canzani Gallery at the Columbus College of Art and Design (Columbus, OH); and the Columbus Museum of Art (Columbus, OH). In 2012, he was awarded an Individual Artist Fellowship from the Greater Columbus Arts Council.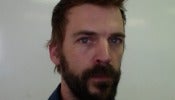 Weston Art Gallery
Weston Art Gallery
Event Starts
7:00 PM