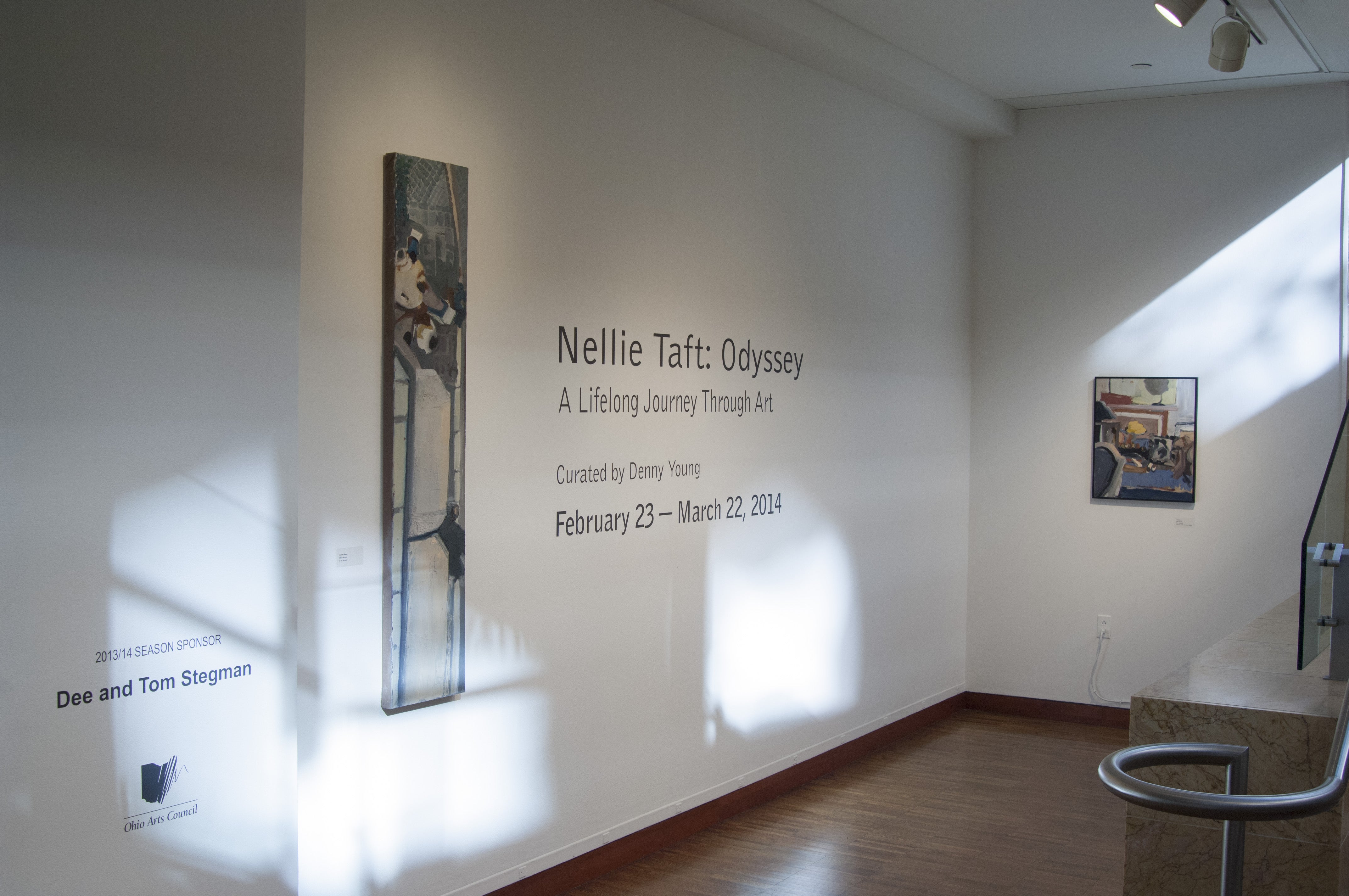 Nellie Taft: Odyssey, A Lifelong Journey through Art
Date

Feb

23

-

Mar

22

, 2014

Venue

Weston Art Gallery

2013-14 Exhibition Season Sponsor:

Dee and Tom Stegman
Exhibition Details
CINCINNATI, Ohio—On Sunday, February 23, 2014, the Cincinnati Arts Association's Alice F. and Harris K. Weston Art Gallery in the Aronoff Center for the Arts will open Nellie Taft: Odyssey, A Lifelong Journey through Art, a tribute to native Cincinnati artist Nellie Taft.
Nellie Leaman Taft's death in December 2012 revealed the breadth of her creativity as an accomplished artist who produced a significant body of work throughout a fifty-year career in Cincinnati and Boston, MA. Taft's insatiable curiosity and bold experimentation compelled her to explore a diverse range of painting subjects from still life, interiors, landscape and figurative work to abstraction. Odyssey celebrates Taft's epic adventure through the arts via a special retrospective exhibition featuring an array of paintings and works on paper selected from her prodigious creative output. Organized by the Weston Art Gallery and curated by Denny Young, former curator of painting at the Cincinnati Art Museum, the exhibition fills the Weston Art Gallery's lower level and features more than eighty works of art.
Nellie Taft was born in 1937 in Indian Hill in Cincinnati. She developed her interest in painting and printmaking while studying at Reed College in Portland, Oregon, in 1959 and later earned a bachelor's in art history in 1966 and a master's in education in 1968 from Columbia University in New York City while honing her painting skills at a lower Manhattan loft. She returned to Cincinnati in 1980 where she participated in group exhibitions at the Women's Art Club and Contemporary Arts Center. The A. B. Closson, Jr. Gallery presented two solo exhibitions of her work in 1986 and 1995.
In 1986, she moved to Boston and continued to pursue her education in fine art in 1990 through the Fifth Year Program at the School of the Museum of Fine Arts, Boston. She completed in 1991 and was the recipient of both the Clarissa Bartlett and the Albert H. Whitin Traveling Scholarships which allowed her to spend a year studying in Rome. She was among the first female members to join the formerly all-male St. Botolph Club, an art-influential organization in Boston where she served on the art committee, curated a number of exhibitions, and transformed the Club Conservatory into a members' gallery. A major exhibition of her work was featured there in 2002. Taft exhibited frequently in Boston and in Maine at such venues as Brickbottom Gallery (Somerville, MA), Round Top Center for the Arts (Damariscotta, ME), Cushing Historical Society (Cushing, ME), Between the Muse Gallery (Rockland, ME), Grossman Gallery, and Nielsen Gallery (Boston, MA). From 1993 until her death in December 2012, she served on the Whitney Museum of American Art's National Committee, a collector-oriented group.
Odyssey features works on loan from private collections and her estate. Sales of all artworks will benefit the Weston Art Gallery and the NLT Foundation, the late Taft's philanthropic fund.