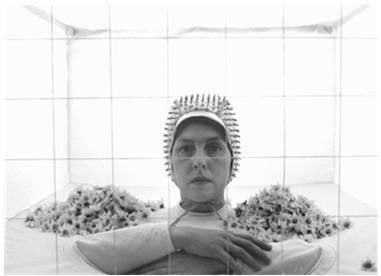 Moving Images
by Alison Crocetta
Date

June

17

-

Aug

28

, 2011

Venue

Weston Art Gallery

Exhibitions Sponsor(s):

Jackie & Mitch Meyers and The Vista Foundation

Exhibition Co-Sponsor(s):

Robin & Murray Sinclaire; Kathy Hamm & Tom Hemmer/Principled Wealth Advisors

Additional Support:

Toni LaBoiteaux and Joseph L. Pahls
Exhibition Details
On Friday, June 17 the Cincinnati Arts Association's Alice F. and Harris K. Weston Art Gallery in the Aronoff Center for the Arts premiered a series of seductively beautiful, mesmerizing and evocative film works by Alison Crocetta.

Alison Crocetta's (Columbus, Ohio) films and videos synthesize a variety of artistic disciplines that include sculpture, installation and performance. In Crocetta's work, the human body takes center stage as a primary vehicle to communicate ideas about the places we inhabit, objects in our environment, and fleeting perceptual phenomena.

Moving Images presents a survey of fifteen of Crocetta's works completed during the past eight years. Projected throughout both levels of the Weston Art Gallery, the exhibition will include a unique presentation of Clear/Fill/Reveal (2003) which will be projected within an enclosed funnel-like structure in the upper gallery, mimicking early camera bellows and allowing for a unique and intimate viewing experience. Other film works including: Bear in Mind (2006), Gather/Shed/Lift (2008), Track (2008), The Galanty Show (2009), Gone (2009), S.O.S. (2009), Empty (2010), Infinity (2010), S.O.S. II (2010), and Twin (2010) will be projected in a variety of scales and settings in the connecting lower galleries, affording a variety of viewing experiences.

Alison Crocetta earned a bachelor of fine arts from the New York State College of Ceramics at Alfred University (Alfred, N.Y.) in 1991 and attended the Skowhegan School of Art (Skowhegan, Maine) in 1992 before receiving a master of fine arts with an emphasis in sculpture from Tyler School of Art at Temple University (Philadelphia, Pa.) in 1993. In addition to the film trilogy with composer Barbara White entitled Gather/Shed/Lift, Crocetta has worked collaboratively on a range of projects including a video entitled Bear in Mind (The Bill of Rights) with American Sign Language Interpreter Charlene McCarthy and a collection of silent short videos with visual artist Casey Doyle. Her work has been screened and exhibited at the Columbus Museum of Art, MIT List Center for Visual Arts, Galapagos Art Space, Princeton University, Johns Hopkins University, CoCA in Seattle, CEPA Gallery, Bronx Museum of the Arts, and Harvard University.

Crocetta is a recipient of the 2010-11 EMPAC Dance Movies film commission to produce a forthcoming project entitled A Circus of One in collaboration with composer, Jason Treuting and with sponsorship from the New York Foundation for the Arts. Her honors and awards also include artist residencies in the Art and Technology program at the Wexner Center for the Arts and Harvestworks Digital Media Arts Center in New York City, a Bunting Fellowship at the Radcliffe Institute for Advanced Study at Harvard University, and a regional NEA grant for individual artists. Crocetta is currently an assistant professor in the Department of Art at Ohio State University.
Work samples can be viewed at the artist's Web site: www.alisoncrocetta.com.

download an Interview with Alison Crocetta (pdf)

download Moving Images exhibition brochure - designed by Scott Bruno (pdf)
Gallery Talk Series: Thursday, June 23 at 7 p.m.