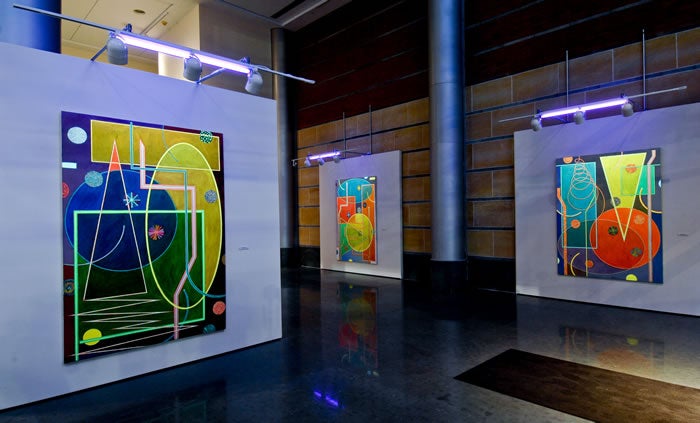 Luminous
Paintings by Tom Bacher
Date

Jan

23

-

Mar

21

, 2009

Venue

Weston Art Gallery

Exhibition Sponsor(s):

The Friedlander Family Foundation, Mr. & Mrs. Roger L. Howe, The LaBoiteaux Family Foundation, and additional support from Dinsmore & Shohl, LLP
Exhibition Details
On Friday, January 23, the Cincinnati Arts Association's Alice F. and Harris K. Weston Art Gallery in the Aronoff Center for the Arts presented Luminous Paintings by Tom Bacher, an overview of the artist's work from the past ten years.

A renowned Cincinnati painter, Tom Bacher has consistently amazed audiences for years with large-scale paintings that literally glow in the dark. Combining phosphorescent pigments with acrylic medium (a process he invented), Bacher's canvases incorporate the element of time, enabling his paintings to be viewed with and without light as they provide dramatically different personas, transforming into luminous wonders right before the viewer's eyes. In the dark, Bacher's paintings shift from physical objects to what appear to be light projections on the wall. As the intensity of the glow provided by the phosphorescent pigments begins to fade, viewers witness subtle differences in the images, providing a continually changing experience. Through his light-emitting paintings, Bacher effectively merges his fascination with color and light.

For his exhibition at the Weston Art Gallery, encompassing both levels, he will include both non-objective abstract paintings and representational paintings featuring skylines of New York, Las Vegas and Cincinnati, as well as suburban scenes and open landscapes of the southwestern United States. A number of paintings, featured from private collections, will be viewed for the first time in Cincinnati.

Tom Bacher is a native Cincinnatian. He attended the Art Academy of Cincinnati from 1969 to 1972 and later returned in 1984 to complete his bachelor of fine arts - the same year in which he was awarded the prestigious Post-Corbett Award for Outstanding Visual Artist in Cincinnati. In 1972, he attended Yale Summer School of Art and Music in Norfolk, Connecticut. From 1980 through 1990 he lived in New York where he maintained a studio and participated in a number of solo exhibitions at O. K. Harris Gallery. He received a master of fine arts from Pratt Institute (Brooklyn, N.Y.) in 1991.

In a career spanning more than thirty years, his work has been exhibited in solo exhibitions on multiple occasions in local, national and international venues that include Carl Solway Gallery, Toni Birckhead Gallery, and Cincinnati Art Galleries (all Cincinnati, Ohio); Miami University Art Museum (Oxford, Ohio); Southern Ohio Museum (Portsmouth, Ohio); Exhibit Gallery (Chicago, Ill.); O.K. Harris (New York, N.Y.); Nemiroff-Deutsch Gallery (Santa Monica, Calif.); Wenger Gallery (Los Angeles, Calif.); Galerie La Papeterie (Brussels, Belgium); and La Maison des Arts Châtillon (Paris, France). In 1983, he completed a major commission for the Omni Netherland Hotel in downtown Cincinnati consisting of six twenty-one feet tall murals depicting the Cincinnati skyline. Bacher's work is represented in numerous museum, corporate, and private collections.
Gallery Talk Series: Thurs., Feb. 5 at 7 p.m.
Families Create! Education Workshop: Sat., Feb. 14 at 10 a.m. with Tom Bacher