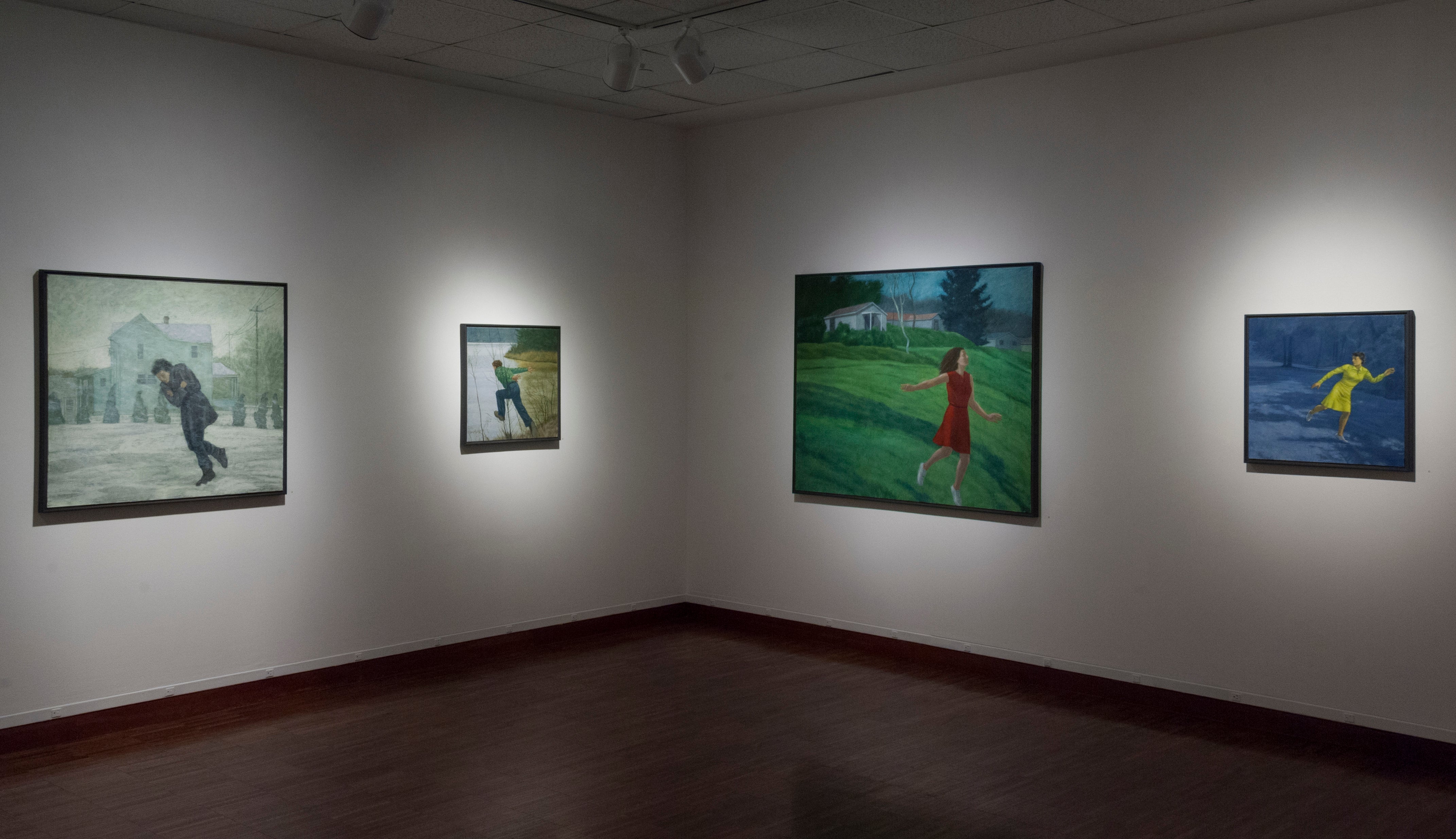 Ron Kroutel: Long Moments
Date

Dec 6, 2013 - Feb 16, 2014

Venue

Weston Art Gallery

Location

West Gallery

EXHIBITION SPONSOR(S):

Toni LaBoiteaux

2013-14 EXHIBITION SEASON SPONSOR:

Dee and Tom Stegman
Exhibition Details
CINCINNATI, Ohio—On Friday, December 6, 2013, the Cincinnati Arts Association's Alice F. and Harris K. Weston Art Gallery in the Aronoff Center for the Arts will debut three new exhibitions: Grammatical Errors, an imaginative installation by Melissa Vogley Woods that creatively dissects the elements of a house; Long Moments, a new series of enigmatic paintings by Ron Kroutel that isolates expressive figures in urban and natural landscapes; and Cities, a photographic exploration of the city as a living and evolving organism by Joel Whitaker.
For the past twenty years, Ron Kroutel (Athens, Ohio) has been known for his foreboding landscape paintings that explore the topography of southeast Ohio as a record of the tensions between the natural world and societal development. In his most recent work, Kroutel returns to an earlier interest by reintroducing the human figure to his landscapes. These singular individuals, isolated within the landscape, are animated through their emotional responses to their settings, expressing fear, frenzy, joy and anger. Long Moments will feature a new series of paintings by Kroutel that synthesizes these earlier bodies of work, creating a new dynamic.
Ron Kroutel grew up in Chicago, Illinois, and attended the Art Institute of Chicago for studio art courses in painting and drawing and the University of Chicago for academic courses where he earned a bachelor of art education in 1958. He later earned a master of fine arts in painting at the University of Michigan (Ann Arbor, Michigan) in 1963. In 1966, he took a position at Ohio University (Athens, Ohio) where he taught for more than thirty years and served as chair of painting, drawing, and foundations. Kroutel has exhibited nationally and internationally during which he presented more than thirty-five solo exhibitions. He has been the recipient of numerous awards and grants including three Ohio Arts Council Fellowships and an Arts Midwest/NEA Fellowship. An Emeritus Professor of Art at Ohio University, he continues to teach in the London Study Abroad program.
Kroutel's paintings are held in numerous public and private collections including the Huntington Museum of Art (Huntington, West Virginia); Detroit National Bank (Detroit, Michigan); Centennial Plaza (Cincinnati, Ohio); Prudential Insurance (Chicago, Illinois); and Ohio University's Kennedy Museum of Art (Athens, Ohio).