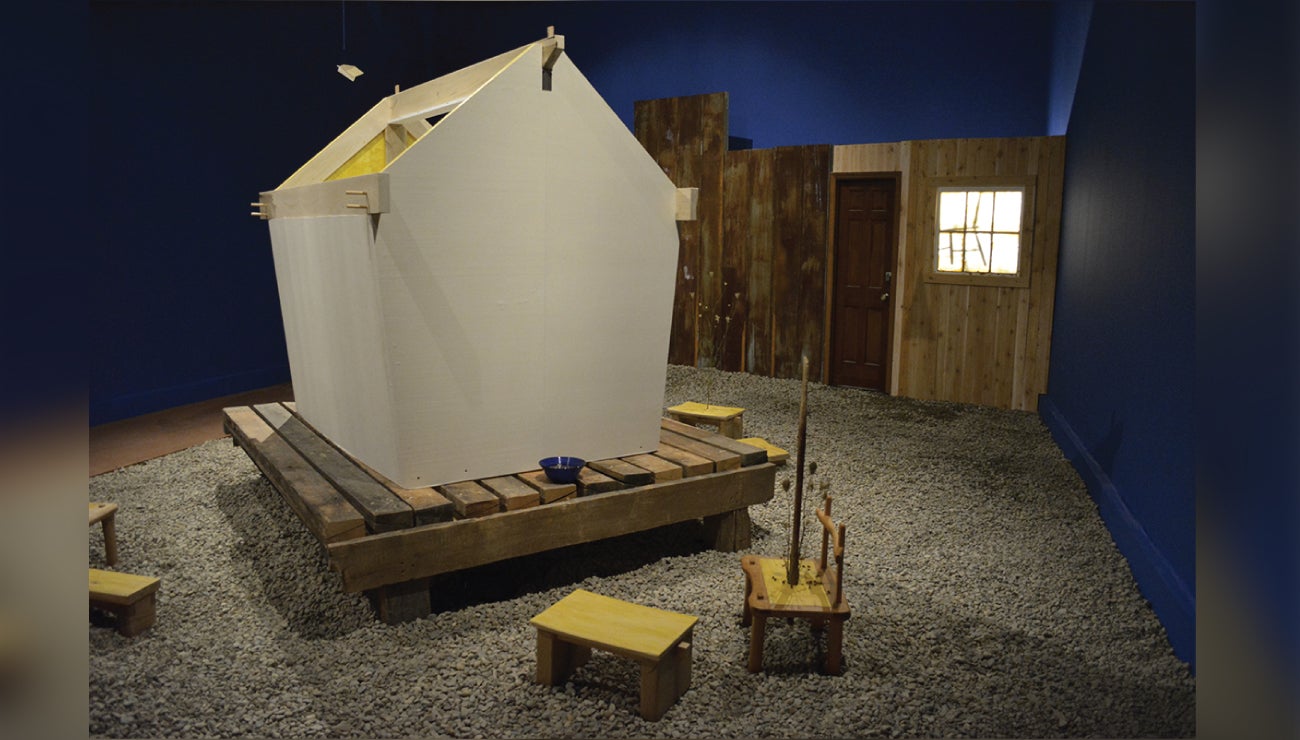 Johnny Coleman: And the Presence of Light
Date

January 30-February 27, 2021

Venue

Weston Art Gallery

Location

Street-level Exhibition Space

EXHIBITION SPONSOR:

Helen and Brian Heekin

EXHIBITION CO-SPONSOR:

Vanessa and Rick Wayne
Exhibition Details
In the Weston's street-level atrium, Johnny Coleman (Oberlin, OH) constructs a new installation honoring the historical plight of Lee Howard Dobbins, an adopted child, and eight enslaved women seeking freedom and a future in Canada in 1853. And the Presence of Light imagines an immersive dreamscape within which the recurrent theme of light – the North Star, the light in the window, the Eternal Light of the Spirit within each of us – is linked across time and space to a specific narrative of freedom. In this space, the voices of eight contemporary Black women from Oberlin, where the body of this child lies at rest, speak to the eight women who carried him there. Incorporating sound and video, and lovingly embellished with repurposed wood that echoes past histories, the piece is composed as a Gesture of Acknowledgement and Gratitude for their love, determination, and tenacity.
Johnny Coleman is an interdisciplinary artist and educator. His sculptural work and sound installations are composed as intentional gestures in homage and prayer. He holds the Young Hunter Professorship of Art and Africana Studies at Oberlin College where he serves as a tenured faculty member teaching studio art and African American studies. He earned his B.F.A. degree from the Otis Art Institute of the Parson's School of Design and his M.F.A. degree from the University of California, San Diego. His work has been exhibited in numerous galleries and museums, including Cleveland's Museum of Contemporary Art, the David Zapf Gallery in San Diego, the Akron (OH) Museum of Art, and the William King Art Center in Abington, VA. His published works include "Landscapes of the Mind: Psychic Space and Narrative Specificity" in Space, Site, Intervention: Situating Installation Art from the University of Minnesota Press.
Coleman is the recipient of numerous awards and honors, including grants from the Ohio Arts Council, the National Endowment for the Arts, ART MATTERS, and the Russell Foundation. In 1997, he was named Outstanding Alumnus of the Year by the Otis Institute of Art and Design. In 2003, he received the Cleveland Arts Prize for Visual Arts.