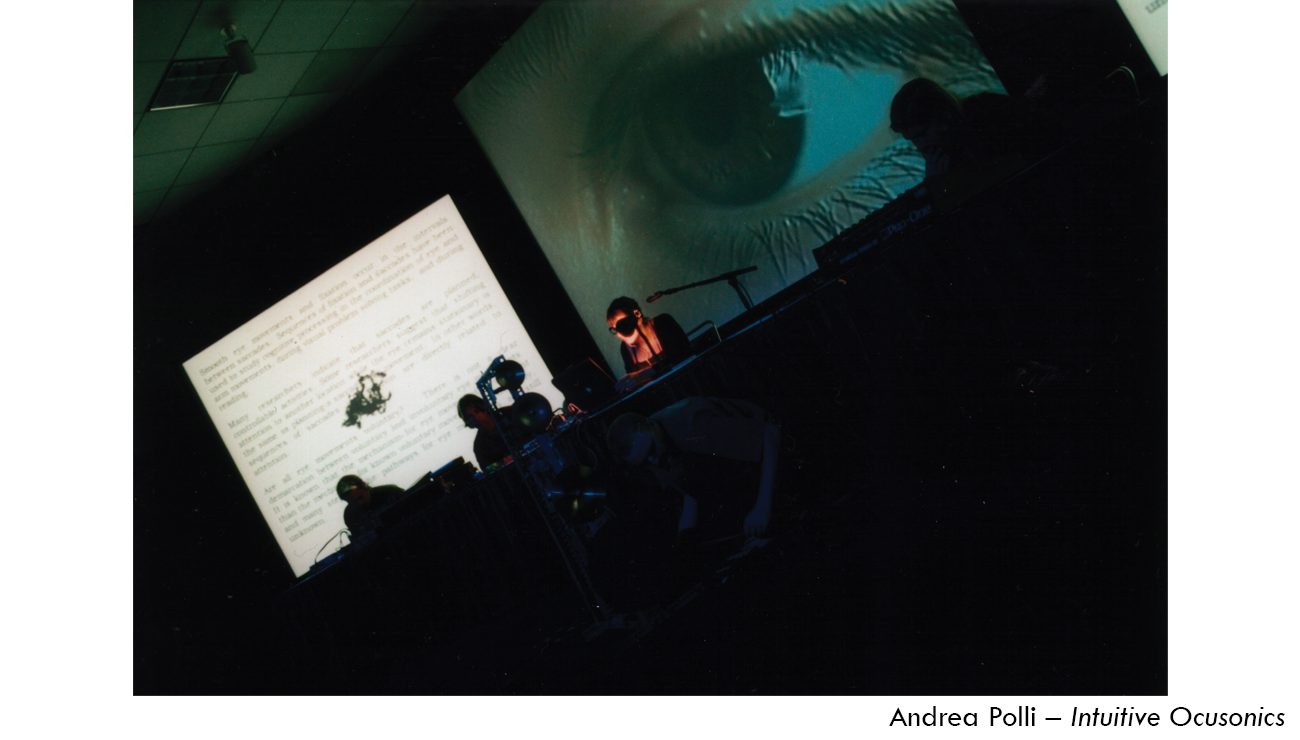 InterMedia Series 2002
Date

Nov. 1-3, 2002

Venue

Weston Art Gallery
Exhibition Details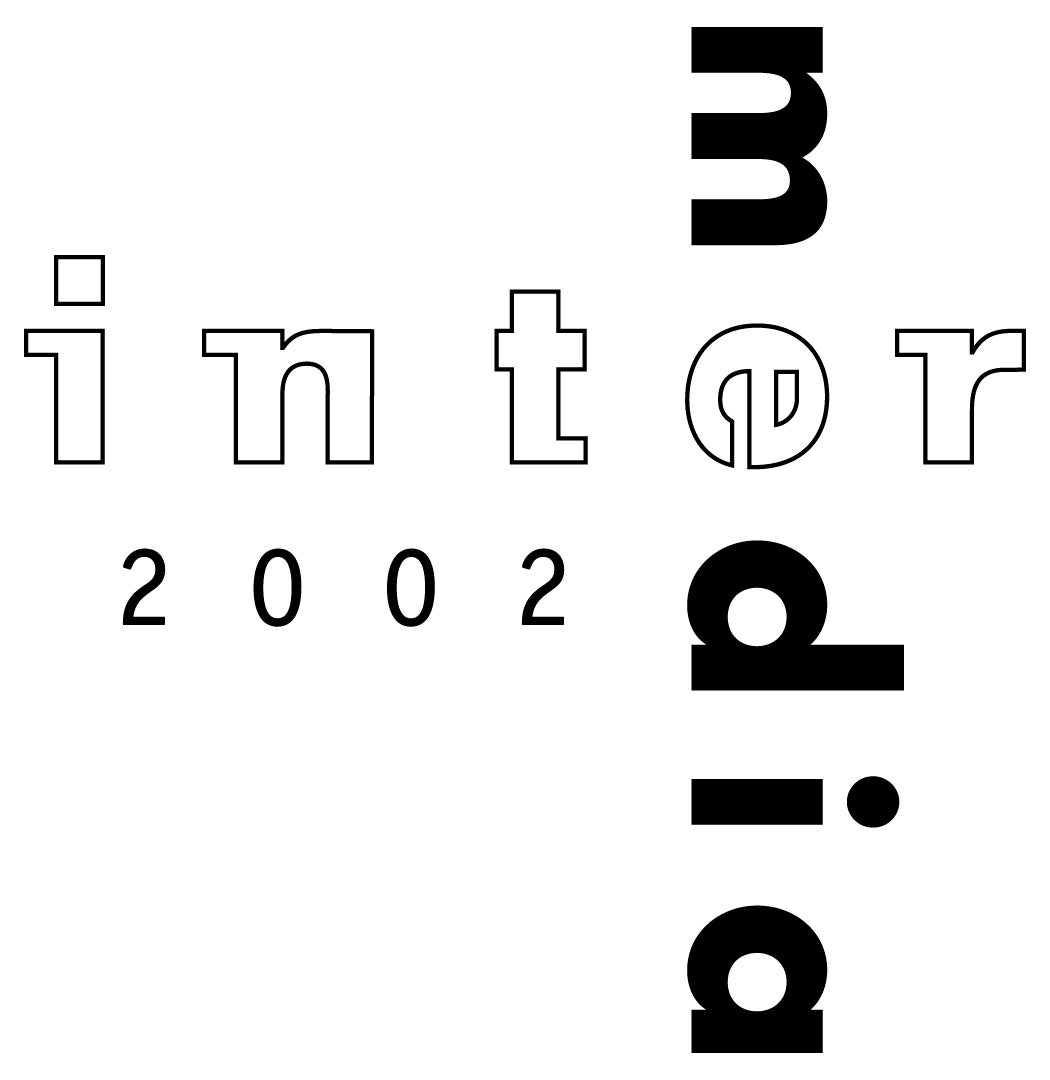 The third annual weekend presentation of artist films, video, and live performance dedicated to the memory of Salli LoveLarkin, Weston Art Gallery founding director
The Cincinnati Arts Association's Weston Art Gallery in the Aronoff Center for the Arts presents InterMedia 2002 – the third annual weekend festival of live performance, media-based artists' projects, artists' film and video screenings, educational workshops, guided tours, a program of alternative bands with avant music and spoken word performers. This eclectic series brings under-represented genres to the forefront by presenting the works of local, regional, and national artists with a focus on time-based art forms. Events occur at the Weston Art Gallery, Fifth Third Bank Theater in the Aronoff Center for the Arts and the University of Cincinnati.
Friday, November 1
InterMedia 2002 begins Friday, November 1 at 7:30 p.m. with a Jon Jost Lecture & Film Screening at the University of Cincinnati's College of Design, Architecture, Art and Planning Kaplan Auditorium in the Aronoff Center for Design with a lecture and program of film presented by internationally acclaimed avant-garde filmmaker Jon Jost.
With a career spanning four decades, Jost's work represents one of the most accomplished and uncompromising bodies of work by an American filmmaker. A true independent and master technician, he has photographed, edited, written, directed, and even cut the negative for his fifteen feature length films and many shorts in both 16mm and 35mm formats. For the past five years he has worked with digital video technology and has become a leader in the movement away from photochemical processes. He now lives and works in Rome, Italy. Most recently Jost was invited to create a full-length work for Documenta X in Kassel, Germany, and was included in the Rotterdam Film Festival. He has been an Artist in Residence at the Zentrum fur Kunst und Media in Karlsruhe, Germany since March 2000.
As part of his visit, Jost will teach a two-day workshop on Saturday, November 2 and Sunday, November 3 at the University of Cincinnati on the creative use of the digital video medium. Students will participate in a hands-on workshop, shooting and working on their own projects with direct interaction with Jost.
Jon Jost's film program, lecture and workshop are co-presented by the Cincinnati Film Society and U.C.'s College of DAAP-School of Art.
Saturday, November 2
On Saturday, November 2, the Weston Art Gallery will host a reception from 4:30 - 6:30 p.m. which features an ongoing performance of Beauty and the Beholder produced by Joe Barnett and Emily Buddendeck, as well as a Projection Loop by Mark Fox to accompany the three current media-based exhibitions at the gallery designed to link with InterMedia 2002: Beauty and the Beholder, a group exhibition of Cincinnati artists exploring the multi-faceted subject of voyeurism; I Morti, a five-channel video projection by Charles Woodman; and Desire, Tunnel & Wheelchair, a new series of video installations by Gagik Aroutiunian.
Guided Bus Tours of Incidental Public Sculpture, organized jointly by the CulturalMachineComplex and newsense enterprises, will be offered throughout the reception. Departing from the Seventh Street entrance of the Weston Art Gallery, tours will view "incidental public sculptures" – defined as noncommissioned, found and incidental structures or performances not initially conceived as artworks. Kristin Bly-Rogers of newsense enterprises will serve as tour guide.
In addition, a VOLK Listening Station and Archive installed in the gallery's prep space will offer visitors an opportunity to hear the premiere of VOLK's long-awaited CD project: VOLK / Spoken Word Series + Live, featuring a collection of spoken word performances and music recorded during the summer of 2000 when VOLK initiated its impermanent season of programming. Copies of the CD and original VOLK posters will be available for sale at the gallery.
At 7:00 p.m. in the Fifth Third Bank Theater, digital media artist Andrea Polli of New York will present a performance and demonstration of Intuitive Ocusonics, a system designed for live sound improvisation with eye movements melding visual and aural information through tracking technology first developed by the U.S. military. Polli will perform a solo improvisation and discuss aspects of the system's background and design. The Fly's Eye, an installation by Polli in the theater lobby utilizing a computer system, a live surveillance camera and video projector to track and analyze visitors' movements, will greet patrons attending the performance.
Pause://>repeat, a program of alternative bands, avant music and spoken word performances starts at 9:00 p.m. in the Fifth Third Bank Theater featuring: Naval Cassidy & the Hands of Orlak, an instant cinema/percussion duo consisting of Jonathan Giles (Naval Cassidy) and Fritz Welch (The Hands of Orlak) from New York City who bombard the audience with spontaneously created images and sounds; and Chalk, a three-person Cincinnati band comprised of David Rohs, Jim Reynolds, and Greg Poneris, who incorporate electronic elements including video projection into their performances which they enthusiastically describe as "sonic deconstruction," a hybrid of electronica, indie and punk music. Chalk will be joined by Craig Caudill, who will coordinate projected video for the band, and Rachel Rampleman, who will provide slide manipulation.
Pause://>repeat will also feature Cincinnati writer and performer, Mark Flanigan in collaboration with Cincinnati musician, Steven Proctor, who will continue explorations into the "aural miasma" of the spoken word via poetry, storytelling, and song. Joseph Winterhalter, another Cincinnati artist and performer will present verbal manipulations of seriality, processing and chance through performative actions designed to activate otherwise uninhabitable or "dead" spaces.
Sunday, November 3
Programming concludes on Sunday, November 3 with a Children's Animation Screening at 11:00 a.m. in the Fifth Third Bank Theater – a program of short animated films produced from flip books created by children in the Weston Art Gallery and Taft Museum of Art's Families Create! October workshop. The InterMedia 2002 Greater Cincinnati/Northern Kentucky Student Film and Video Festival follows from 1:00 to 2:30 p.m. with a program of selected films and videos from area college and high school students.
Matt Distel, assistant curator of exhibitions at the Contemporary Arts Center, will lead a private tour of Loop: Back to the Beginning at 3:30 p.m. Loop, the last exhibition in the CAC's historic Fifth Street space, is a group show of 18 artists who use the "loop" both as metaphor and physical structure for investigating our altered perceptions of time.
InterMedia 2002 is made possible through the generous funding of Dr. William Larkin, Lightborne, and Mr. & Mrs. Thomas E. Stegman.