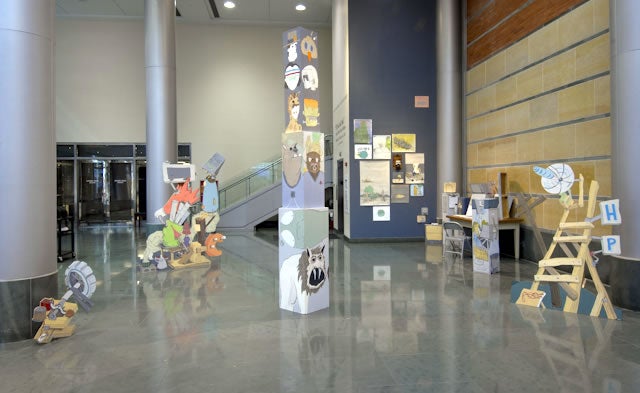 "I'll Just Ask Dad."
Recent Work by Ryan Mulligan
Date

Sep

18

-

Dec

6

, 2009

Venue

Weston Art Gallery

Location

Street-level Gallery

Exhibition Sponsor(s):

Susan and William Friedlander
Exhibition Details
Ryan Mulligan's (Cincinnati, Ohio) multi-faceted artwork incorporates performance, epic lectures, cooking lectures, and culture jams. His installations can best be described as "choose-your-own adventures" in epic scale; his performances as "infotainment monologues." Drawing from autobiographical resources and historical obsessions, he constructs low-tech installations that rely heavily on dark comedy in mythologizing his daily experiences.

"I'll just ask Dad." features a new series of energetic drawings, cartoon-like totemic sculptures, a faux trophy case, and a cut-out desktop assemblage of an imaginary communication system designed to communicate with the artist's departed father. Full of humor and playfulness, Mulligan's off-kilter installations are an exploration of private fears.

Born in Covington, Va., Ryan Mulligan earned a bachelor of fine arts (2003) and master of fine arts (2005) from Virginia Commonwealth University (V.C.U.) in Richmond, Va. He has worked in jobs ranging from historical researcher for Home Box Office, writer/developer for 44 Blue Productions in Los Angeles, Calif., and recruitment director for Virginia Commonwealth University School of the Arts. Mulligan's performances have been staged up and down the East Coast, and he has exhibited his work in Los Angeles, Calif.; Richmond, Va.; Chicago, Ill.; and New York, N.Y. Since relocating to Cincinnati in 2006, he has participated in exhibitions at the Contemporary Arts Center, ArtWorks, Reed and Meyers Gallery at the University of Cincinnati, and the Herron School of Art and Design in Indianapolis, Ind. He recently became a member of "The Center for Improved Living" with artist Marc Horowitz, with whom he exhibited at Scope New York in 2008. He currently serves as the Foundations Coordinator for the School of Art at the University of Cincinnati's College of Design, Architecture, Art and Planning.
Gallery Talk Series: Thurs., Oct. 8, 7 p.m.