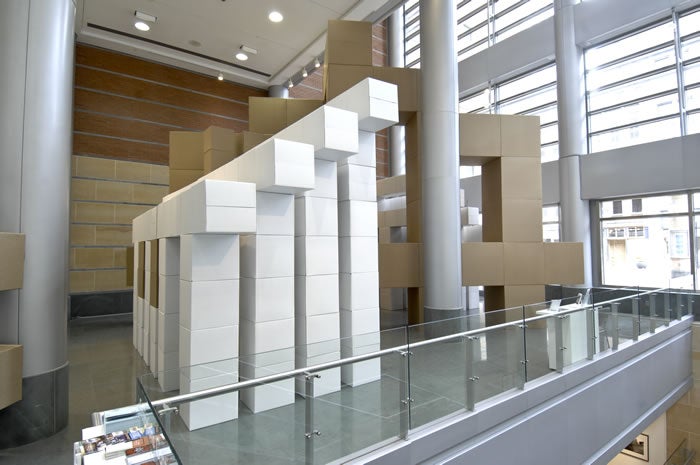 House Divided
Site-Specific Environmental Installation by Thomas Macaulay
Date

Apr

10

-

June

7

, 2009

Venue

Weston Art Gallery

Location

Street-level Gallery

Exhibition Sponsor(s):

Vorys, Sater, Seymour & Pease, LLP
Exhibition Details
Examining our relationship to architecture and public spaces, Thomas Macaulay stacks and layers hundreds of identical mass-produced cardboard boxes resulting in pristine, "classical" structures. Interior passages, chambers, exterior "gateways" and "stairways" that both physically and perceptually actively engage the viewer arise from this common, throwaway material.

Responding to the grid-like structure of the Weston Art Gallery's street-level exhibition space, Macaulay will build House Divided, a new monumental work measuring nearly twenty-two feet in height and spanning thirty-three feet across. Combining 18 x 18 x 18 inch white boxes and 36 x 36 x 36 inch tan boxes in interlocking post-and-lintel modular arrangements, Macaulay will create an architectural structure that consumes the geometric volume of the space. Passageways within the structure allow viewers to walk through and interact with it gaining varying perspectives through openings and voids.

Thomas Macaulay earned a bachelor of arts from St. Olaf College (Northfield, Minn.) and a master of arts and master of fine arts from the University of Iowa School of Art and Art History (Iowa City, Iowa). Since 1970, his work has focused on site-specific environmental installation. He is a four-time recipient of individual artist fellowships from the Ohio Arts Council and the National Endowment for the Arts, as well as a number of Wright State University grants to further his visual art research. In addition, he has received awards from The Asian Cultural Council, the Fulbright Commission, and the John Simon Guggenheim Foundation. Solo exhibitions of his work have been featured at alternative exhibition venues Artemisia (Chicago, Ill.), P.S.1 (New York, N.Y.); commercial galleries OK Harris and Twining Gallery (New York, N.Y.); university art galleries at The University of Delaware (Newark, Del.) and Harvard University (Cambridge, Mass.); and museum shows at The Dayton Art Institute's Changing Exhibitions Galleries (Dayton, Ohio), and The Contemporary Museum, Honolulu (Honolulu, Hawaii). Recent exhibitions include the Springfield Museum of Art (Springfield, Ohio); Wright State University, (Dayton, Ohio); the Archetype Gallery (Dayton, Ohio); and the Buckham Gallery (Flint, Mich.). Macaulay currently serves as professor of fine art at Wright State University in Dayton where he has taught since 1973.

Gallery Talk Series: Thurs., April 16 at 7 p.m.
Families Create! Education Workshop: Sat., April 18 at 10 a.m. with Thomas Macaulay