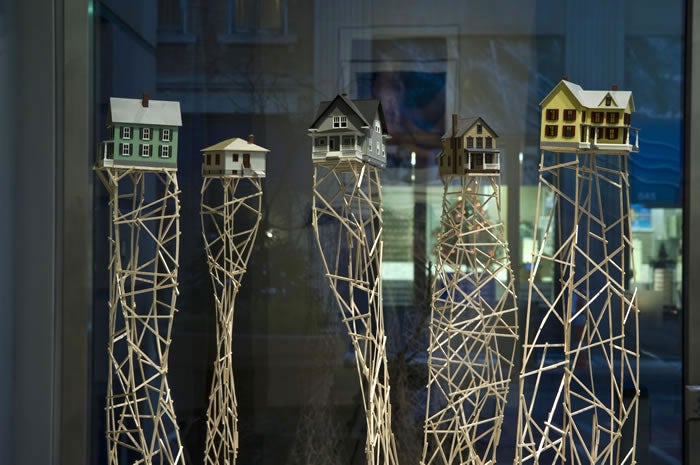 Homeland
Sculpture by Dietrich Wegner
Date

Nov

14

, 2008

-

Jan

10

, 2009

Venue

Weston Art Gallery

Location

Street-level Gallery
Exhibition Details
Every society accumulates contradictions amidst their ideals. Dietrich Wegner (Erie, Pa.) uses those contradictions, putting opposites together in large-scale sculpture that feed on the friction between two things that should not make sense together. In Homeland, Wegner mines these disparate qualities to full effect with such large-scale sculptures as Playhouse, a twenty-foot-tall tree house posing as an atomic mushroom cloud. By combining familiar images in unsettling ways, Wegner effectively asserts wry commentary about the world we live in.

Dietrich Wegner earned a bachelor of fine arts in sculpture from the Maryland Institute College of Art in 2001 and a master of fine arts in sculpture from Ohio State University in 2003. His work has been represented in numerous group and solo exhibitions including the Carrie Secrist Gallery, Chicago, Ill.; Carnegie Museum of Art, Pittsburgh, Pa.; South Bend Regional Art Museum, South Bend, Ind.; Esther Allen Greer Museum, University of Rio Grande, Rio Grande, Ohio; Robert & Martha Hull Lee Gallery and the Hiestand Galleries, Miami University, Oxford, Ohio; and the Sculpture Center, Cleveland, Ohio. After teaching at Miami University for three years, he moved to Erie, Pa., where he currently serves as an assistant professor of sculpture at Edinboro University.
Gallery Talk Series: Sat., Nov. 15 at 2 p.m.