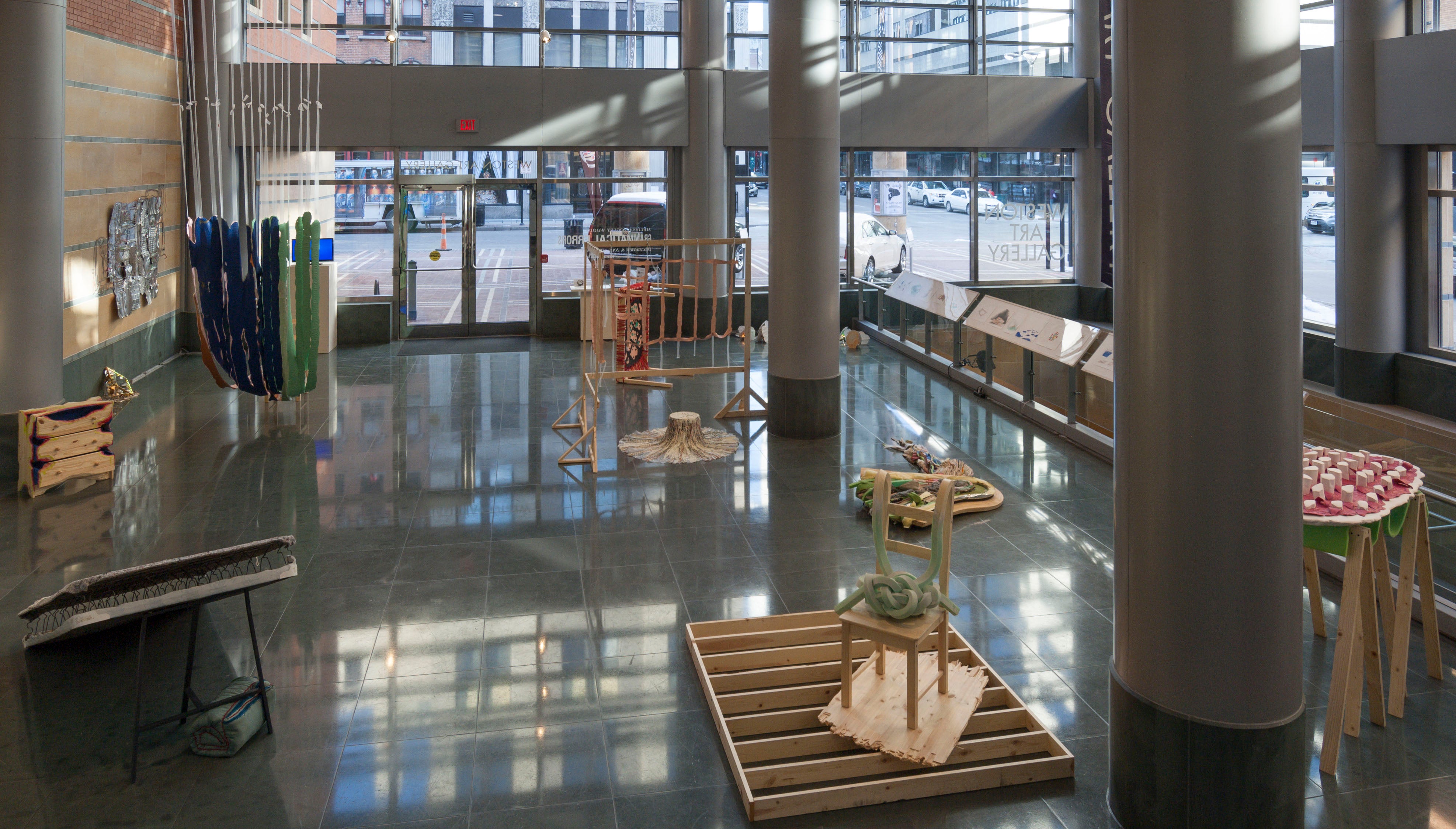 Melissa Vogley Woods: Grammatical Errors
Date

DEC 6 , 2013 - FEB 23 , 2014

Venue

Weston Art Gallery

Location

Street-level Gallery

EXHIBITION SPONSOR(S):

Susan and William Friedlander

2013-14 EXHIBITION SEASON SPONSOR:

Dee and Tom Stegman
Exhibition Details
CINCINNATI, Ohio—On Friday, December 6, 2013, the Cincinnati Arts Association's Alice F. and Harris K. Weston Art Gallery in the Aronoff Center for the Arts will debut three new exhibitions: Grammatical Errors, an imaginative installation by Melissa Vogley Woods that creatively dissects the elements of a house; Long Moments, a new series of enigmatic paintings by Ron Kroutel that isolates expressive figures in urban and natural landscapes; and Cities, a photographic exploration of the city as a living and evolving organism by Joel Whitaker.
Melissa Vogley Woods (Columbus, Ohio) manipulates found materials and abandoned sites in a variety of ways to create new meaning and visual relationships. Incorporating the materials and scale of a house and all its innate characteristics, Woods will address the unique atmospheric light and inside-out architectural features of the Weston Art Gallery's street-level atrium. Presented as individual sculptural components, Grammatical Errors will feature the many disparate elements of the house, both exterior and interior (façade, wall sections, furniture, etc.), as if they have exploded into space.
Melissa Vogley Woods lives in Columbus, Ohio, and serves as assistant professor at Denison University (in Granville) and adjunct professor at Columbus College of Art and Design. She received her bachelor of fine arts from the Kansas City Art Institute in 1992, and master of fine arts from Ohio State University in 2012. She was a recipient of an Ohio Arts Council Individual Excellence Award in 2007, an International Artist Residency from the Greater Columbus Arts Council in 2008, and numerous grants from Franklin County Neighborhood Arts Program for her community-based art projects. Her work has been featured in international exhibitions at Galerie Raskolnikow (Dresden, Germany) and Galerie Delikatessenhaus (Leipzeg, Germany); and nationally at Access Arts (Detroit, Michigan), University of Wisconsin (Milwaukee, Wisconsin), and Pittsburgh Center for the Arts (Pittsburgh, Philadelphia). Exhibitions in the Columbus, Ohio, area include Hopkins Hall Gallery at Ohio State University, Wehrle Gallery at Ohio Dominican University, and the Urban Art Space. In addition, she is the project creator and organizer of the ongoing exhibition series Rooms to Let, site-specific installations staged within assorted empty houses in Columbus.
Download Melissa's Statement Panel