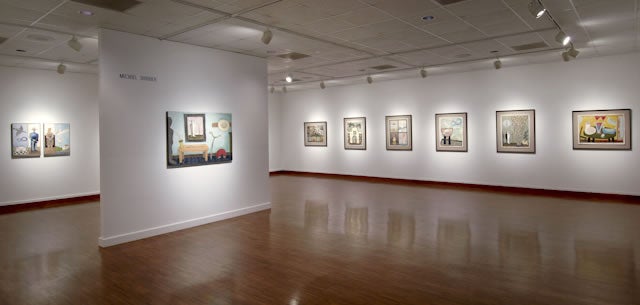 Form as a Cognitive System
Frescoes by Michael Sharber
Date

Sep

18

-

Dec

6

, 2009

Venue

Weston Art Gallery

Location

West Gallery

Exhibition Sponsor(s):

Darlene and Jeff Anderson
Exhibition Details
Michael Sharber's (Santa Fe, N.Mex.) recent work explores the challenging medium of fresco, incorporating incised lines, painting, collage and drawing. Informed by his daily experiences and interests, Sharber's fanciful frescoes embody whimsical examinations of everyday objects and figures, imbued with an energy of their own. A narrative theme and historical context between man and myth emerge in the work producing a group of symbolic forms that bridges the known and unknown world. Form as a Cognitive System features a selection of frescoes completed during the past three years encompassing a diverse array of subjects.

Michael Sharber earned a bachelor of fine arts in painting and sculpture from Middle Tennessee State University (Murfreesboro, Tenn.) in 1975, and a master of fine arts in sculpture from the University of Cincinnati's College of Design, Architecture, Art and Planning in 1979. As a resident in Cincinnati, Sharber's work was featured in exhibitions at the College of Mount St. Joseph, Cincinnati Commission on the Arts, and the Carnegie Arts Center. He moved to Santa Fe in 1982, where he continued his artistic pursuits while supporting himself as a builder of adobe and environmentally-friendly homes. In Santa Fe, his work has been featured at the Center for Contemporary Arts and the College of Santa Fe.
Gallery Talk Series: Sat., Sept. 19, 2 p.m.