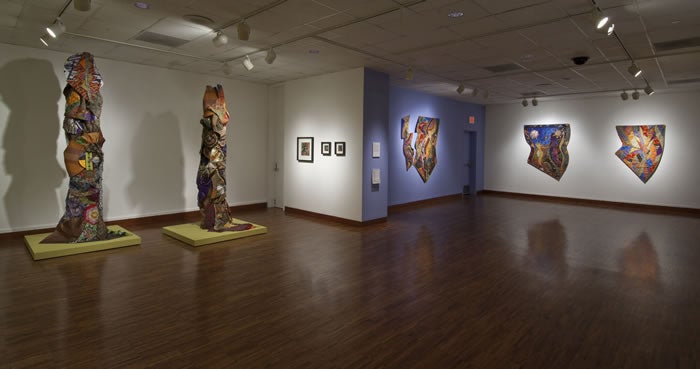 Fibercations
Recent Works by Cynthia Lockhart
Date

Mar

25

-

June

5

, 2011

Venue

Weston Art Gallery

Exhibition Co-Sponsor(s):

Dr. Stanley Kaplan and Dee & Tom Stegman

Support for this exhibition was received through an Aid to Individual Artists Grant from Summerfair Cincinnati.
Exhibition Details
The Cincinnati Arts Association's Alice F. and Harris K. Weston Art Gallery in the Aronoff Center for the Arts premieres two new exhibitions on Friday, March 25, 2011 featuring Cincinnati artists: Narrative Figuration, a group exhibition curated by Daniel Brown, independent curator and arts writer, of five Cincinnati painters who explore narrative themes through figurative subjects; and Fibercations, an exuberant expression of color, texture and form through the sculptural art quilts of renowned fiber artist and educator Cynthia Lockhart.

Personal investigations into life's journey inform Cynthia Lockhart's (Cincinnati, Ohio) sculptural, three-dimensionally shaped and quilted fiber forms that creatively incorporate color, shape and form in a kaleidoscope of materials, patterns and textures. Infused with diverse influences and sources that incorporate nature, fashion, design, cultural arts, travel, vintage clothing and African art, Lockhart builds her art quilts into vibrant assemblages that push the boundaries of the traditional quilt form into new modes of expression. Fibercations will feature a number of abstract textile assemblages, from small to large, created during the past five years.

After receiving a bachelor of science in fashion design from the University of Cincinnati in 1975, Cynthia Lockhart spent more than ten years working in the fashion industry in New York City as a designer, accessories designer and manager for several design entities. Her work was featured on the cover of Women's Wear Daily and reviewed in The New York Times. She then returned to U.C.'s College of Design, Architecture, Art and Planning to earn a master's degree in design in 1999. A brief list of her areas of expertise includes textiles, pattern making, computer-aided design, fashion illustration and history, and accessories design.

Lockhart is currently an associate professor of Professional Practice at the University of Cincinnati, where she teaches courses in the Cooperative Education Curriculum to fashion design and product development/merchandising students. In her role as an academic in professional practice, she has traveled, exhibited, lectured, studied and led student groups to fashion meccas of Portland, Oregon; New York City, Italy and Japan. She also participates as a member of the International Textile Apparel Association, the Ohio Designer Craftsmen, and the Women of Color Quilters' Network. Her work has been recognized in numerous local and national juried exhibits and publications. As an award-winning designer/fiber artist, she is an active contributor to the fashion and art community from a local, national and international perspective.

download Cynthia's Statement Panel
Gallery Talk Series: Wednesday, April 27 at 7 p.m.
Families Create! Workshop: Saturday, April 2 at 10 a.m.