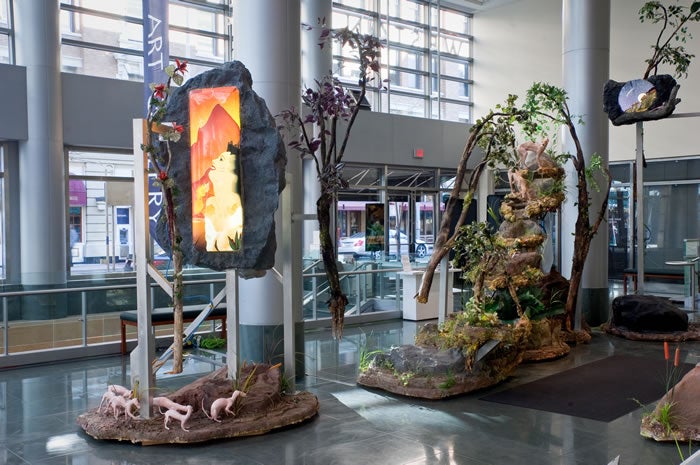 Exurbia
TODT
Date

Sep

23

-

Nov

27

, 2011

Venue

Weston Art Gallery

Location

Street-level Gallery

Exhibition Sponsor(s):

The Vista Foundation

Exhibition Co-Sponsor(s):

Lennell and Pamela Rhodes Myricks
Exhibition Details
On Friday, September 23, the Cincinnati Arts Association's Alice F. and Harris K. Weston Art Gallery in the Aronoff Center for the Arts debuted its seventeenth season with the premiere of three new exhibitions that examine our relationship to the natural environment: Exurbia, an artificial world of plastic and synthetic materials engineered by the Cincinnati-based artist collective TODT; Earthbound, a beautiful and haunting series of photographs by Marcella Hackbardt that imagines positive and productive relationships of people to the earth and to animals; and La Medida, a series of video installations by Claudia Esslinger that explores the role of human analytic systems in our understanding of the natural world. (See separate press releases for Marcella Hackbardt and Claudia Esslinger's concurrent exhibitions.)
Exurbia is TODT's surreal and excessive distillation of technical culture. Using the glass-enclosed street-level gallery space, the Cincinnati-based artist collective created a synthetic terrarium of "new nature," thereby processing an eco-Eden of hardened remains. Melding artificial rocks, plants and animals in a series of mini-ecosystems, Exurbia renders a tectonic landscaping between art and oil.
Few other art groups rival the range and radical output of TODT. Initially formed in New York City in the late 1970s, TODT began developing its legacy of installations, environments, and product shows in the early 1980s with exhibitions at P.S. 1 (1983), P.P.O.W. (1984), Lurhing Augustine & Hodes (1985), and the Whitney Biennial (1985). After firmly establishing themselves as leading players in New York's art scene, TODT exhibited in Los Angeles, Miami, Washington and Tokyo (1985-90). The 1990s brought a major relocation of the TODT studios to Cincinnati, where mothballed American industrial complexes offered greater availability of the military, scientific, agricultural and industrial materials that had become key to TODT products and environments. During this period, TODT created solo exhibitions at Carl Solway (1992, 1993); MCA Chicago (1992); Galerie am Pariser Platz, Berlin (1994); the Contemporary Arts Center, Cincinnati (1995); Indianapolis Museum of Art (1996); Schick Art Gallery at Skidmore College, Saratoga Springs (1998), and Fundacion America, Santiago, Chile (1999).

With new exhibitions in New York at Sideshow (2001, 2003, 2006), The Lab (2005), and in various venues in Cincinnati (2001-03), the last decade has seen TODT's palette transformed from technological skeletons to "dollar store" waste. In 2007, TODT had a solo exhibition in Philadelphia at Fleisher Ollman Gallery and the Musée des Arts Georges Pompidou in Cajarc, France. In 2008, TODT held major exhibitions at the New York Arts Center in Saratoga Springs and at les Abattoirs in Toulouse, France.
Gallery Talk Series: Saturday, September 24 at 2 p.m.