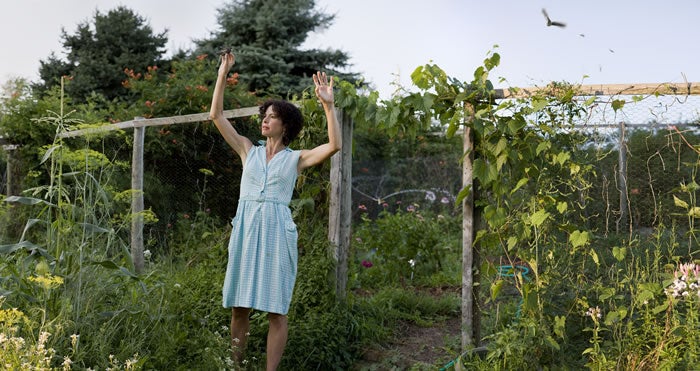 Earthbound
Photographs by Marcella Hackbardt
Date

Sep

23

-

Nov

27

, 2011

Venue

Weston Art Gallery

Location

West Gallery

Exhibition Sponsor(s):

Dinsmore & Shohl LLP
Exhibition Details
On Friday, September 23, the Cincinnati Arts Association's Alice F. and Harris K. Weston Art Gallery in the Aronoff Center for the Arts debuted its seventeenth season with the premiere of three new exhibitions that examine our relationship to the natural environment: Exurbia, an artificial world of plastic and synthetic materials engineered by the Cincinnati-based artist collective TODT; Earthbound, a beautiful and haunting series of photographs by Marcella Hackbardt that imagines positive and productive relationships of people to the earth and to animals; and La Medida, a series of video installations by Claudia Esslinger that explores the role of human analytic systems in our understanding of the natural world. (See separate press releases for TODT and Claudia Esslinger's concurrent exhibitions.)
In a new series of digital photographs Marcella Hackbardt (Monroe, Ohio) examines ideas of stewardship and scenarios of discovery "to stress the imminence of loss, and to create a lasting visceral impact." In Earthbound she uses panoramic, dioramic and sometimes filmic sweeps to offer narratives of interaction that press the essence of time. From harmony to notions of change, these digital photographic constructions delve into the intersection of art and the natural order.
Marcella Hackbardt teaches art and photography as an associate professor at Kenyon College in Gambier, Ohio. She earned a bachelor of arts in art from the University of Alaska, Anchorage, in 1993 and a master of fine arts in studio art from the University of New Mexico in 2000. Hackbardt exhibits her work regionally and nationally and has been featured at the Ohio Arts Council's Riffe Gallery (Columbus, Ohio); College of Wooster Art Museum (Wooster, Ohio); and the Olin Art Gallery at Kenyon College (Gambier, Ohio).
download Marcella's Statement Panel
Gallery Talk Series: Thursday, October 13 at 7 p.m.