Dates

Jan

23

-

Mar

20

, 2004

Venue

Weston Art Gallery

Location

Street-level Gallery
Exhibition Sponsor(s):
Dinsmore & Shohl, LLP
Cincinnati Portfolio III
The Cincinnati Arts Association's Alice F. and Harris K. Weston Art Gallery in the Aronoff Center for the Arts announces two new exhibitions that focus on contemporary approaches to printmaking by Ohio artists: Cincinnati Portfolio III features work produced locally by ten Cincinnati artists, and The Method & the Matrix: Contemporary Printmaking in Ohio features the work of fifteen regional artists.
Since 1981, Mark Patsfall Graphics has been producing exceptional hand-pulled limited edition fine art prints of regional, national and international artists. An ongoing project of the print shop is to produce portfolios of selected Cincinnati artists—many of whom have not worked with printmaking before. The tradition of the Cincinnati Portfolios began in 1983 and has been repeated once every ten years with a new selection of artists. Cincinnati Portfolio III, which represents the third installment of this acclaimed series, brings together an eclectic mix of ten Cincinnati artists working with relief prints. Co-curated by Mark Patsfall, artist and owner of Mark Patsfall Graphics, and Saad Ghosn, a collector and Cincinnati arts enthusiast, the limited edition portfolio features the following artists: Farron Allen, Andrew Au, Holland Davidson, Heidi Endres, Mark Fox, Rob Jefferson, Andrea Knarr, Ellen Price, Michelle Red Elk, and Thom Shaw.
Concurrent Exhibition(s)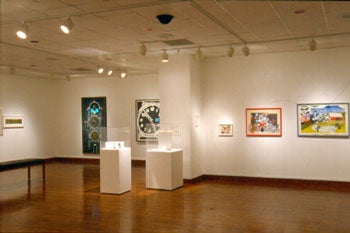 Weston Art Gallery
Contemporary Printmaking in Ohio
Share