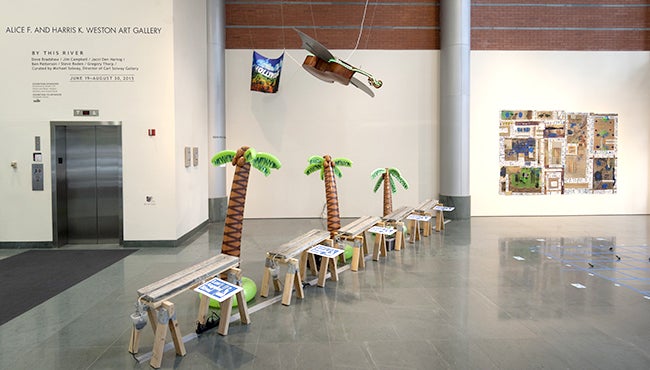 By This River: Curated by Michael Solway
Date

JUN. 19 - AUG. 30, 2015

Venue

Weston Art Gallery

Location

Entire Gallery

EXHIBITION SPONSORS:

Dinsmore & Shohl LLP

Helen and Brian Heekin / The Vista Foundation

Barbara and Gates Moss

EXHIBITION CO-SPONSOR:

Elizabeth Stone
Exhibition Details
CINCINNATI, Ohio—On Friday, June 19, from 6 to 9 p.m., the Cincinnati Arts Association's Alice F. and Harris K. Weston Art Gallery in the Aronoff Center for the Arts will present By This River, a group exhibition of six contemporary American artists exploring the sensorial, geographical, historical, and ephemeral dispersal of water from rivers to oceans. Curated by Michael Solway, Director of Carl Solway Gallery (Cincinnati, OH), By This River will feature sculpture, photography, painting, video, drawing, and sound by the following artists: Dove Bradshaw (New York, NY), Jim Campbell (San Francisco, CA), Jacci Den Hartog (Los Angeles, CA), Ben Patterson (Wiesbaden, Germany), Steve Roden (Pasadena, CA), and Gregory Thorp (New Haven, CT).
By This River had its thematic origins in 2006, when curator Michael Solway lived near the Los Angeles River. The concept comes from an ongoing conversation between Solway—born in Cincinnati by the Ohio River—and Fluxus pioneer Ben Patterson who was born in Pittsburgh where three rivers meet, now living in Wiesbaden, Germany, by the Rhine River. They discussed the instinct we have to return to or relocate to live near major bodies of water such as rivers and oceans. The concept has deep-rooted spiritual and literary origins of course, tracing the social, political, oral histories of freedom, discovery, and exploration. By This River brings together recent works in photography, painting, sculpture, works on paper, video, sound, and a series of interactive constructions. The combination of these six very different artists' works placed throughout the Weston Art Gallery's upper and lower galleries juxtaposes as a visual and audible chorus celebrating the exhibition's theme about the fluidity, beauty, grace, and force of water.
Dove Bradshaw, born in New York in 1949, pioneered the use of Indeterminacy (a process of using chance to create artworks) by enlisting the unpredictable effects of time, weather, erosion, and indoor and outdoor atmospheric conditions on natural, chemical, and manufactured materials. She has created chemical paintings that change with the atmosphere—indoor erosion sculptures of salt and outdoor stone sculptures that weather. Bradshaw is represented in the permanent collections of many major museums including the Metropolitan Museum of Art (New York); MOMA (New York); the National Gallery of Art (Washington, DC); the Art Institute of Chicago; the British Museum; the Centre Georges Pompidou (Paris); and the Marble Palace/Russian State Museum, St. Petersburg. The Contingency Series, Bradshaw's first significant body of two-dimensional work (1984-2011), began by using materials reactive to the environment, instead of paint. By This River will include a salt sculpture and recent paintings from this extended series.
Jim Campbell, born in Chicago in 1956, lives in San Francisco, CA. He received degrees in Mathematics and Engineering from MIT in 1978. He transitioned from filmmaking to interactive video installations in the mid-1980s. Campbell's custom electronic sculptures and installations have made him a leading figure in the use of computer technology as an art form. His work is part of numerous public collections such as the Metropolitan Museum of Art (New York); MOMA (New York); Smithsonian American Art Museum (Washington, DC); the Whitney Museum of American Art (New York); and the San Francisco Museum of Modern Art. In the fall of 2010, Campbell's work, Scattered Light, was installed in the Madison Square Park Conservancy in Manhattan making it his largest and most extensive public art piece to date.
Jacci Den Hartog, born in Iowa in 1962, lives in Los Angeles, CA. Currently she is Program Director of Sculpture/New Genres and Professor at Otis College of Art and Design, Los Angeles. Awards and honors include: John F. Guggenheim Foundation Fellowship; Pollock-Krasner Foundation Artists Grant; Art Matters, Inc., Artists Grant; Ludwig Vogelstein Foundation Grant; City of Los Angeles (COLA) Individual Artist Fellowship Award; Purchase Award, Alberta DuPont Bonsal Foundation for the San Diego Museum of Contemporary Art; and California Community Foundation, Mid-Career Artist Grant. Exhibitions include: Nantes Museum, Nantes, France; San Francisco Art Institute; Kansas City Art Institute; Rosamund Felsen Gallery, Santa Monica, CA; Christopher Grimes Gallery, Santa Monica, CA; the Contemporary Arts Center, Cincinnati, OH; The Suburban (Chicago); and commissioned public art at Angels Knoll Plaza, Los Angeles.
Ben Patterson was born in Pittsburgh, PA, in 1934 and lives in Wiesbaden, Germany, by the Rhine River. Patterson is an American musician, artist, and one of the founders of the Fluxus movement. He moved to Cologne, Germany, in 1960 where he became active in the radical contemporary music scene, performing in festivals in Cologne, Paris, Venice, and elsewhere. During this pre-Fluxus period, he created and performed some of his early seminal works: Paper Piece, Lemons, and Variations for Double Bass. Late in 1961, Patterson moved to Paris, where he collaborated with Robert Filliou (Puzzle poems) and published his Methods and Processes. He was in Wiesbaden with George Maciunas to organize the historic 1962 Fluxus International Festival and continued to be a major presence at Fluxus events until the early 1970s, when he retired to pursue ordinary life in New York City. Although he remained outside the art world for more than 17 years, he resurfaced for such events as the 20th Anniversary Fluxus Festival in Wiesbaden in 1982. In 1988, Patterson came out of retirement with his exhibition titled Ordinary Life at the Emily Harvey Gallery, NY. In 1992, he returned to Germany to establish a headquarters from where he works and travels. Ben Patterson's work has been featured in many recent Fluxus exhibitions and performances throughout Europe, Russia, Asia, and the Americas. In 1996, Patterson inaugurated the Public Entrance to his Museum of the Subconscious at Mt. 13th Month in Namibia, Africa. The traveling retrospective exhibition, Benjamin Patterson: Born in the State of FLUX/us, was organized by the Contemporary Arts Museum, Houston, in 2012.
Steve Roden born in Los Angeles in 1962 and living in Pasadena, CA, is an American sound and visual artist who pioneered the lowercase style of music; where quiet, usually unheard, sounds are amplified to form complex and rich soundscapes. His discography includes Forms of Paper, which was commissioned by the Los Angeles Public Library. Roden's work has been included in exhibitions at the Fellows of Contemporary Art (Los Angeles); the San Francisco State University, Fine Arts Gallery (San Francisco); the Las Vegas Art Museum (Las Vegas); the Mercosul Biennial (Porto Alegre, Brazil); the Museum of Contemporary Art San Diego (both Downtown and La Jolla); the Serpentine Gallery (London); the Drawing Room (London); the Sculpture Center (New York); the Centre Georges Pompidou (Paris); the UCLA Hammer Museum (Los Angeles); MOCA Miami, FL; and the Drawing Center (New York). Steve Roden received a 2011 Artist Grant of the Foundation for Contemporary Arts, and a California Community Foundation Getty Fellowship Grant.
Gregory Thorp was born in Rhode Island in 1948 and lives in New Haven, CT, and Ashland, MA. Since the early 1970s, Thorp has been photographing his obsessions: train stations (Union Terminal in Cincinnati, OH), corn fields, cemetery markers, yellow school buses, and places of interest that combine music-related histories. For nearly forty years he has captured the Ohio and Mississippi rivers, working as a photographer for the Ohio River Company, and, more recently, other barge companies hired to move coal up and down stretches of the river. Thorp's works are included in the collections of the Cincinnati Art Museum, Cincinnati Historical Society, Strauss Troy Co., LPA (Cincinnati), and numerous private collections.
Jacci Den Hartog didactic panel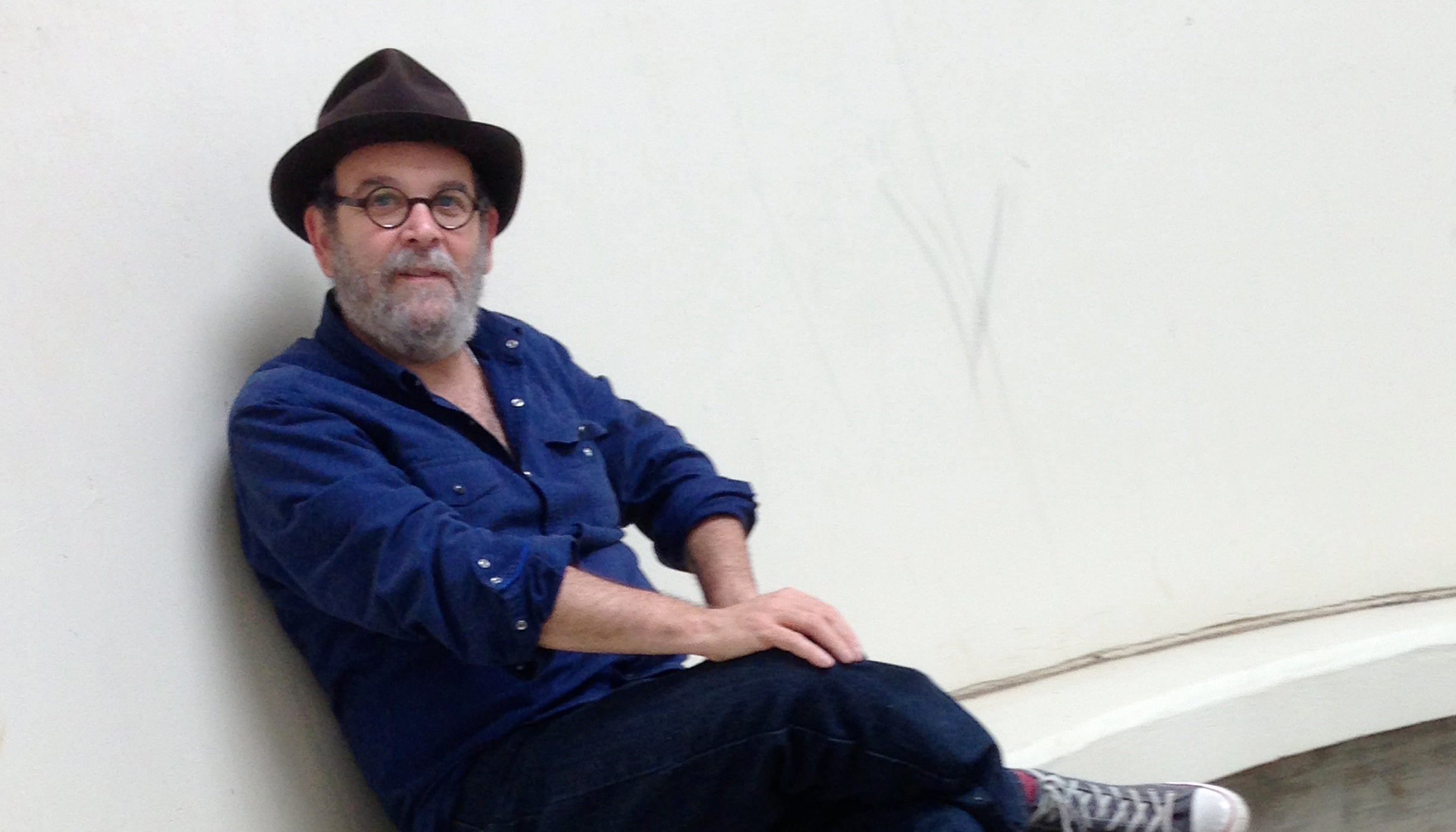 Weston Art Gallery
with Michael Solway, curator
Weston Art Gallery
with Michael Solway, curator
Weston Art Gallery
Event Starts
7:00 PM