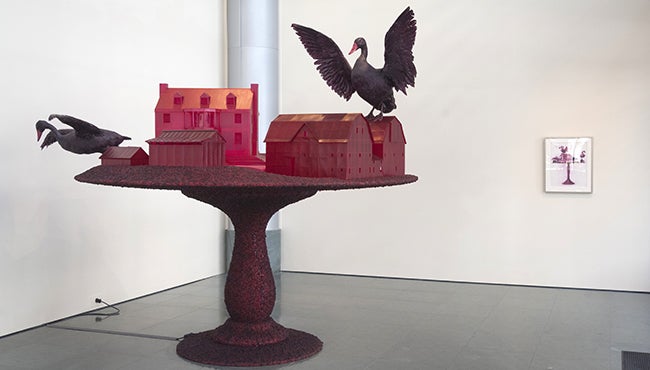 Todd Slaughter: American Primitives
Date

JUN 20 - AUG 24 , 2014

Venue

Weston Art Gallery

Exhibition Sponsor(s):

Helen and Brian Heekin, Toni LaBoiteaux,

EXHIBITION CO-SPONSOR(S):

Robin and Murray Sinclaire, Jr./Ross, Sinclaire & Associates, LLC; Elizabeth Stone

2013-14 EXHIBITION SEASON SPONSOR:

Dee and Tom Stegman
Exhibition Details
CINCINNATI, Ohio—On Friday, June 20 from 6 to 9 p.m., the Cincinnati Arts Association's Alice F. and Harris K. Weston Art Gallery in the Aronoff Center for the Arts will premiere American Primitives, an ambitious, challenging, and thought-provoking body of work by acclaimed artist Todd Slaughter encompassing both levels of the Weston Art Gallery.
During the last thirteen years Todd Slaughter's (Columbus, OH) artwork has addressed the perception that safety is synonymous with isolation and privilege in the gated communities of suburbia and urban high-rises. Through a series of sculptural tableaux, American Primitives suggests parallels between the American individualism defined by Thoreau and Emerson and its contemporary extreme—isolationist groups and individuals who feel that they, too, are manifesting core American values.
The extensive body of work featured in American Primitives evolved from Slaughter's personal experience of purchasing and briefly owning an ostensibly pristine natural retreat with his wife in the Hocking Hills area of southeastern Ohio. Through a series of disturbing events, he soon realized he was viewed as an unwelcome outsider by extremist neighbors in their isolated community. These activities forced him to abandon his plans for a quiet respite away from the city.
The concepts of self-reliance, individualism, and isolationism as expressed in the writings of Emerson and Thoreau persevere and continue to evolve and mutate in our complex contemporary society. Perverted versions of these beliefs have manifested themselves in the high profile criminal cases of Eric Rudolph, best known as the perpetrator of the Centennial Olympic Park bombing in Atlanta that occurred during the 1996 Summer Olympics, and Ted Kaczynski, also known as the "Unabomber." More recently, the trial of George Zimmerman, who fatally shot Trayvon Martin while patrolling his neighborhood as a watch patrol volunteer, serves as a pertinent example of fear, paranoia, and an overzealous defense of our domestic settings. With Emerson and Thoreau as historical backdrop, Slaughter's work explores these controversial issues in a contemplative and thoughtful manner beyond the media hype.
Originally presented at the Canzani Gallery at the Columbus College of Art and Design in 2012, American Primitives was curated and organized by Michael Goodson, Canzani Gallery Director, in collaboration with the artist. At the Weston, the exhibition will encompass two levels and feature the newly created Two Turkeys Having a Conversation, an imagined conversation between Henry David Thoreau and Eric Rudolph.
American Primitives represents Slaughter's second major solo exhibition at the Weston Art Gallery. His first, Gallery Clusters: Domestic Comforts, was presented during the Weston's 1996-97 exhibition season.
Todd Slaughter lives and works in Columbus, OH, where he has served as a professor in Ohio State University's Department of Art sculpture program since 1984. He earned a bachelor of fine arts from the University of Texas (Austin, TX) in 1964, and a master of industrial design from Pratt Institute (New York, NY) in 1967. Slaughter has an extensive exhibition history throughout a career spanning more than forty years during which he has participated in numerous national and international solo and group exhibitions. His sculptural installations have been exhibited by the Weston Art Gallery and the Contemporary Arts Center (Cincinnati, OH); the Akron Art Museum (Akron, OH); the Neuberger Museum of Art (Purchase, NY); Artists Space and P.S.1, (New York, NY); and the Chicago Cultural Center (Chicago, IL) for a major Slaughter retrospective in 2002. Permanent public works can be found in the Midway Airport (Chicago, IL) and Tarifa/Algeciras, Spain. He is the recipient of several Ohio Arts Council Individual Artist Fellowships and an NEA Individual Artist Fellowship. Reviews of his work have appeared in Sculpture magazine and El País.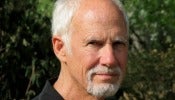 Weston Art Gallery
Weston Art Gallery
Event Starts
7:00 PM