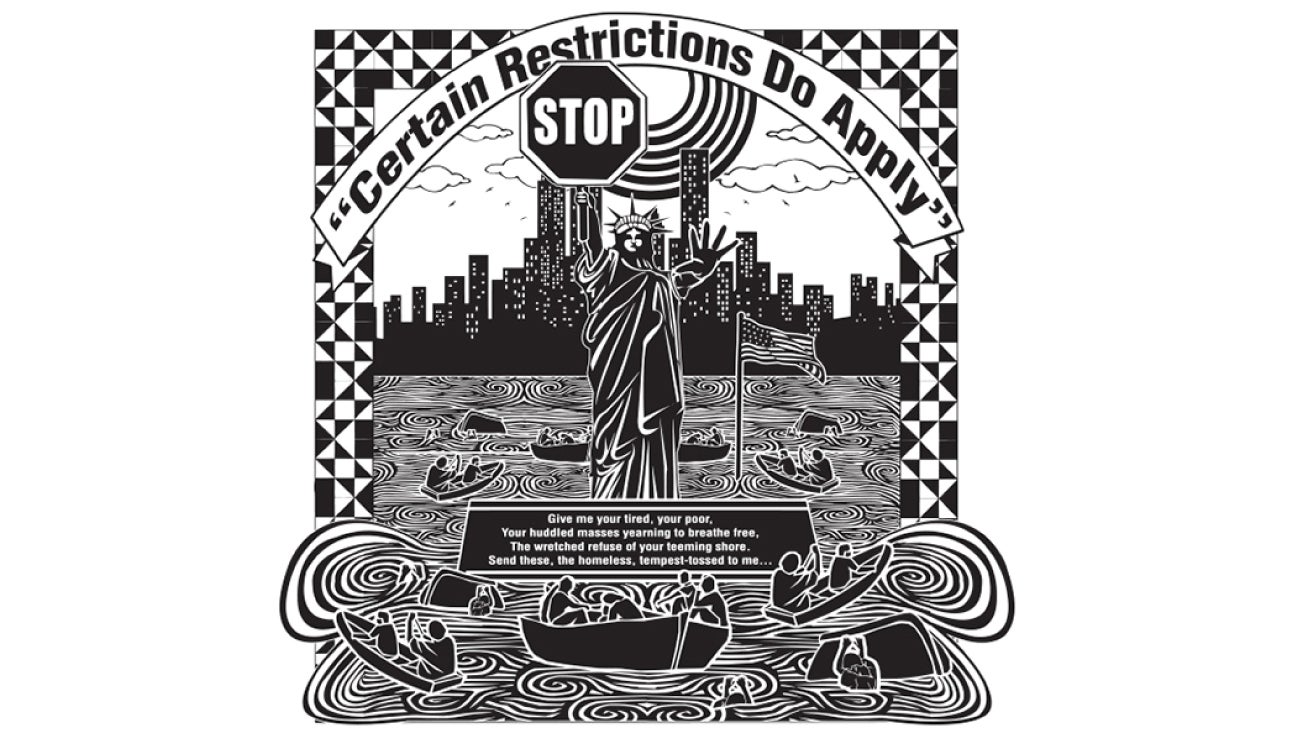 A Piece of My Mind: Quilts by Carolyn Mazloomi
Date

January 30-February 27, 2021

Venue

Weston Art Gallery

Location

Weston Art Gallery

EXHIBITION CO-SPONSORS:

Sara M. and Michelle Vance Waddell
Mu Sinclaire and the Sinclaire Family Foundation

ADDITIONAL SUPPORT:

Lennell and Pamela Rhodes Myricks
Exhibition Details
The visual and metaphorical links between textiles and human beings are fertile ground for the narrative quilts of Carolyn Mazloomi (Cincinnati, OH). Considering that every person has a "cradle to grave" relationship with textiles, she recognizes how quilts articulate a powerful language of familiarity through which they may speak to and about our experience as human beings. Paying tribute to vulnerable people (the disenfranchised, dispossessed, and outsiders) and the injustice and harsh realities of the daily lives of those in need inspires her to create artwork depicting their circumstances.
A Piece of My Mind features a recent series of mostly black and white quilts and screen prints completed by Mazloomi in the past five years. Covering a wide range of pertinent social and political topics, including immigration, migrant workers, systemic racism, interracial marriage, and sexual exploitation, she empowers her quilts as messengers to raise awareness and give voice to social injustice in all its forms. The stark contrast of her black and white quilts embolden the messages she conveys and suggest the political divide and societal failures that allow these injustices to continue. Additional works by Mazloomi feature more positive outcomes in pieces that celebrate family unity and reconciliation.
Carolyn Mazloomi has had a remarkable and accomplished career as an artist, historian, curator, author, and lecturer. Trained as an aerospace engineer, she turned her sights and tireless efforts in the 1980s to bring the many unrecognized contributions of African-American quilt artists to the attention of the American people as well as the international art communities. From the founding of the African-American Quilt Guild of Los Angles in 1981 to the 1985 founding of the Women of Color Quilters Network (WCQN), Mazloomi has been at the forefront of educating the public about the diversity of interpretation, styles, and techniques among African-American quilters, as well as educating a younger generation of African Americans about their own history through the quilts the WCQN members create.
She has an extensive exhibition history participating in more than seventy-four exhibitions in venues such as the Mint Museum, American Folk Art Museum in New York City, National Civil Rights Museum, Museum of Art and Design, Wadsworth Atheneum Museum, and the Renwick Gallery of the Smithsonian Institution in Washington. Her quilts can be found in private collections around the world, as well in distinguished museum collections in the United States.
As a curator Mazloomi has curated twenty-one extensive exhibits of quilts made by members of the Women of Color Quilters Network, many of them traveling exhibits. As an author she has published twelve books highlighting African-American-made quilts.
Mazloomi has been the recipient of many state and national honors, among them the 2003 Ohio Heritage Fellowship Award, the first such award for any Ohio citizen. In 2014, she was named a National Heritage Fellow by the National Endowment for the Arts and was awarded the Distinguished Scholar and Celebrated Artist Lifetime Achievement Award by Faith Ringgold's Anyone Can Fly Foundation. In 2016, Mazloomi was inducted into the Quilters Hall of Fame Museum.