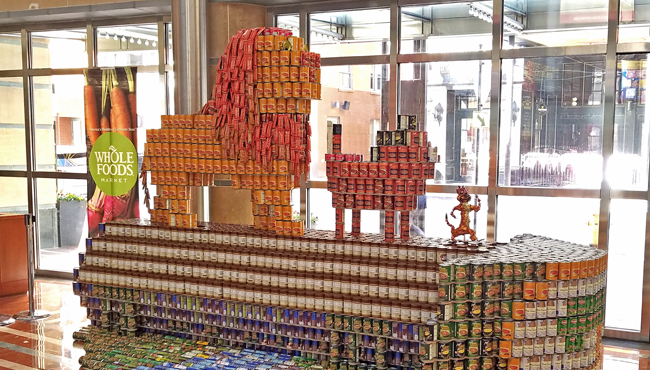 Canstruction® 2020 **CANCELLED**
Dates

April 7–26, 2020

Venue

Weston Art Gallery

Location

Street-level Exhibition Space and Budig Lobby
CANSTRUCTION® SPONSOR:
TBD
Canstruction® 2020 **CANCELLED**
THIS EVENT HAS BEEN CANCELED!
Due to the recent developments and concerns surrounding COVID-19, and out of an abundance of caution, Canstruction 2020 has been canceled.
If you have any questions about the cancellation or would like more information about the Weston Art Gallery, please call (513) 977-4165 or visit www.westonartgallery.com.
Organized by the Cincinnati chapters of the American Institute of Architects and the Society for Design Administration, Canstruction® is an international design/build competition of the architecture and engineering industry that unites the love of design, art, creative thinking, competition, and public service. Local teams race to build whimsical sculptures created entirely from canned and packaged food. After the event, all building materials are donated to the Freestore Foodbank.
Share