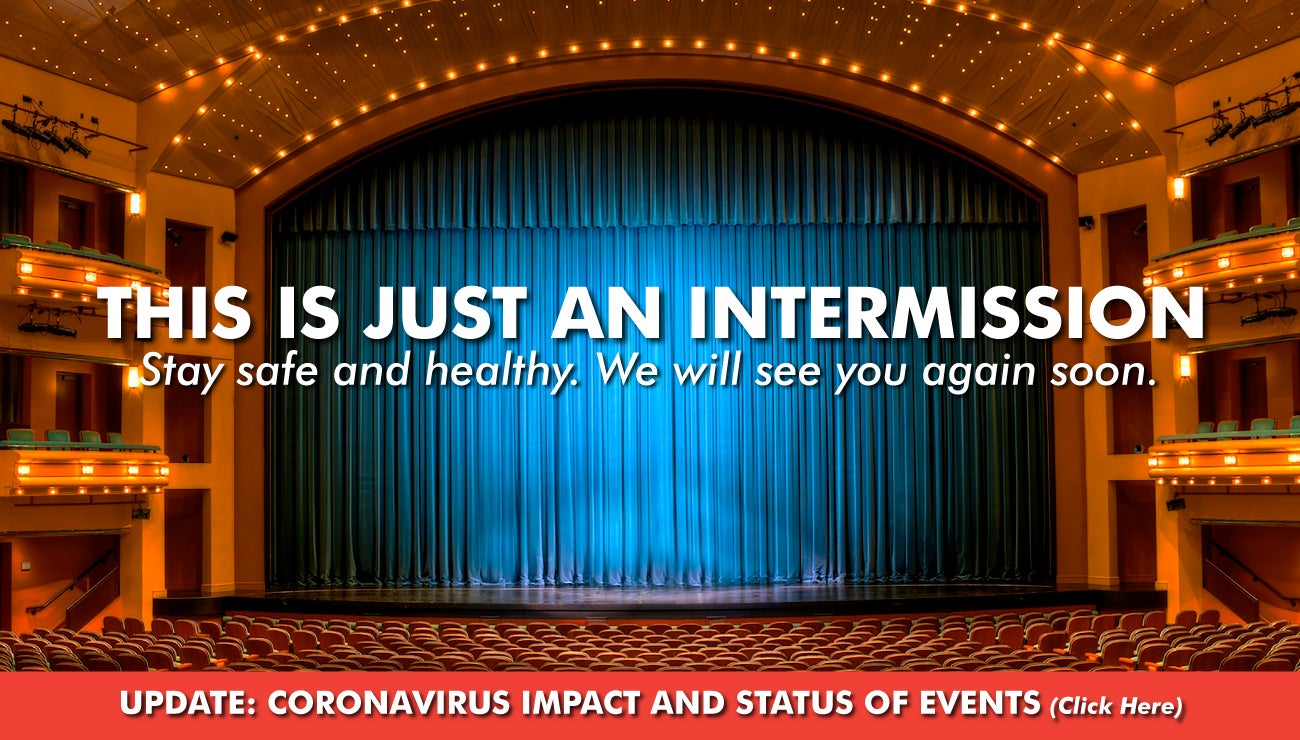 Mar 11, 2020
Public Health Update
CORONAVIRUS (COVID-19): ARONOFF CENTER & MUSIC HALL EVENTS AND OPERATIONS
(current as of Tue., April 7, 2020, 3:00 PM)
The Cincinnati Arts Association (which manages and operates the Aronoff Center and Music Hall) and the resident companies at our venues continue to closely monitor the evolving impact of the coronavirus pandemic. We are following the directives of the State of Ohio (including the ban on public gatherings and the Stay-at-Home order), as well as the recommendations of other government and health officials, and we greatly appreciate the leadership of these authorities. The health and safety of our guests, artists, staff, and volunteers remains our number one priority.
Due to the ongoing coronavirus situation, the majority of events at the Aronoff Center and Music Hall during at least the next thirty days have rescheduled, postponed, or cancelled. Below are links to the current STATUS OF EVENTS at our venues:
EVENTS PRESENTED/PRODUCED BY ARONOFF CENTER AND MUSIC HALL RESIDENT COMPANIES:
Contact the individual arts organizations or visit their websites for tickteting options and event status information: Fifth Third Bank Broadway in Cincinnati, presented by TriHealth; Cincinnati Symphony Orchestra and Cincinnati Pops Orchestra; May Festival; Cincinnati Ballet; Cincinnati Opera; Cincinnati Boychoir; Cincinnati Music Theatre; Cincinnati Playwrights Initiative; Contemporary Dance Theater; Exhale Dance Theater; Mamluft&Company Dance; Revolution Dance Theatre.
ALL OTHER EVENTS
Currently, we are working to reschedule as many events as possible that were scheduled during the next thirty days and beyond. Please be patient as this is an ogoing process. For the events we are able to reschedule, ticketholders will be notified of the new date and ticket information/options.
If an event cancels, all tickets and fees will be automatically refunded to the original method of payment. Cash purchases will be refunded by check. If you have questions, contact CAA Ticketing Services at (513) 621-2787 [ARTS] or [email protected]. NOTE: CAA cannot refund tickets purchased from a ticket reseller. Contact the reseller directly regarding its refund policies.
As the status of upcoming events changes, we will notify all ticketholders by email and/or phone. The latest updates will be posted on this website.
Temporary Closing Alert
Due to the ongoing impact of the coronavirus, the Aronoff Center's Ticket Office and Weston Art Gallery, and the Music Hall Box Office, will be closed until further notice. You may continue to visit us or purchase tickets online at CincinnatiArts.org, or call us at (513) 621-2787. Our phone lines will remain open Monday - Friday 10:00 AM - 5:00 PM.

We will continue to follow the guidance of government and health officials, and make future decisions based on the most current directives and in response to changing conditions/timelines.
Our thoughts are with the many individuals and families who are affected by the coronavirus. With your ongoing support, we look forward to returning to business as normal and to our mission of bringing Tri-state audiences world-class arts and entertainment events that elevate the human spirit.
Thank you for your patience and understanding during this challenging time.
Share