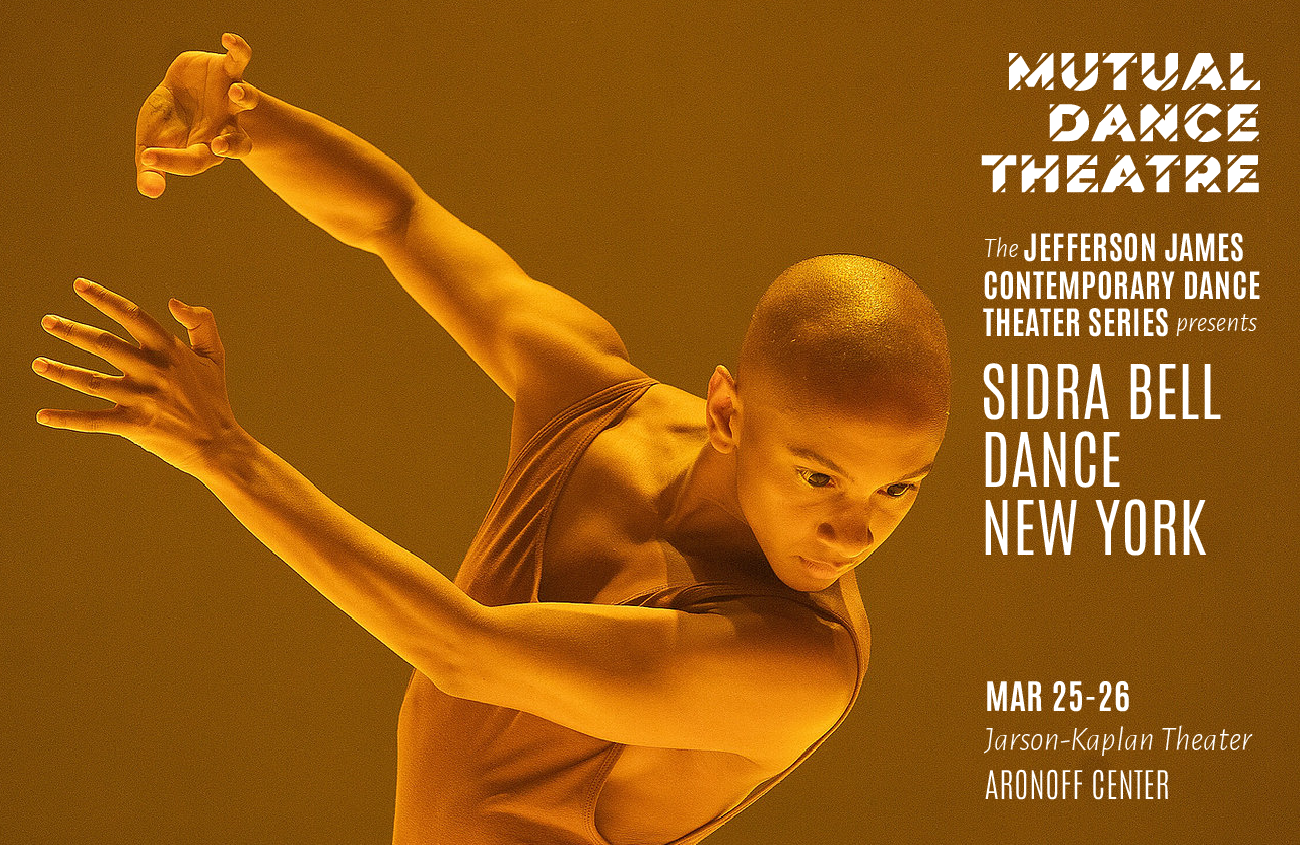 Sidra Bell Dance New York
Mutual Dance Theatre's The Jefferson James Contemporary Dance Theater Series
Date

Mar

25

-

26

, 2022

Venue

Aronoff Center

Location

Jarson-Kaplan Theater

Ticket Prices

$30.00-$40.00 (before Feb. 28)
$35.00-$46.25 (after Feb. 28)

Availability

On Sale Now

Seating Chart

View Seating Chart
Event Details
Sidra Bell is one of Modern Dance's most up-and-coming artists, sought-after across the globe and the nation. Mutual Dance Theatre's Jefferson James Contemporary Dance Theater Series is ecstatic to present Ms. Bell and her diverse Company of dance artists for the first time in Cincinnati for one weekend only. Described as "hypnotically seductive" and "brilliant and impressive," Bell's aesthetic rings of "PinaBausch, fashion, and Harlem's ballrooms" in a unique, visionary style that draws in audiences, deeply. Her distinctive, hyperkinetic movement and dramatic brilliance focus on the human psyche and questions of identity.
Sidra Bell is the first African American woman to have a work that she created performed by the New York City Ballet. Sidra Bell Dance New York will perform IN | REP, an evening of dance theater works that will leave you feeling and thinking for days to come.
FRIDAY, MARCH 25:
Free post-show Q&A with Sidra Bell
SATURDAY, MARCH 26:
Free pre-show 7:30pm interview with Sidra Bell, hosted by MDTAC Artistic Director Jeanne Mam-Luft
REVIEW OUR CURRENT COVID-19 MASK AND VACCINATION REQUIREMENTS
Open Workshop with Sidra Bell - March 26
The community is invited to an open workshop with Ms. Bell on Saturday, March 26, 2022 at 11:00AM. No dance experience is required or expected: experience Ms. Bell's process through movement and space. For more information or to register, CLICK HERE.