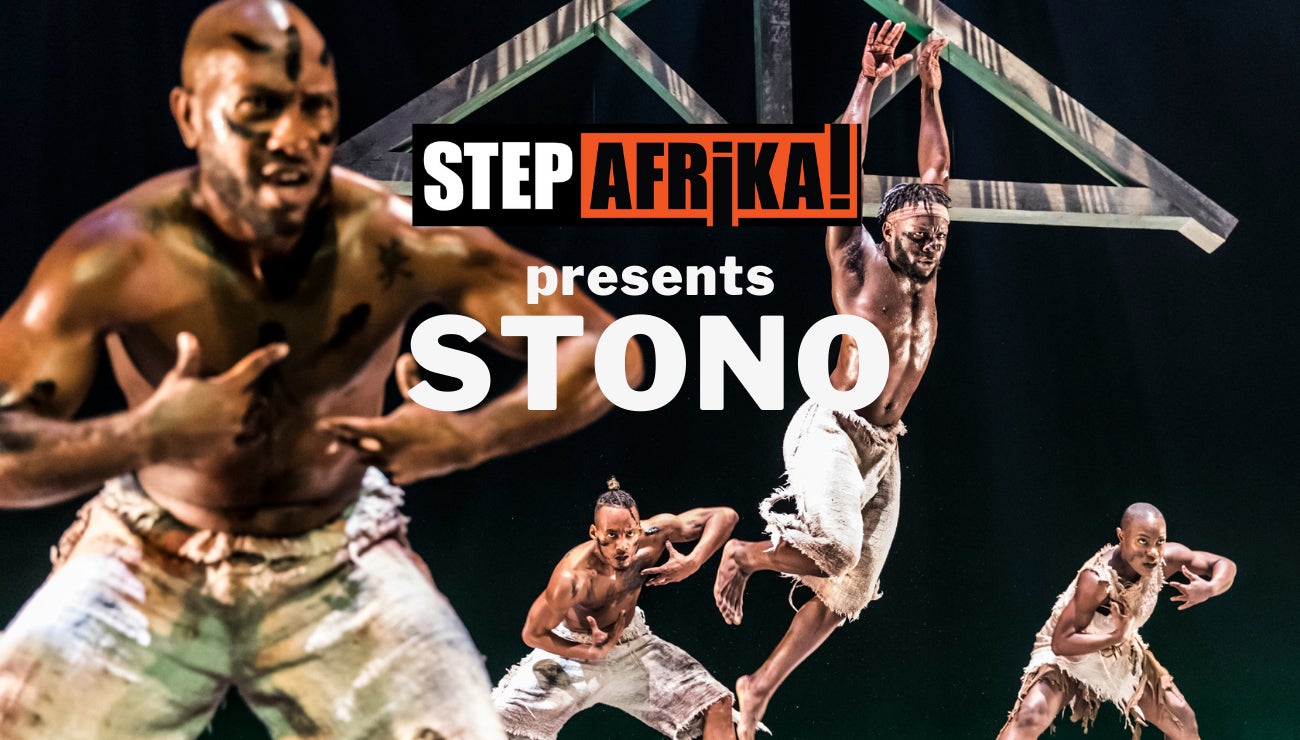 Step Afrika! presents Stono
Presented by Cincinnati Arts Association
Ticket Office
(513) 621-ARTS [2787]
Promo Code
Dates

Streaming Available June 5 - 18, 2021
Conversation June 8, 2021 at 7:30pm

Venue

Virtual

Availability

Buy Tickets

Ticket Prices

$6.00 Performance or Conversation
$10.00 Both
Step Afrika! presents Stono
Presented by Cincinnati Arts Association
Step Afrika!'s powerful, pulsing, world premiere piece, Stono, highlights the spirit of resistance and activism of a part of American history that has often been overlooked. The virtual experience is 30 minutes in length.
Stono highlights the largest insurrection of enslaved Africans in North America on September 9, 1739, which began in South Carolina on the banks of the Stono River. Twenty Africans marched south toward a promised freedom in Spanish Florida, waving flags, beating drums, and shouting "Liberty!" When Africans subsequently lost the right to use their drums through The Negro Act of 1740, they began to use their bodies as percussive instruments in response, giving rise to ring shout, tap, hambone, and stepping. Stono is based on choreography and content from Step Afrika!'s feature-length production, Drumfolk, returning to stages Fall 2021.
About Step Afrika!
Founded in 1994 by C. Brian Williams, Step Afrika! is the first professional company dedicated to the tradition of stepping and ranks as one of the top ten African-American dance companies in the United States. Step Afrika! blends percussive dance styles practiced by historically African-American fraternities and sororities, traditional West and Southern African dances, and an array of contemporary dance and art forms into a cohesive, compelling artistic experience.
Performances are much more than dance shows; they integrate songs, storytelling, humor, and audience participation. The blend of technique, agility, and pure energy makes each performance unique and leaves the audience with their hearts pounding.
Candid Conversation - Step Afrika!
Presented by the Cincinnati Arts Association, this fourth in a series of five virtual Candid Conversations features C. Brian Williams, Founder and Artistic Director of Step Afrika!, who will be joined by local artists for an honest and open discussion about how their personal journeys and their work relate to the history and practice of racism in our country. MORE INFO
These virtual events may be purchased separately at $6.00 each,
or in combination for $10.00.

---
THANK YOU TO OUR GENEROUS SPONSORS
Ameritas, ArtsWave, Fifth Third Bank,
Greater Cincinnati and Northern Kentucky Honda Dealers,
Procter & Gamble Fund, St. Gregory Group, TriHealth
Share