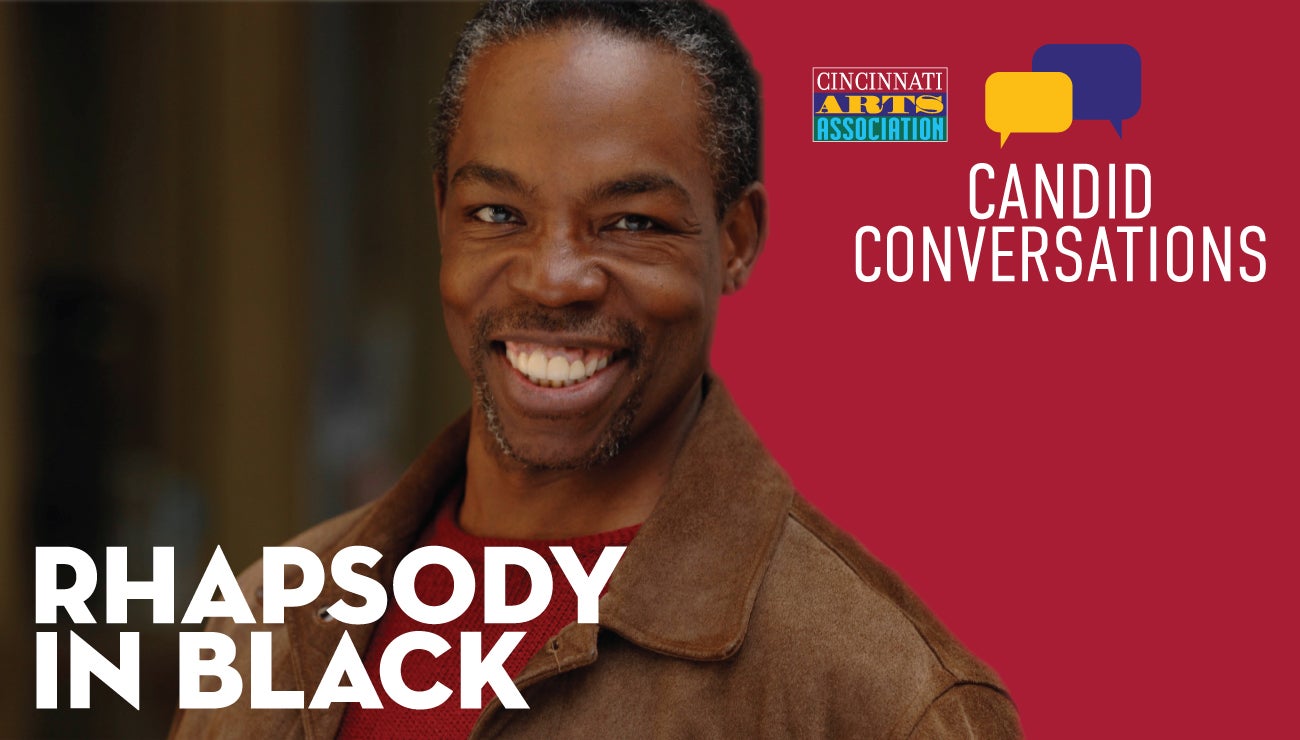 Candid Conversations - Rhapsody In Black
Presented by Cincinnati Arts Association
Ticket Office
(513) 621-ARTS [2787]
Promo Code
Date

Streaming Available May 4 - 17, 2021
Conversation May 11, 2021 at 7:30pm

Time

7:30PM

Venue

Virtual

Location

Virtual

Availability

Buy Tickets

Ticket Prices

$6.00 Performance or Conversation
$10.00 Both

Company

Cincinnati Arts Association
Candid Conversations - Rhapsody In Black
Presented by Cincinnati Arts Association
Join national and local artists live via Zoom for intriguing discussions about the impact of their work on social justice, community wellbeing, and equity. Candid Conversations is an opportunity to start a dialogue concerning the effects of racism on artists of color and arts communities as a whole, as well as the journey toward change.
This third in a series of five virtual Candid Conversations, presented by the Cincinnati Arts Association, features LeLand Gantt, the creator and star of Rhapsody in Black, who will be joined by local artists for an honest and open discussion about how persons of color define racism as they claim their Identities while working and living in racist systems.
Purchase gives you access to the live conversation via Zoom on Tuesday, May 11 at 7:30 PM AND a link to an on-demand recording which will be availalbe for two-weeks (the link to the recording will be emailed to you after May 11).
The Candid Conversation is moderated by J. Stephen Dobbins – Owner and President, Assisted Transition of Greater Cincinnati & Northern Kentucky; Member, Cincinnati Arts Association (CAA) Board of Trustees; Chair, CAA's Building Diverse Audiences Advisory Committee (BDAAC).
The local artists joining the conversation with LeLand Gantt include:
• A.J. Baldwin – Actor; Playwright; Script Consultant / Dramaturg; Artistic Committee Member, Cloverdale Playhouse; Anti-Racism Working Group Member, Theater at Monmouth
• Geoffrey Barnes – Actor, Teaching Artist
• Burgess Byrd – Actress; Board Member, Treehouse Cincinnati
• Candice Handy – Director of Education, Cincinnati Shakespeare Company
• Derek J. Snow – Founder, Missing Front Plate Productions; Actor; Writer; Director; Activist
• Crystian Wiltshire – Resident Ensemble Member, Cincinnati Shakespeare Company
---
Rhapsody in Black performance – streaming May 4-17
Written and performed by acclaimed actor LeLand Gantt and developed at NYC's Actors Studio by Academy Award-winner Estelle Parsons, Rhapsody in Black is a one-man show that explores LeLand's personal journey to understand and eventually transcend racism in America. LEARN MORE
---
These virtual events may be purchased separately at $6.00 each,
or in combination for $10.00.
THANK YOU TO OUR GENEROUS SPONSORS
Ameritas, Fifth Third Bank, Greater Cincinnati and Northern Kentucky Honda Dealers, Procter & Gamble Fund, St. Gregory Group
Share