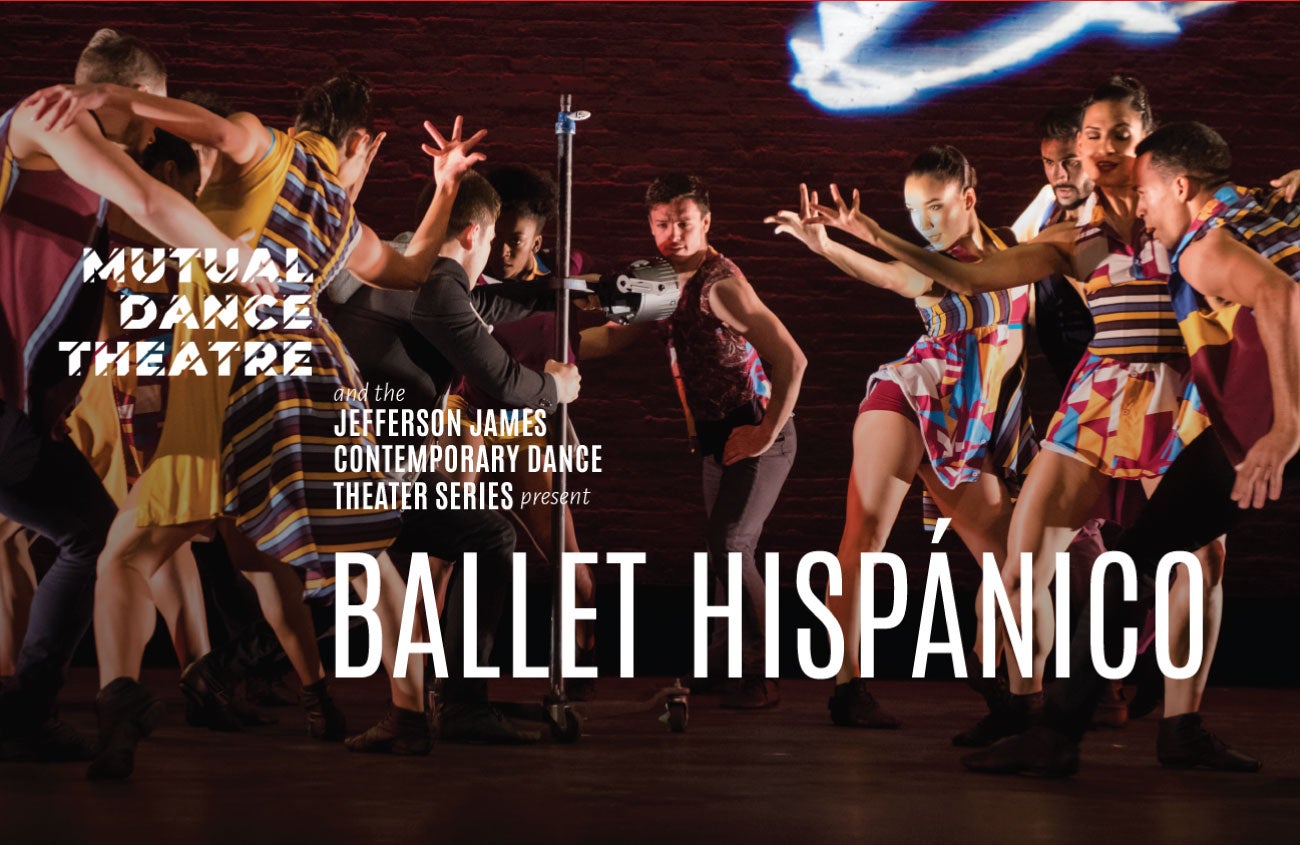 Ballet Hispánico
MUTUAL DANCE THEATRE AND THE JEFFERSON JAMES CONTEMPORARY DANCE THEATER SERIES
Date

Oct

28

-

29

, 2022

Venue

Aronoff Center

Location

Jarson-Kaplan Theater

Ticket Prices

$40.00

Availability

On Sale Now

Seating Chart

View Seating Chart
Event Details
Mutual Dance Theatre and Arts Centers and the Jefferson James Contemporary Dance Theater Series present Ballet Hispánico from New York City, fresh off its 50th-anniversary tour!
Ballet Hispánico was founded by National Medal of Arts recipient Tina Ramirez in 1970, and today has grown to be the largest Latinx cultural organization in the U.S. Ballet Hispánico has been named one of America's Cultural Treasures, celebrating and exploring Latinx cultures through dance.
In this mixed-repertory concert, the world-class ensemble that dances with exquisite and virtuosic technique will perform the following works:
TIBURONES by Annabelle Lopez Ochoa
In Tiburones, internationally sought-after choreographer Annabelle Lopez Ochoa addresses the discrimination and stereotypes placed upon Latinx culture and the media's power to portray these themes by diminishing the voices of Latinx artists. Ochoa will deconstruct gender roles and identity to revitalize an authentic perspective of Puerto Rican icons appropriated within the entertainment industry.
18+1 by Gustavo Ramírez Sansano
18+1 celebrates Gustavo's 19 years as a choreographer and the vulnerability, care, and hope that come with each artistic endeavor. In a display of subtle humor and electric choreography, the movement merges with the playful rhythms found in Pérez Prado's mambo music. Sansano draws from his history and memory to take a joyous look at the past, present, and coming future. (Mutual Dance Theatre and the JJCDT fondly remember presenting Luna Negra under Gustavo's directorship in 2012.)
CON BRAZOS ABIERTOS by Michelle Manzanales
With humility, nostalgia, and humor, Michelle Manzanales explores the iconic Mexican symbols that she was reluctant to embrace as a Mexican-American child growing up in Texas. Intertwining folkloric details with a distinctly contemporary voice in dance, set to music that ranges from Julio Iglesias to rock en Español, Con Brazos Abiertos is a fun and frank look at a life caught between two cultures.
---
RELATED EVENTS

Post-performance Q&A: Friday, October 28
Pre-performance discussion: Saturday, October 29 at 7:00 PM
Workshop – The Cultural Context and Techniques of Social Latinx Cultures: Saturday, October 29, 12:00 PM - 1:30 PM at Mutual Arts Centers, 8222 Monon Avenue, Hartwell, OH 45216
For more information, CLICK HERE.
---
Ballet HispánicO SPONSORS



MetLife Foundation is an Official Tour Sponsor of Ballet Hispánico. The 2022-2023 Ballet Hispánico National Tour is made possible by JP Morgan Chase, an Official Tour Sponsor.
Major support for Ballet Hispánico Community Arts Partnerships programming including CAP-on-tour is provided by the William Randolph Hearst Foundation. Funding for the Ballet Hispánico Community Arts Partnerships is provided by the RBC Foundation USA and the Goldie Anna Charitable Trust.
Transformational funding for Ballet Hispánico is provided by MacKenzie Scott, the Ford Foundation America's Cultural Treasures program, and the Andrew W. Mellon Foundation. Major support is provided by the Howard Gilman Foundation, the Miranda Family Fund, the Scherman Foundation, the Fan Fox and Leslie R. Samuels Foundation, the Robert and Mercedes Eichholz Foundation, the Tatiana Piankova Foundation, the Prospect Hill Foundation, and the Harkness Foundation for Dance.