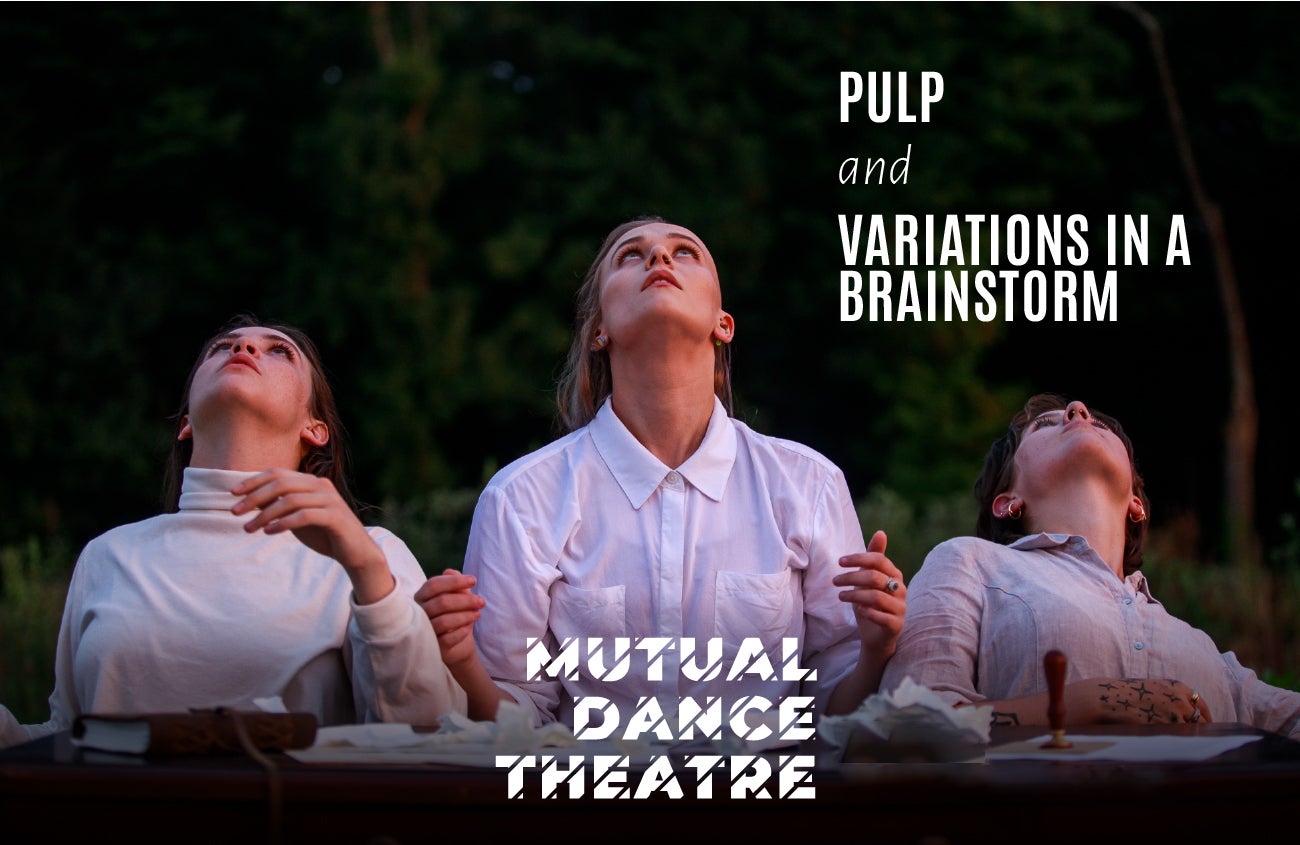 Pulp and Variations in a Brainstorm
Mutual Dance Theatre
Date

Nov

12

-

20

, 2021

Venue

Mutual Arts Center Hartwell

Location

Mutual Arts Black Box

Ticket Prices

$25.00

Availability

On Sale Now
Event Details
Immerse yourself in a dance theatre experience that will take you on two, different adventures, both revealed in chapters. In Pulp, as you surround the performers in Mutual Arts Center's black box studio, you will first begin by helping to choose a unique sequence of events that will never again be performed in that same order. You and other fellow audience members will simultaneously perceive a common object, but interpret it differently as perspective is weighed in pithy moments. In Variations in a Brainstorm, letters, writings, and musings—all tied to a writing desk—will guide you through a tour of divergent identities. In the end, both adventures unearth the human mind's vast ability to make connections
This performance takes place in Hartwell at 8222 Monon Avenue, 45216, NOT at the Aronoff Center.
PLEASE BE ADVISED THAT ALTHOUGH SOME SPACING MAY BE POSSIBLE, THIS IS GENERAL SEATING AND DISTANCING CANNOT BE GUARANTEED. Parking is free and the building is ADA-accessible. For more information about the venue, please see mutualdance.org/hartwell.
American Sign Language interpretation will be provided on Friday, November 19. Please advise staff of need in order for the interpreter to be placed within appropriate viewing distance.
REVIEW OUR CURRENT COVID-19 MASK AND VACCINATION REQUIREMENTS
Open Workshop for Dancers - Nov. 13
Experienced dancers are also invited to an open workshop with choreographer Rowan Salem Saturday, November 13, 2021 at 11:00 AM. CLICK HERE for more information, including pricing and location.