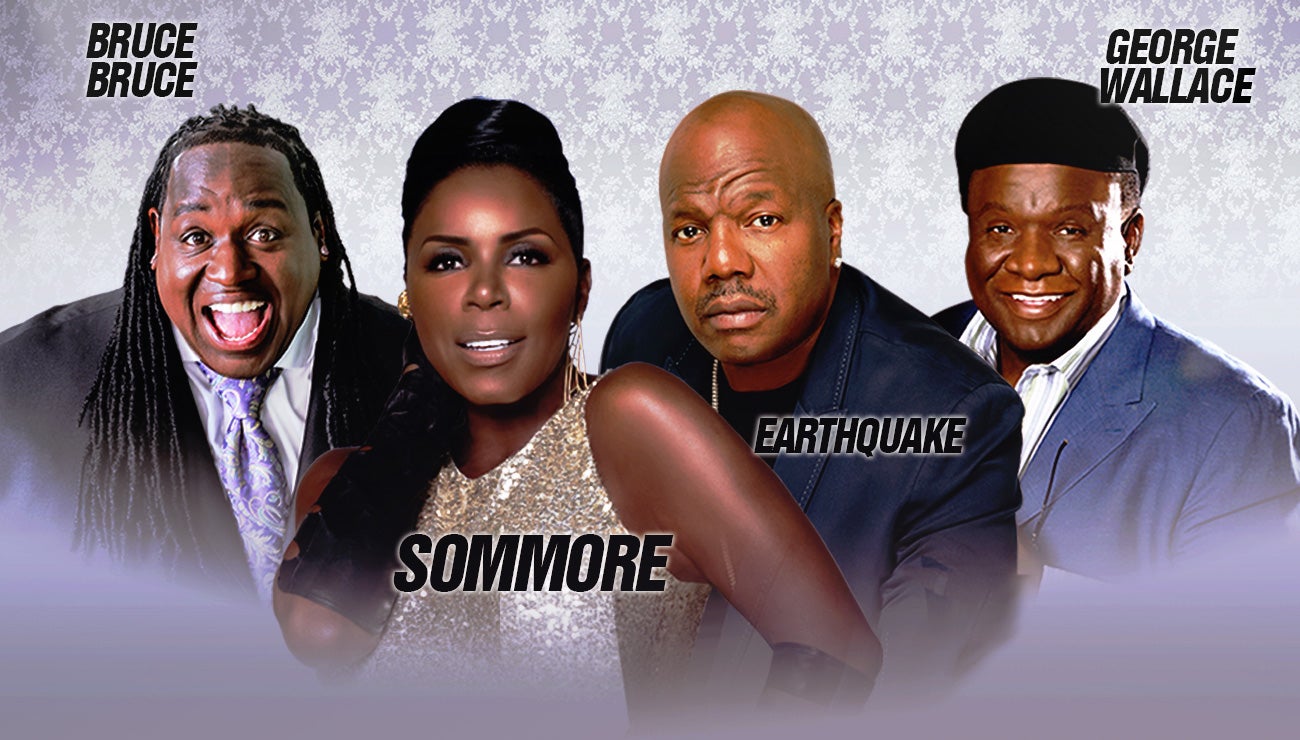 Festival of Laughs
Presented by North American Entertainment Group
Date

Mar

9

, 2018

Time

8:00PM

Venue

Aronoff Center

Location

Procter & Gamble Hall

Availability

Buy Tickets

Ticket Prices

$ 78.50
$ 62.50
$ 55.50
Festival of Laughs
Presented by North American Entertainment Group
Enter your promo code
Featuring top veteran comedians Sommore, Bruce Bruce, Earthquake and George Wallace.
Trenton, New Jersey native Sommore has appeared various shows including 'Russell Simmons' Def Comedy Jam', BET's 'Live From LA', 'Showtime At The Apollo' and featured on 'The Oprah Winfrey Show'. Sommore received the prestigious Richard Pryor Award for 'Comic Of The Year'. Starring in the ground-breaking Queens of Comedy tour, Sommore was featured on the Showtime special and now has her own successful DVD The Queen Stands Alone. Her film appearances include Soul Plane, A Miami Tail, Friday After Next and Something New. Other noteworthy accomplishments include several appearances on the sitcoms 'The Hughleys', 'The Parkers', and 'Politically Incorrect with Bill Maher'. She most recently filmed a comedy special called 'Chandelier Status'.
Bruce Bruce is a name synonymous with keeping audiences rolling with laughter thanks to his captivating improv skills and larger than life comedic style. Bruce's steady style of comedy has been showcased across the country, and he has been entertaining audiences young and old, and of all backgrounds, for years. From his role as host for two seasons of BET's 'Comic View' to his many appearances on tv and film, Bruce is clearly a comedian that has found his mark in the business.
A popular property in stand-up, Earthquake's schedule is full and he revels in his accomplishments while traveling the world. He appeared on ABC's 'The View' in a special segment of stand-up comedians showcased by the cast as their personal favorites. Whoopi Goldberg chose Earthquake and in front of all of America she relished in his 'fearlessness'. Needless to say, he shined to rave reviews. He then made an appearance on the popular late night program TBS's 'Conan O'Brien' and on BET's hit sitcom 'The Game'. Presently, Earthquake is the host of New York City's #1 afternoon drive-time radio show, 'Quake's House' on WBLS-FM.
George Wallace , who has been selling out comedy clubs and concert venues all over the world, derives his comedy from the everyday and simply shares moments of life. He finds humor everywhere he turns–from media to relationships to dialogue cliches. At all costs, he avoids standard opening lines and is known to be an ace at reading an audience. Among other comics, Wallace is known as 'the guy who can roll the room over if it's dead'.
Share