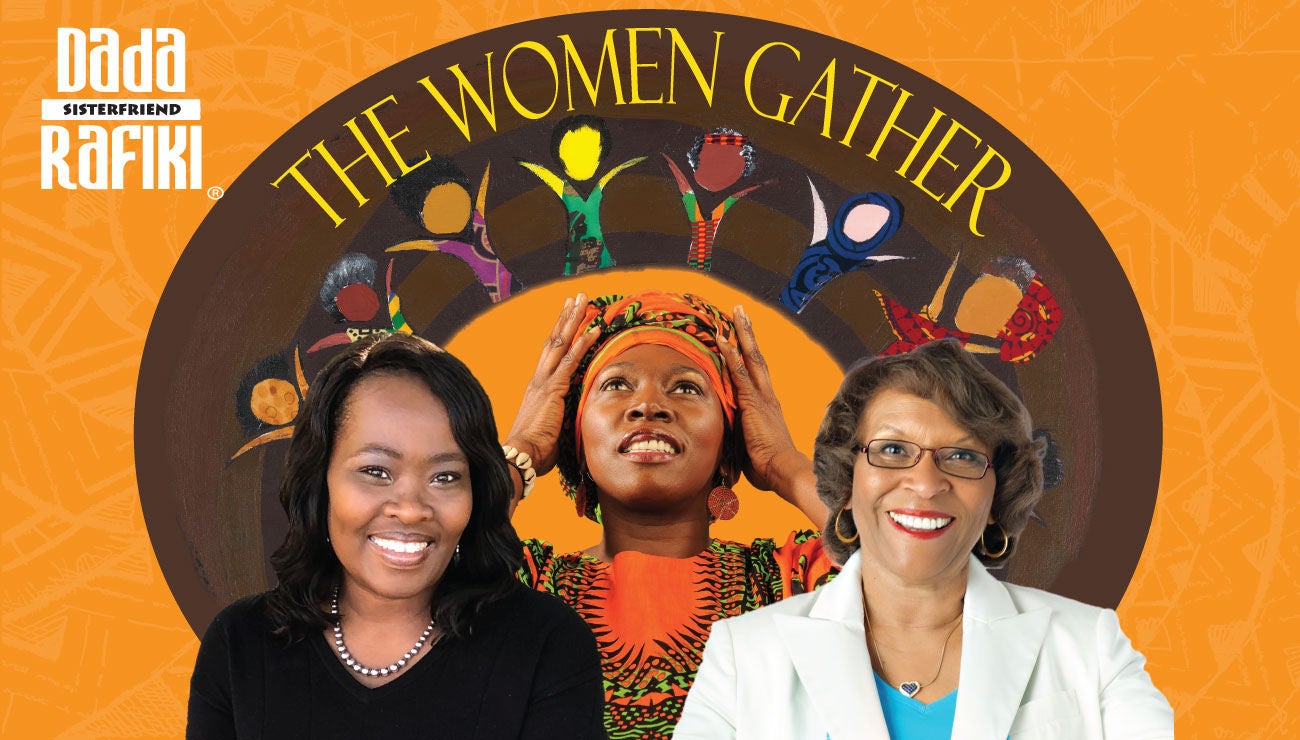 Dada Rafiki: The Women Gather
Presented by Annie Ruth and Cincinnati Arts Association
Date

Oct

19

, 2018

Time

7:00PM

Venue

Aronoff Center

Location

Procter & Gamble Hall

Availability

Buy Tickets

Ticket Prices

$ 25.00 Advance
$ 40.00 Day Of

$ 15.00 Students, Seniors & Groups of 10 or more
Dada Rafiki: The Women Gather
Presented by Annie Ruth and Cincinnati Arts Association
"Dada Rafiki" (pronounced DAH-Dah rah-FEE-kee), which means "sister friend" in the Kiswahili language of East Africa, promotes a shared sense of sisterhood, inclusiveness, and unity in an empowering environment of storytelling, music, dance, song, and spoken word—all honoring exceptional women in our community through art.
Dada Rafiki: The Women Gather will be hosted by WLWT-TV5 News Anchor Courtis Fuller. Featured artists include: The New York Times award-winning author and poet Sharon M. Draper; Cincinnati Opera guest soloist, psalmist, and songwriter Andrea P. Thomas; acclaimed dancer/choreographer Jacqueline McClure; world-class Afro-fusion music powerhouse BAOKU Moses; and, back by popular demand as the event's house band, Ed Thomas & Muzic Company. That evening, Annie Ruth will debut her original interpretive poetry "The Women Gather," which combines genres of dance, spiritual, hip hop, African & modern dance, and spoken word.
Doors open at 6:00 PM with Pre-show entertainment and promotional gifts for attendees.
2018 Dada Rafiki Honorees:
Deborah Mariner Allsop - Families Forward
Suzy DeYoung - LaSoupe Cincinnati
Verline Dotson - Cincinnati Hamilton County Community Action Agency
Prerna Gandhi - student, University of Cincinnati
Dr. Shelley Jefferson Hamler - The Cincinnati (OH) Chapter, The Links, Incorporated
Janelle S. Hocker - Nella's Place, Inc.
The Rev. Paula M. Jackson, Ph.D. - Church of Our Saviour/La Iglesia de Nuestro Salvador, Episcopal
Bo-Kyung Kim Kirby - Northern Kentucky University & The Cincinnati Opera
Barbara J. Lynch - New Jerusalem Baptist Church & First Ladies for Health
Baba Charles Miller, Baba of Honor - Drums for Peace
Evelyn Sears - Hamilton County Mental Health and Recovery Services Board
Khrys Styles - K.A.S.S.I.E. Project> li>Stevie Swain - Swain Consulting, LLC & CinCWN
Carla Walker - Think Big Strategies, LLC
Share