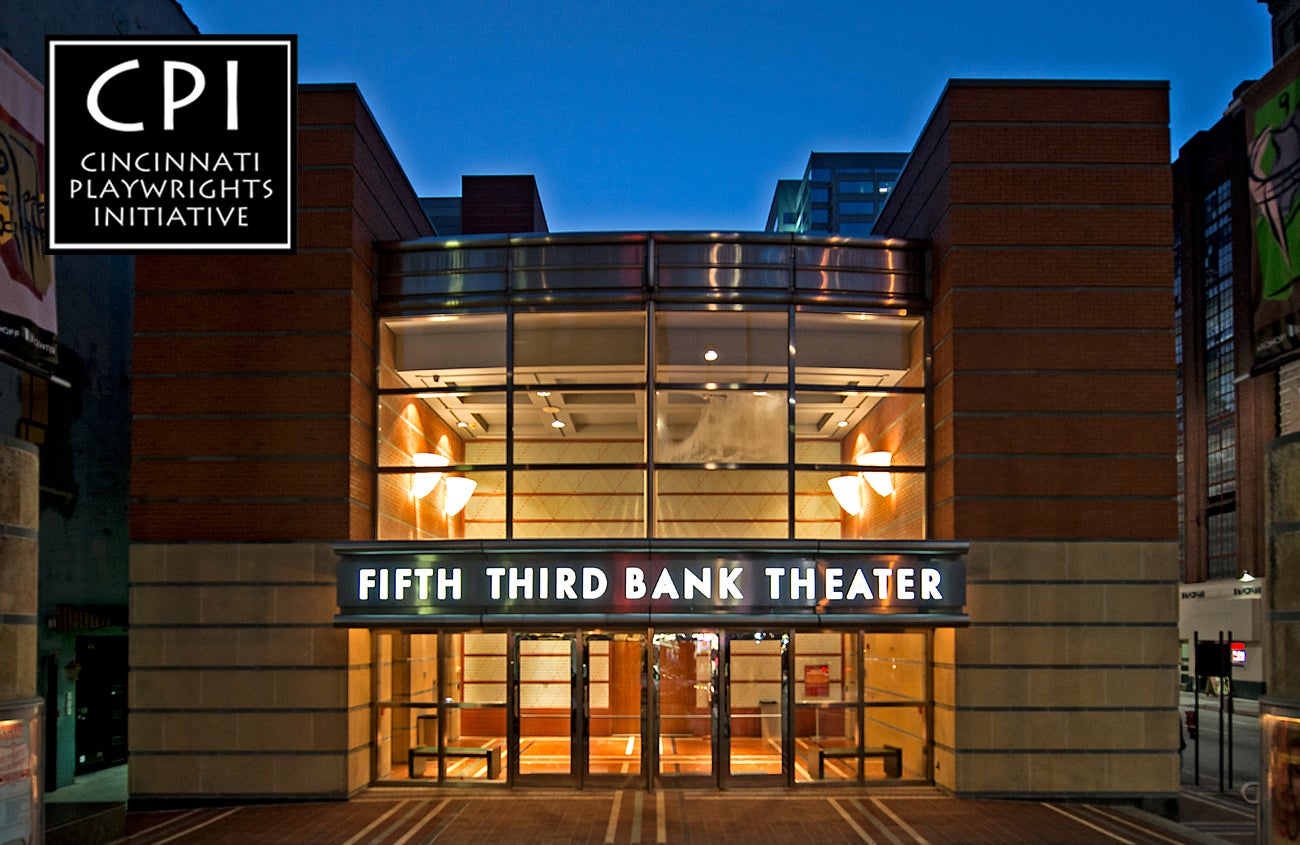 Cincinnati Playwrights Initiative: 2023-2024 New Voices Series
Date

CPI: 2023-2024 NEW VOICES SERIES

Venue

Aronoff Center

Location

Fifth Third Bank Theater

Ticket Prices

6-Show Package
$50.00
Single Tickets
$10.00
Earthfest 2024
$15.00

Availability

On Sale Now
Event Details
Cincinnati Playwrights Initiative's 2023-2024 New Voices Season includes staged readings of plays written by local CPI artists. Each performance includes a talkback session to gain audience feedback that will help the playwrights improve their work.
All readings are performed in the Aronoff Center's Fifth Third Bank Theater.
Howdy Neighbor by Mary Beringer
Sasha and Cam just moved to the neighborhood, and they love it! The only problem is the neighbors, who are just a little strange. It starts with probing questions and moves on to vague threats. Everyone knows it's dangerous to be gay, but Sasha and Cam never expected this.
The Hound by Michael Defrancesco
The Hound is a taut drama thriller about a mystery man – Bud, 30ish – visiting another mystery man – Lester, 70ish – in a marginal nursing home. In a hound and fox game between them, they gradually reveal who they are. A third character – Athena, a LPN – completes the mystery trio whose actions were precipitated by Bud finding a family album upon the death of his mother.
Jason's Footage, Buffalo Girl 1973, and Monumental Art by Clint Bramkamp
In Jason's Footage, four filmmakers try to salvage their unfinished film and their own relationships when their star dies of an overdose. Buffalo Girl 1973 takes place in a discotheque. A man who used to fly women to New York to obtain legal abortions unexpectedly meets a former passenger. In Monumental Art, a former campus misfit at Grand Lakes University donates a sculpture to his old school, but is it gratitude or a different kind of gesture?
Lovestruck (four short plays about love and romance: Forever Soulmates, Naked Neighbors, The Big Bad Wolves, and Tiny Dancer) by Susan and Doug Decatur
Inspired by the Decaturs' own love story, Lovestruck is told through a series of short plays showing the trials, tribulations, and triumph of love. From feeling like you've been together in a prior time in Forever Soulmates, keeping things spicy in your marriage in Naked Neighbors, showing your vulnerability about relationships and love in The Big Bad Wolves, and connecting to that special person whenever and however it happens in Tiny Dancer, we recognize that anyone can become Lovestruck.
Boy Meets Girl, a ten-minute play by Bertha Davis
Colby and Michelle couldn't be more different, on the face of it. Colby is a hard-charging, White business executive, and Michelle is a meditative Black woman. When the elevator they share stalls, facades fall and new discoveries are made.
Can't Stop What's Coming, a ten-minute play by Barry Cobb
Can't Stop What's Coming is a play about two men who meet at a 30-year college reunion and renew a somewhat tenuous previous relationship. The play focuses on their lives, trials, and tribulations. Fred was on a positive trajectory to be a professional cellist, but that career ended due to serious wounds from combat in Vietnam. He also suffered the untimely loss of his wife. Will, on the other hand, a ne'er-do-well in his early life and always in trouble, became more established as he matured and took more responsibility for himself. Through happenstance, Will was offered a once-in-a lifetime opportunity which is revealed at the end of the play.
The Magic Opry by Leo Bradley
Rock Fork Records has fallen on hard times, and producer Nelson Easton is desperate to save both the recording company and his job. In the golden era of classis country music, Easton was on top of the country music world with hit songs, many emanating from the writing and singing of Rankin Winters, Nashville's most successful male singer and songwriter.
Together, they were the Elvis and Colonel Parker of country music. However, time and the changing genre made them both passé in the country music industry. Although Easton has hung on to his role at Rock Fork Records, Rankin Winters has fallen on hard times and is now playing second venues and attempting to cope with forgotten fame, lost family, booze, and pills.
Easton, responding to pressure from his corporate bosses, comes up with a scheme to resurrect the fortunes of Rock Fork Records and the career of Rankin Winters. It all depends on whether Rankin still has hit songs in his soul, and how Nelson can parlay the past glory into a new future for Rock Fork Records.
Janitor's Closet by Reece Niederhausen
Ethan, a lonely gay student at Ridgewood High, is attempting to make it out of his senior year alive by hiding away in a janitor's closet for as long as possible. However, when his ex-best friend Allie reveals that she is secretly pregnant, hiding may not be a viable option anymore.
Earthfest 2024
This evening of eight ten-minute plays celebrates Earth Day 2024 in support of the Miami Group Sierra Club. Playwright selections will be announced this Fall.